Found March 12, 2013 on Wizards Extreme:
cavaliers 95 wizards 90 3/12/2013 - Quicken Loans Arena, Cleveland, OH ESPN Boxscore NBA.com Game Highlights David Liam Kyle The Wizards entered tonight's contest against the Cavaliers with a prime opportunity to pick up a road win.  But even with Kyrie Irving sidelined, however, they'd go on to lose 95-90. Washington started the game with a statement, jumping out to a big 13 point first quarter lead, spurred mainly by John Wall, Emeka Okafor, and Martell Webster.  Over the next two quarters, however, Washington would combine for a meager 32 points and watch Cleveland's reserves slowly put the game out of reach.  With the exception of a late game run during a Cavaliers scoring drought, the Wizards would fail to put together a respectable effort to keep the score close. The Wizards head back to Washington for a three-game home stand after stringing together more embarrassing road losses. Tonight's Wizards MVP was John Wall.  On a night when his jumper was erratic, Wall consistently maneuvered around Cleveland's guards getting to the free throw line at will and connecting on 13 of his 14 attempts.  Wall flirted with a triple double, too, dishing 14 assists and pulling down 7 rebounds. Aside from a couple confounding late game turnovers, Wall played arguably his best game of the season.  It's too bad his performance was overshadowed by a loss in a very winnable game. Nene: Nene had a solid game that could have been better.  He was able to establish position on the block against Cleveland's defenders, but failed to hit his shots early.  He was later forced to the bench late in the second quarter with 3 fouls.  At the time, he'd only hit 1 of his 8 field goal attempts. Nene would go on to post 15 points (5-for-6 from the free throw line) and 11 rebounds, but I felt like he should have excelled more against Cleveland's young, inexperienced front line. Tristan Thompson: Tristan Thompson overcame a somewhat slow start to post a nice 13 point, 14 rebound (6 offensive) line.  Late in the first half, Thompson was instrumental in getting Nene into foul trouble, as he used his speed from just outside the paint to get to the rim.  Thompson was also key in helping the Cavaliers get second chance points, which proved to be one of the factors that prevented the Wizards from closing their second half deficit. The Good John Wall was spectacular.  Not only were his point and rebound totals very impressive, but he managed to squeeze 14 assists out of a team that shot barely 40% from the floor.  Wall is also gaining confidence in his jump shot, as he noticeably deferred less and ventured beyond the right elbow. Emeka Okafor was also great, albeit for a limited time.  He notched 10 first quarter points (5-for-6 shooting) and 6 rebounds in the first quarter alone.  While his minutes for the remainder of the game were scattered, Okafor would finish with 18 points, 11 rebounds, and 2 blocks.   The Bad Washington suffered from a lack of consistent perimeter scoring for most of the game.  Martell Webster started the game scorching, going 3 for 3 from three-point range as the Wizards opened up a large first quarter lead. But he'd have trouble finding his spots, going 2-for-8 from beyond the arc for the remainder of the game.  AJ Price and Trevor Ariza combined to go 1-for-5 from 3-point range, and the Wizards as a team shot 5-for-17. On a night like this, I'm sure the team wishes Brad Beal was in the lineup.   The Ugly Washington's bench in this game was non-existent. AJ Price was the second unit's leading scorer with 3 points, and a few others chipped in with 2 points each.  Trevor Ariza, despite his good play lately, was a complete non-factor and Chris Singleton looked like he shouldn't have logged minutes at all.  Washington's  bench also played poor defensively, allowing Cleveland's CJ Miles and Wayne Ellington combine for 22 points.  
Original Story:
http://www.wizardsextreme.com/2013-ar...
THE BACKYARD
BEST OF MAXIM
RELATED ARTICLES
Former number 1 overall pick John Wall has had an up and down career so far. He's battled injuries and the Wizards for the most part have been an underwhelming team during the John Wall era. Perhaps a slap in the face for the hopes the franchise had for him when they decided to take [...]
Kyrie Irving stood on on a small box which served as a riser, explaining that he — despite winning the NBA's Rookie of the Year award just a few months earlier — did not anticipate the toll that a compressed season as a professional would take on his body. It was the team's media day, taking place on an October afternoon, where spirits were high and expectations were married...
Adidas has recently revealed Washington Wizards John Wall as the spokesperson for the new "Crazyquick" basketball model. Featuring a gradual flex orientation at the toe and heel zones with forward [...]
John Wall had 23 points and 10 assists, and the Washington Wizards beat the Milwaukee Bucks 106-93 Wednesday night. Wall and Wizards coach Randy Wittman appeared to exchange unpleasant words during a timeout late in the third quarter, but Wall rallied with eight fourth-quarter points to hold off the Bucks' comeback. It was Wall's seventh double-double of the season. He...
Their best month of the season behind them, the Cleveland Cavaliers find themselves in the midst of yet another poor stretch. With Kyrie Irving set to miss even more time after his latest injury, turning things around could prove difficult. The Cavs go for their third win in as many meetings with Washington in 2012-13 on Tuesday night, though the Wizards will have star guard John...
wizards 106 bucks 93 3/13/2013 - Verizon Center, Washington, DC ESPN Boxscore NBA.com Game Highlights Ned Dishman The fearsome glare in John Wall's eyes during the 4th quarter was enough to tell the tale of the Washington Wizards tonight. And what a night it was for our beloved star. From just about every facet and every cylinder of the game, tonight simply...
INDEPENDENCE, Ohio -- Kyrie Irving could miss the rest of the season with a sprained shoulder, Cavaliers coach Byron Scott said Monday. The Cavs officially projected Irving to miss 3-4 weeks. Irving suffered the injury after running into Toronto center Jonas Valanciunas in the third quarter of Sundays loss. A variety of injuries have caused the reigning Rookie of the Year and...
John Wall is known as a confident person, probably stemming from his belief that he can teach anyone and everyone how to Dougie. Wall's confidence extends to the basketball court, too, which is good, since that is where he makes his living. The Wizards point guard made a number of bold statements in an interesting interview with Zach Lowe of Grantland. One of those statements —...
Kyrie Irving has emerged as the latest franchise player for the Cleveland Cavaliers to build a squad around. It's to bad that a shoulder injury could squash the rest of the 2012-13 season for him.   Please click here to read this story and watch a dramatic video of Irving's time in the NBA. The post Kyrie Irving could miss the rest of the season appeared first on Players View.
Kyrie Irving is out the next three to four weeks with a left shoulder sprain. The Cavs' point guard suffered the injury in the third quarter of Sunday night's game with the Toronto Raptors. X-rays were negative, but Irving was reevaluated Monday and an MRI and exam revealed a left acromioclavicular sprain, the Cavs announced. Irving needs rest and treatment. Such a bad...
Cleveland Cavaliers point guard Kyrie Irving is likely to miss the rest of the month of March and possibly some time in April after suffering a left shoulder sprain over the weekend.  According to Jeff Zillgitt of USA Today, Irving will be sidelined 3-4 weeks. There are about 5 1/2 weeks left in the season and under no circumstances should Kyrie Irving play in even one game left...
OPENING TIP Well, here we are again: The Cavaliers are about to go through another stretch run without Anderson Varejao and most likely, Kyrie Irving. So what is there to play for? Only the Cavs can make that decision. The key here is to keep playing hard, trying to execute Byron Scotts game plan, and let everything else fall where it may. Meanwhile, the Wizards are just trying...
Cavaliers News

Delivered to your inbox

You'll also receive Yardbarker's daily Top 10, featuring the best sports stories from around the web. Customize your newsletter to get articles on your favorite sports and teams. And the best part? It's free!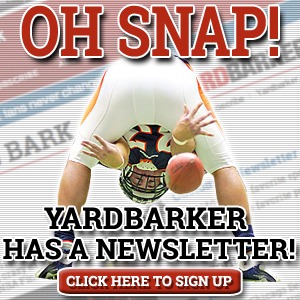 Latest Rumors
Best of Yardbarker

Today's Best Stuff

For Bloggers

Join the Yardbarker Network for more promotion, traffic, and money.

Company Info

Help

What is Yardbarker?

Yardbarker is the largest network of sports blogs and pro athlete blogs on the web. This site is the hub of the Yardbarker Network, where our editors and algorithms curate the best sports content from our network and beyond.