Found January 17, 2013 on Wizards Extreme:
kings 95 wizards 94 1/16/2013 - Sleep Train Arena, Sacramento, CA ESPN Boxscore NBA.com Game Highlights (Photo courtesy of Getty Images)   No doubt the MVP for this game was Bradley Beal.  The rookie is not playing like such and is showing confidence in his game.  He had a career high in 3 point shooting, shooting 6-7. Beal and the Wizards seemed like they had and energy that was lacking at the beginning of the season. Beal also finished with a career high in points, scoring 26. Only thing that was not going for Beal was his defense as Tyreke Evans did what he wanted.  Other than that, Beal was playing with much confidence. It's great to see the potential being shown. He has made John Wall's life so much easier. Hopefully this trend continues John Wall:  If you would have told me, who I would put on the free throw line other than Beal, towards the end of a game in crunch time, I would have easily told you John Wall.  Against the Kings, I would have been dead wrong.  Missing two free throws with around 30 seconds to go as the game was tied 94-94 all.  John Wall missed two free throws and the Wizards lost by one point, 95-94.  Other than the free throws, John is still limited in minutes played as he gets back into game shape.  He's shown flashes of excellent court vision.  He has been passing more than we have see in the past.  I look forward to many John Wall to Brad Beal connections for years to come, hopefully. It's insane to think he scored 14 points and 10 assist in only 25 minutes played.  Wait till he plays damn near 40 minutes a game! Demarcus Cousins: The man who was in trade talks with the same team he played last night showed the team exactly what he can do. Besides his anger, Demarcus Cousins, brings a lot of passion and talent.  There is no doubt that Cousins, once he puts all the pieces together can be something not to be messed with in the league.  Demarcus ended with 21 points and 16 rebounds.  He did have six turnovers but his play in general overshadowed the negative.     The Good The Washington Wizards swagger is at a all time high this season.  You can sense it in their play as it reminds me of the Washington Redskins when they went on their respective winning streak. Swag and confidence can do a lot to a player's game. The Wizards as a whole had a great game offensively. They ended up with a total of 32 assists.  Kevin Seraphin came off the bench and added 16 points with a couple of smooth jumpers.  He's coming along slowly but is showing promise. Nene was his usual when healthy self, hitting key jumpers, getting rebounds and using his veteran swag in key moments. He's been an asset to this team when he's on the floor.   The Bad With around 30 seconds left in the game tied at 94-94.  John Wall missed two free throws to take the lead. In the end, those two points would have helped a lot. To add to the insult, the Wizards lost 95-94.  Free throws are the hardest shot in basketball.  The Wizards shot 8 of 11 from the free throw line.  The Wizards defense was not there today as Jimmer Fredette,  Demarcus Cousins, and Tyreke Evans lead the Kings to a close win.  Both teams had 18 turnovers.   The Ugly There was 2 things that stood out, Trevor Ariza and Jan Vesely's stat line and John Wall's free throws towards the end. Prepare yourself for these stats: Trevor Ariza – 0 points, 0-6 FG, 0-3 three point FG, 3 assist and 2 rebounds in 25 minutes. Talk about production!? When he came in, he just ruined whatever offensive chemistry was on that court for the Wizards.  Hopefully he can pick this up.  Jan Vesely – The JANuary watch continues.  0 points, 0-1 FG, 2 rebounds in10 minutes. He's on and off. One day he's running around and doing everything and the next, he's warming the bench to make sure John doesn't lose heat from his seat.   
Original Story:
http://www.wizardsextreme.com/2013-ar...
THE BACKYARD
BEST OF MAXIM
RELATED ARTICLES
2013 – The Rise of the Beal   Bradley Beal has had an up and down season so far for this Washington Wizards team who has struggled to find an identity with John Wall sidelined until recently. On the year, he is averaging 13.7 points, 3.6 rebounds, and 2.7 assists per game. He is only shooting 38.4% from the floor and 35.4% from long range. Much of the ups and downs can be contributed...
Is Beal for Real? Bradley Beal has exploded since John Wall returned to the Washington Wizards leading many fantasy owners and fanalysts to ponder whether or not Beal can keep up his pace. Yes, he can. Beal was always destined to do better with a superior backcourt mate who could space the floor, command defensive attention and get Beal the ball where he needs it to be at his most...
Bradley Beal scored 23 points, John Wall blocked Ty Lawson's attempt for a tying layup in the final seconds and the Washington Wizards hung on to beat the Denver Nuggets, 112-108, on Friday night to snap an eight-game road losing streak. Kevin Seraphin added 18 points and Wall and Trevor Ariza each added 14 points for the Wizards, who picked up just their second win away from...
Earlier this week, rumors surfaced that the Wizards entered the Rudy Gay bidding battle, making what was reportedly a "good" offer to Memphis.  Shortly thereafter, The Memphis Commercial Appeal published an article stating that Washington's offer would have included Wizards rookie Bradley Beal. Although the rumor of Beal being packaged was quickly extinguished by Beal's...
DENVER -- The Washington Wizards used an 18-4 run to start the fourth quarter to rally past the Denver Nuggets 112-108 on Friday night. Washington's Bradley Beal blocked Ty Lawson's lay-up attempt in the final seconds to deny Denver a chance to tie the game and force overtime. The Wizards won their fourth game in their past five and improved their road record to 2-16...
wizards 120 magic 911/14/2013 - Verizon Center, Washington, DCESPN BoxscoreNBA.com Game Highlights (Photo courtesy of Wizards Extreme/Joe Glorioso)   It's really tough to just pick one MVP from last night's game because you could probably give it to at least three or four different guys. With that said, I'm going to have to give it to Emeka Okafor with strong...
NBA News

Delivered to your inbox

You'll also receive Yardbarker's daily Top 10, featuring the best sports stories from around the web. Customize your newsletter to get articles on your favorite sports and teams. And the best part? It's free!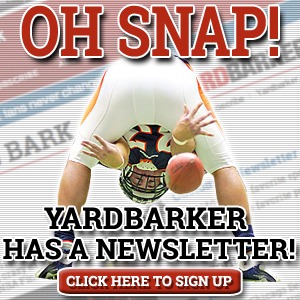 Latest Rumors
Best of Yardbarker

Today's Best Stuff

For Bloggers

Join the Yardbarker Network for more promotion, traffic, and money.

Company Info

Help

What is Yardbarker?

Yardbarker is the largest network of sports blogs and pro athlete blogs on the web. This site is the hub of the Yardbarker Network, where our editors and algorithms curate the best sports content from our network and beyond.