Found January 16, 2013 on Blog So Hard Sports:
Wednesday Wizards Report Photo courtesy Glorioso Photography   Damn, how good does it feel to have John Wall back in the line-up? With two victories in as many games (and 3 in a row), Wall is averaging 13 points and 5 assists in just a hair over 20 minutes a game. The team has a great feeling of rejuvenation and us Wizards faithful are excited as these youngsters to tune into Comcast for every game again. Even though this will probably be a case of too little too late, it is still a great feeling tuning into the games with a sense of "we will win this game" again. Wall has looked great so far in his return but don't let his performance and hype let you overlook what the rest of this team is doing. AJ Price is starting to look like the PG that we all hoped he would be since he returned from injury just three games ago. The Wiz have won all three games since his return and he is averaging just under 13 points a game and just under 5 assists a game in that time frame. With both of our PGs back in the rotation, the rest of the team has started playing much better as well, none more evident than our first picks in the last two drafts. During our current win streak, rookie Bradley Beal is averaging 18.3 points a game and is shooting .465 from the field and a red hot .636 from deep. All three of those numbers are up tremendously from his season averages and he is clearly showing why he was the third overall pick in June. Also there has been an amazing Jan Vesely sighting as of late. In the last two game he played significant minutes, the Magic and the Thunder games, Vesely is averaging 10 points, 7 rebounds and 2.5 assists per game in just over 22 minutes a night. Finally a little return in our 6th overall pick who John Wall recently claimed was "his project". Let's just hope our team leader can keep progressing Vesely because the Phone Booth sure does enjoy seeing the floppy haired Czech soar for dunks. Another player who seems to be reaping the benefits of the return of our point guards is big man Emeka Okafor. Over the last three games he has been displaying his much needed post presence by putting up 13.6 points 11 rebounds 2.5 assists and a block a game over that span. Part of his improved play is also due to an increase in minutes, which he should have been playing over 30 minutes a night the entire season. Regardless, he is starting to play very well and it's great to see. Even though the Wiz are playing some great basketball, I doubt it will be enough to complete what would probably be the greatest in-season turnaround in league history to make it to the playoffs.  So what does that mean going forward? Actually it could help out our fortunes in this coming off-season. By piling up some tallies in the win category the Wiz are potential hurting their draft position. But that might not necessarily be a bad thing. When I look at some mock drafts, even though it's entirely too early to predict where players will be drafted, drafting later in the lottery might be the best option for the Wiz. None of the players I see pegged as "top 5" picks jump out as me as players that would really come in, demand playing time because of their skills right away, and drastically help in the win column. I actually like some of the prospects that are pegged to go mid-lottery and think there could be some potentially great fits. The first player that jumps out at me as someone I would love to have on the Wizards is Glen Robinson III. Or as he would quickly be known in DC, GRIII. This dude is a superior athlete with a great shooting touch and great blood lines as he is the Big Dog Jr. Another player that I think would be a great fit would be Willie Cauley-Stein, the 7-foot big man from Kentucky. He is a very fluid and an athletic big man who can block shots. While he would be considered more of a project, he wouldn't be forced to produce right away with the way our roster is currently constructed and could be mentored by Nene and Okafor. This kid could be special, and he could blossom right at the time Nene and Okafor start to age and regress. Our drafting this June of course depends on what moves we make until then, but GRIII and Cauley-Stein I think would be great fits. And the best part about a mid-lottery pick is that they make roughly $2 million per season less than the top two picks. And that is $2 million per season over the next 3-4 years. So while not only do I see us getting a better fit later in the draft, it could potentially save us money. Another way our winning ways could improve our off-season is from free-agent acquisitions.  Players want to play on winning teams not losing teams. So if free-agents to be see the Wiz continue their winning ways, why wouldn't you want to play with an electric point guard that makes all of his teammates better? But its only January and we have a long way to until the off-season, so let's just enjoy our current winning streak as the Wiz are in Sacramento tonight taking on the Kings and going for their 4th consecutive win. Until next Wednesday, Stay Steezy my friends.   Related posts: Does John Wall have the ability to turn the Wizards season around? Are More Wins Headed the Wizards Way? Who is Going to Start at PG for the Wizards?
Original Story:
http://blogsohardsports.com/wizards-2...
THE BACKYARD
BEST OF MAXIM
RELATED ARTICLES
KILLER CROSS
He's baaack...
This is a two part highlight post. First up is Ish Smith jumping completely over John Wall when he stops and pump fakes on a layup:     Apparently, Wall was none to please that Ish jumped over him, and decided he would get a little payback on the court. In this video, he puts Smith on ice skates and crosses the Ish out of Ish:     I bet players may think a little harder next...
2013 – The Rise of the Beal   Bradley Beal has had an up and down season so far for this Washington Wizards team who has struggled to find an identity with John Wall sidelined until recently. On the year, he is averaging 13.7 points, 3.6 rebounds, and 2.7 assists per game. He is only shooting 38.4% from the floor and 35.4% from long range. Much of the ups and downs can be contributed...
As has been the case for quite some time now, the Washington Wizards have long been considered the league clowns of the NBA. There's really no need for clarification as the factors for the team's prolonged suckassness has been on full display and well documented: slow starts, slow finishes, offensive ineptitude, defensive struggles, lack of talent, poor coaching, managerial mishaps...
The Philadelphia 76ers announced Thursday that they signed guard Shelvin Mack to a 10-day contract. Mack averaged 20.5 points, 8.0 assists, 4.9 rebounds and 1.43 steals and shot 46.2 percent from the floor, 41.8 percent from 3-point range and 89.6 percent from the free-throw line in 14 games with the Maine Red Claws of the D-League this season. He ranks third in the D-League in...
The Washington Wizards hosted the Orlando Magic Monday night and the game featured one very nasty crossover from Wizards all-star point guard John Wall. Wall did a behind-the-back crossover at the top of the key that left Magic guard Ish Smith on the floor in embarrassment. The Wizards won the game convincingly and Wall finished with twelve points and six assists. Article found on: Cosby Sweaters
WASHINGTON -- Artistic excellence is not a phrase often associated with the Washington Wizards' offense this season. With John Wall back and the team playing a sharing-is-caring brand of basketball, perhaps a new day is dawning in the nation's capital. Emeka Okafor had 19 points and 11 rebounds, and the Wizards defeated the Orlando Magic 120-91 Monday night for their third...
wizards 120 magic 911/14/2013 - Verizon Center, Washington, DCESPN BoxscoreNBA.com Game Highlights (Photo courtesy of Wizards Extreme/Joe Glorioso)   It's really tough to just pick one MVP from last night's game because you could probably give it to at least three or four different guys. With that said, I'm going to have to give it to Emeka Okafor with strong...
The return of John Wall even in limited minutes has seemed to ignite the Washington Wizards, who are on the verge of a four-game winning streak that would double their previous win total. Accomplishing that feat requires beating the Sacramento Kings on Wednesday night to begin their five-game, eight-day western road trip. One game after rookie Bradley Beal hit a jumper with 0.3...
Wizards News

Delivered to your inbox

You'll also receive Yardbarker's daily Top 10, featuring the best sports stories from around the web. Customize your newsletter to get articles on your favorite sports and teams. And the best part? It's free!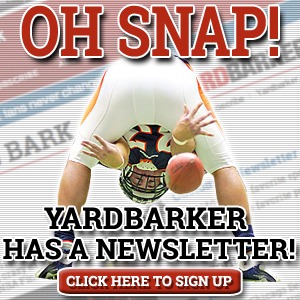 Latest Rumors
Best of Yardbarker

Today's Best Stuff

For Bloggers

Join the Yardbarker Network for more promotion, traffic, and money.

Company Info

Help

What is Yardbarker?

Yardbarker is the largest network of sports blogs and pro athlete blogs on the web. This site is the hub of the Yardbarker Network, where our editors and algorithms curate the best sports content from our network and beyond.