Found December 29, 2011 on Fox Sports North:
MINNEAPOLIS Timberwolves rookies Derrick Williams and Ricky Rubio each have just two NBA games under their belts, and the results have been mixed for both. In Minnesota's season opener, a 104-100 loss to Oklahoma City, both Rubio and Williams were impressive. Rubio finished with just six points, but the 21-year-old point guard had zero turnovers and a team-high six assists including a fast-break pass that led to a Williams dunk and graced the highlight reels. Williams scored 13 and grabbed six rebounds in his NBA debut. The following night against Milwaukee, both rookies struggled. Rubio had three of Minnesota's 25 turnovers to go along with four assists. Williams scored just three points and was called for a pair of offensive fouls. "They're going to be inconsistent. We're inconsistent right now as a team," said Wolves coach Rick Adelman. "We've had two close games, but they're two rookies and they're going to have to figure out how they're going to succeed." Rubio is in his first year with the Wolves after they drafted him fifth overall in 2009. He spent two more years in his native Spain before coming to the NBA. Now, two games into his NBA career, Rubio is having to adjust a bit to the new league after playing in Spain. "I have to control the game," Rubio said. "It was hard to control with all those turnovers. I have to learn a lot of things. In the end of the day it's the same; it's basketball. But maybe here you can run more and you can find more spaces here." Adelman missed Minnesota's game in Milwaukee to attend a funeral. When he went back and watched the film from the Timberwolves' 98-95 loss, he noticed inconsistencies in the rookies from one game to the next. "The first night, Ricky did some really nice things," Adelman said. "The other night, I turned on SportsCenter after the Milwaukee game. They showed all his turnovers. So that's the way it goes. But they have to improve, like everybody else on our team. They have to figure out how they're going to be successful. But they're going to be up and down." Williams was Minnesota's No. 2 overall pick in this year's draft. The 20-year-old forward from the University of Arizona has shown flashes of his athleticism during the Timberwolves' first two games, but he admits he's still learning. "I think I can rebound a little bit better," Williams said. "I haven't been hitting my shots lately. I've been trying to get up more shots lately and just knock down open shots like I know I can, just having the confidence to shoot it." Part of that learning process involves the two offensive fouls he was whistled for in the first quarter against Milwaukee. "It's just a different game. That's just a learning experience I've already talked over and practiced it," Williams said. "They're waiting for the charge. That's just a learning experience of me being a rookie." The early schedule for the Wolves is tough, and it will get tougher for the rookies Williams and Rubio. Minnesota plays host to LeBron James, Dwyane Wade, Chris Bosh and the Miami Heat on Friday at Target Center. Williams he's only 20, remember says he grew up watching James and Wade. James will turn 27 tomorrow, and the rookie Williams is eager to face him. "It's going to be pretty surreal," Williams said. "I'm on the court with these guys in my third game in my career. It's going to be really exciting. I'm looking forward to getting out there and playing." James has already noted his admiration of Rubio. After Minnesota's season opener against the Thunder, James took to Twitter to say: "Rubio can pass that rock!" "It's nice to hear that from him," Rubio said. Friday's game comes after a few days off for the Wolves. Their first two were on back-to-back nights, a byproduct of the NBA's condensed 66-game season. Minnesota hosted Oklahoma City n Monday and then traveled to Milwaukee for its game the following night. Welcome to the NBA, rookies. "It's a quick turnaround. Your memory has to be really quick, just forget about the game and get over it and you're on to the next one," Williams said." That's the first thing I learned as soon as I got here. You have a bad day, but so what. Get over it. You have another game the next day."
Original Story:
http://www.foxsportsnorth.com/12/29/1...
THE BACKYARD
BEST OF MAXIM
RELATED ARTICLES
Ricky Rubio's NBA career is off to an encouraging (at times, dazzling) start, which bodes well for his bank account going forward. From the Pioneer Press: "The buzz (about Rubio) is definitely picking up,' [Agent Jarinn Akana] understated after the game, a 104-100 loss to Oklahoma City. 'Eventually, deals that we were looking at probably will start coming in.' Already...
The Minnesota Timberwolves damn near beat the Miami Heat last night.  Part of the reason why was continued impressive play by Ricky Rubio, who scored 12 points on 4-7 shooting (2-2 from 3) and dropped a game-high 12 dimes.   Here's video of Rubio setting early career highs, courtesy of Ball is Life. [follow]
MINNEAPOLIS The 4-0 Miami Heat are done with Minnesota this season after beating the Timberwolves, 103-101, on Friday at Target Center. Count All-Star guard Dwyane Wade among the Heat players happy he won't be facing Minnesota any time soon."I'm glad we played them early because later they're going to be tough," Wade said. "I think the Timberwolves fans...
The Boston Celtics are off to a 0 and 2 and in last night's loss to the Miami Heat one player had a very embarrassing moment. Celtics Rajon Rondo is one of the best point guards in the NBA. Rondo excels at attacking the rim and passing the ball; he is not a shooter. In Tuesday's game against the Heat Kevin Garnett gave Rondo a perfect outlet pass that gave Rondo...
Dwyane Wade was impressed by the play of Ricky Rubio.
"I saw him for the first time and it was like, 'He is real,' " [OKC Coach] Brooks said, smiling. "Like a folk hero." Ricky Rubio has arrived. Last night, the 21-year old talent made his long-awaited debut against the OKC Thunder. Rubio came off the bench to record six points, six assists, five rebounds, and most impressive, zero turnovers in a 104-100 loss to the Thunder...
Quickish releases its list of What's Out for 2011 and What's In for 2012. In the cuddly, telegenic collegiate sharpshooter category, Jimmer Fredette gives way to Creighton's Doug McDermott. In the rookie sensation division, Ricky Rubio takes the seat formerly occupied by Blake Griffin. Bethlehem Shoals of GQ on the Mavericks' Christmas Day banner ceremony: &quot...
NBA News

Delivered to your inbox

You'll also receive Yardbarker's daily Top 10, featuring the best sports stories from around the web. Customize your newsletter to get articles on your favorite sports and teams. And the best part? It's free!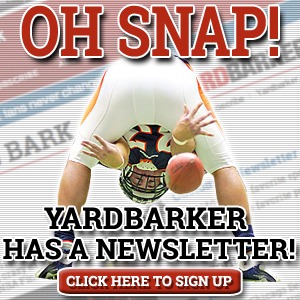 Latest Rumors
The Backyard

Today's Best Stuff

For Bloggers

Join the Yardbarker Network for more promotion, traffic, and money.

Company Info

Help

What is Yardbarker?

Yardbarker is the largest network of sports blogs and pro athlete blogs on the web. This site is the hub of the Yardbarker Network, where our editors and algorithms curate the best sports content from our network and beyond.