Found October 29, 2012 on Fox Sports North:
PLAYERS:
Rick Adelman
,
Derrick Williams
,
Brandon Roy
,
Luke Ridnour
,
Nikola Pekovic
,
Kevin Love
,
Kevin Garnett
,
Ricky Rubio
,
Russell Westbrook
,
Thabo Sefolosha
,
Kevin Durant
,
Serge Ibaka
,
Kendrick Perkins
,
Andrei Kirilenko
,
Chase Budinger
TEAMS:
Minnesota Timberwolves
,
Boston Celtics
,
Oklahoma City Thunder
MINNEAPOLIS The countdown stands at four: four days until the Timberwolves open their season against the Kings on Friday. They're one of the last teams to debut this year, and Friday's matchup will in fact be the Kings' second game they open up in Chicago on Wednesday which will give the Timberwolves plenty of time to rest and plan.Whether that's too much time remains up for debate. Coach Rick Adelman said he'll never frown upon practice time, which was obviously in short supply last year, but players like Derrick Williams and even Brandon Roy have admitted the drawbacks of the schedule. To Roy, the extra practice is good, but it's hard to know what the team has until it's in a game that means something.Roy sat out Monday's practice after banging his knee, in Adelman's words, but the coach stressed that he's fine and will be scrimmaging with the team on Tuesday. Other than that, it's status quo with injuries. No decision has been made definitively about Luke Ridnour's back, but he practiced, and Nikola Pekovic's hand issue seems like a thing of the past. Kevin Love will rejoin the team Wednesday, most likely, although he's still a few weeks from returning to the court.A bit more on the preseason: The NBA released its compiled preseason stats for every team, which revealed that the 80.9 points per game that the Timberwolves allowed were the fewest of any team in the preseason. The Bulls gave up an average of 87.1 for the next-best mark. In addition, the Timberwolves' 11.6 point differential was the best of any team; the 76ers were next-best with 11.0.But to put all this in context, the Lakers had the worst point differential of any team, -15.3, and the Timberwolves have had plenty of recent preseason success before losing seasons. That shows exactly how much stock one can put in the preseason. Without a lock-down defender, the Timberwolves are capable of being competent on defense but won't lead the league in the regular season, and their offense will have to improve from its seventh-worst ranking in terms of preseason scoring.Other categories in which the Timberwolves ranked high within the league: defensive rebounding (sixth-best), rebounding (ninth-best) and steals (fifth-best). The importance of Kevin and Ricky: Yeah, yeah, I know this isn't what you want to hear now, with another two-ish months until the Kevin-Ricky tandem takes the court together. But before descending into a fit of self-pity borne of Kevin Garnett abandonment issues from 2007, know this: With Ricky Rubio and Love healthy, it was pretty good last season. With this year's improvements, it can be even better.Last season, the Timberwolves best-performing five-man unit on the court consisted of Love, Rubio, Wes Johnson, Ridnour and Pekovic. With the exception of Johnson, who was obviously the weak link of the bunch, the group remains intact and will be a viable option for the Timberwolves come December or January. That lineup played 267.7 minutes together last season, the most of any combination, and of the nine most-used lineups, it was the only one with a positive plus-minus. In fact, of all the lineups with positive plus-minuses, only three did not involve Rubio and only two involved neither Love nor Rubio.Here's another thing to chew on (or cry over): The Timberwolves' best lineup only played together for those 267.7 minutes. The Thunder's best combination (Russell Westbrook, Thabo Sefolosha, Kevin Durant, Serge Ibaka and Kendrick Perkins) saw 664.0 minutes together on the court, and its second-best unit (sub in Harden for Sefolosha) played 408.7 minutes. There's the destructive power of injuries.Think about this, now: The Love-Rubio-Ridnour-Pekovic group will still be around this season, and with, say, Andrei Kirilenko or Chase Budinger in the mix, it should perform significantly better than when Wes Johnson occupied the small forward spot. There will also be more versatility (Roy at shooting guard rather than Ridnour, for example) and combinations, so the core group will be able to rest or play to its strengths based on matchups. Last season, to take it out was to downgrade significantly the second most-used lineup had a winning percentage of 40.0, down from 57.8 with the first whereas this season, the discrepancy should hardly be so big.Bring on December Follow Joan Niesen on Twitter.
Original Story:
http://www.foxsportsnorth.com/10/29/1...
THE BACKYARD
BEST OF MAXIM
RELATED ARTICLES
WHITE'S THE PROBLEM HERE
There isn't a whole lot of diversity on the T'Wolves roster these days, and critics are now wondering out loud if this was done intentionally.
Last year the Timberwolves ended the season with a disappointing 26-40 record. Through the first half of last season the Wolves were led by their core of young players featuring Kevin Love, Ricky Rubio, and Derrick Williams who at a certain point led them to a record above .500. But then things started going downhill when rookie phenom and floor general Ricky Rubio went down with...
MINNEAPOLIS -- The Minnesota Timberwolves have picked up the third-year options on the contracts of point guard Ricky Rubio and forward Derrick Williams, a day in advance of the Wednesday deadline to do so.Rubio finished last season as runner-up in the NBA's Rookie of the Year voting, even after tearing his ACL March 9. In 41 games, he averaged 10.6 points, 4.2 rebounds and 8...
MINNEAPOLIS Luke Ridnour has been practicing with the Timberwolves this week after missing much of the preseason with a herniated disk in his back. Although a problem like that for a veteran like Ridnour at 31, this will be his 10th season in the league could be a nagging issue, the point guard has assured coach Rick Adelman that he feels great.And that's that.At this point...
The Minnesota Timberwolves have exercised third-year options on guard Ricky Rubio and forward Derrick Williams for the 2013-14 season. Rubio averaged 10.6 points, 8.2 assists and 4.2 rebounds per game last season. He finished as runner-up in the NBA's Rookie of the Year voting and finished sixth in the league, and first among rookies, in assists last season. The second-year...
Greg Stiemsma never got tired of the grind last season. It took the Randolph, Wisc., native too long and too many miles to get to the NBA for him to start whining about the physical demands of the sport. Now the proud owner of a multiyear deal with the Minnesota Timberwolves, Stiemsma has not lost sight of where he came from. While he signed autographs as part of...
Of the 15 players on the Minnesota Timberwolves roster, 10 of those players are white. For Minnesota civil rights activists, that is a few too many. Black leaders in the state feel that the Timberwolves organization has made a conscious effort to build a roster full of white players. David Kahn, the team's president of basketball operations responded to those...
Repost from Yahoo: Minnesota Timberwolves fans may notice something different about their team this year. In a league in which American-born black players made up 75 percent of roster spots in 2011, the Timberwolves will have an opening-day roster comprising just 33 percent black players (five out of 15). According to the Minneapolis Star-Tribune, this year's squad will be...
I used to play volleyball. Then, I realized that the amount of hand-eye coordination I have is in the negatives. This made running seem pretty ideal. Winter is here now and that means two things: - Running in the snow - Basketball I don't understand the joy in either of these things. Although I'll probably never really understand the joy runners find while running through...
NBA News

Delivered to your inbox

You'll also receive Yardbarker's daily Top 10, featuring the best sports stories from around the web. Customize your newsletter to get articles on your favorite sports and teams. And the best part? It's free!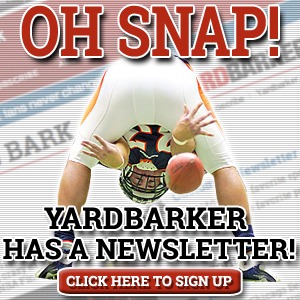 Latest Rumors
The Backyard

Today's Best Stuff

For Bloggers

Join the Yardbarker Network for more promotion, traffic, and money.

Company Info

Help

What is Yardbarker?

Yardbarker is the largest network of sports blogs and pro athlete blogs on the web. This site is the hub of the Yardbarker Network, where our editors and algorithms curate the best sports content from our network and beyond.