Found November 01, 2012 on Fox Sports North:
PLAYERS:
Ricky Rubio
,
Derrick Williams
,
Kevin Love
,
Dwight Howard
,
Kobe Bryant
,
Pau Gasol
,
Steve Nash
,
David Stern
,
Nikola Pekovic
,
Kevin Durant
,
Russell Westbrook
,
Serge Ibaka
,
Sam Presti
,
David Kahn
TEAMS:
Golden State Warriors
,
Minnesota Timberwolves
,
Los Angeles Lakers
,
Oklahoma City Thunder
MINNEAPOLIS On Wednesday, James Harden's deal in Houston got done, as did Steph Curry's with Golden State and DeMar DeRozan's in Toronto. Chicago and Taj Gibson took it down to the wire. So did Jrue Holiday and Philadelphia, but both got their money. As the clock ticked to midnight, these and other members of the draft class of 2009 learned their fates; the winners saw their futures, and the losers saw auditions and everything they must prove. The deadline has passed. The values have been assigned. You've got to know the Timberwolves enjoyed sitting this round out, save those obligatory third-year options on point guard Ricky Rubio and forward Derrick Williams. Last season's extension deadline for fourth-year players came much later, on Jan. 25, a month into the lockout-warped schedule. It seems like yesterday that the Timberwolves and Kevin Love were engaged in their excruciating tug-of-war (Give me five years! No! Well . . . I'll give you three! Fine!), and thank goodness that's over. Watching the drama can be so much more fun. Now, a year into the current CBA, opinions and trends are beginning to form, if not crystallize. With Love's deal, which could be as much as a four-year, 62 million contract, the Timberwolves were in new territory, and the real ramifications of the supposedly more punitive luxury tax had not yet been fully explored. Now, we're seeing them play out, and it might not be as expected. Oklahoma City doesn't want to pay a luxury tax, so Harden is gone to Houston, where he signed a five-year, 80 million max deal Wednesday. Dwight Howard went to the Lakers in a blockbuster trade, and the team added his salary to those of Kobe Bryant, Pau Gasol and Steve Nash because it doesn't care about paying a luxury tax. Despite all the shaky stabs at equality, this is still about don't want to vs. don't care when it comes to spending the big money. In some places, the financial punishment is irrelevant. The small markets are losing once again. But instead of getting into a philosophical discussion of right and wrong -- or even an angry tirade against commissioner David Stern's platitudes -- it's most interesting to look at what these recent moves might mean for the Timberwolves and the potentially momentous decision they made with Love last winter. In the end, this comes down to timing. Love was eligible for his extension in the first round of players under the new CBA. He's the kind of player the Timberwolves -- maybe not every team, but definitely the Timberwolves -- would hardly think twice about before offering a max deal. But to do that and burn their designated player so early (each team gets one per CBA term, and this one lasts until 2017) was risky, especially with Rubio and Williams in the pipeline and perhaps even another superstar waiting, undiscovered. Let's remember: At the time of Love's deal, Rubio had not yet torn his ACL, but even with that injury, he's still a legitimate candidate for a max deal. Williams had yet to post his discouraging rookie numbers, and really, that season should hardly be a deterrent for believing he can live up to expectations as a No. 2 overall pick. I'm not saying either of them will deserve that massive five-year deal, worth either 25 or 30 percent of the team's salary cap depending on the player's qualifications. (The so-called Derrick Rose Rule dictates that a player who's won an MVP award, been voted as an All-Star Game starter twice or been named to any level of the All-NBA team may earn up to 30 percent, rather than 25.) But one might, and at the time, it looked even more likely that one would. So the Timberwolves looked to the future last January, and the plan they dreamed up hinges on a chain of uncertain events and their ability to build around Love as the face of the franchise. If Rubio, Williams and center Nikola Pekovic emerge into dominant players, the team will start winning. If the team starts winning, Love will exercise his player option in 2015-16 for 15.8 million and then re-sign. After that, the rest of these players will need to be paid. Therein will lie the challenges. By that time, the team will have had to decide whether it wants to offer Rubio or Williams (or neither) a max deal. That deadline will come in October 2014. In this scenario, the team would have locked down Pekovic in the summer of 2013, say to a deal that would pay him about 10 million by 2015-16 -- just an educated guess. For the sake of argument, let's suppose that Rubio gets the max deal. In 2015-16, he'd be pulling in about as much as Love, in the 15 million to 16 million range. Between those two and Pekovic that season, that would be 41 million. Assuming the salary cap remains near 60 million, that leaves 19 million for the rest of the team. Williams would hardly fit into that plan; if he's a bust, he'll be gone by then, and if he's not, he'll be too expensive. Look at it like this: This season, Rubio, Love and Pekovic make a collective 21.4 million, about 36.9 percent of the team's 58.044 million salary cap. Including Williams in that mix bumps the number up to 45.2 percent, leaving plenty of cap space for a supporting cast. But with those projected figures for 2015-16, Love, Rubio and Pekovic would make up 70.7 percent of the team's cap if it remained the same. Any more than that, and the team would be hard-pressed to sign anyone else in backup roles, and Williams would be the odd man out. Beyond even that lies another nagging point: If the Timberwolves are really trying to build toward a championship, they might need a player as elite as Love to get there. They'd have to pay him, too, which would throw the whole thing amuck. Obviously, that's an optimal scenario, with everything going the Timberwolves' way. It's nothing if not a stretch, especially when history and superstition come into play. But such a situation must be the goal for this young team, which finally seems to have found a core it can build around. If we've learned anything from the highest-profile move of this last round of extensions, it's that sometimes, those cores can outgrow their teams -- no matter how much fans love them, how close they come to a championship, how much their teammates might seem like brothers. Luck and chemistry and that warm, fuzzy feeling we associate with teams like the Thunder can only go so far. Oklahoma City escaped by getting Kevin Durant's deal done under the last CBA, having Russell Westbrook opt out of his 30 percent Rose Rule provision and by having Serge Ibaka agree to a contract without testing the open market. And then along came Harden, who was willing to trade loyalty for cash. It was his prerogative, and he got what he wanted. He also taught teams like the Timberwolves a lesson; in the end, cash is king, and cash does not live in smaller-market outposts. The Thunder were lucky. They have a shrewd general manager in Sam Presti and a level of cache that's nearly unmatched within the league. They were able to deal Harden quickly and effectively, and they should be able to move on. But there has to be a bitter taste. It's the same one the Timberwolves felt last year with Love, when they all shook hands and agreed on a deal that everyone wished could be different. Money changes things. This week, money taught its lessons. In a meta sense, it was an ominous few days for David Kahn and the Timberwolves. These players they love now are young and with good price tags, and the wise teams going forward are going to be the ones who avoid shelling out tens of millions of dollars of a luxury tax that's going to grow more prohibitive by the year. Cheaper can be smarter, especially when you're not Los Angeles, and the further into this CBA we get, the more it pays to be conservative. Definitely in Oklahoma, and most likely in Minnesota, too. Follow Joan Niesen on Twitter.
Original Story:
http://www.foxsportsnorth.com/11/01/1...
THE BACKYARD
BEST OF MAXIM
RELATED ARTICLES
MINNEAPOLIS Kevin Love didn't want it to be like this.He wanted the cameras, but not like this. He wanted the questions, but not about this. He wanted the attention, but for something he'd done, not for everything he cannot.Nothing is more humanizing than an injury. It's amazing what that thin, removable cast can transform; an exemplar becomes just a bald guy in a folding...
Kevin Love says he understands the skepticism about the source of his broken right hand. The Minnesota Timberwolves All-Star, however, insists the story about knuckle push-ups gone wrong is true. Love spoke publicly Wednesday for the first time since his injury, calling it ''pretty much a freak accident.'' He's heard all the conspiracy theories but said he really...
MINNEAPOLIS It isn't every day Kevin Love is mistaken for a senior citizen.That's what happened, though, in August, when the Timberwolves star and Kyrie Irving took the court for a staged pickup basketball game in Los Angeles. They were there for the second installment of Irving's "Uncle Drew" Pepsi commercials, and for the Cavaliers' point guard, the jig...
AGELESS WONDERS
I thought the Pepsi MAX commercials with Kyrie Irving posing as an ::ahem:: older former baller named Uncle Drew were genius! Now we're back with part two and it features more secret players in disguise as they take to the courts and hustle guys in pick up games. Check out the continuation as Uncle [...]
Previously on That NBA Lottery Pick, we featured a short film starring Cleveland Cavaliers point guard Kyrie dressing up in old man make-up as "Uncle Drew" and schooling some street ballers.In this clip, Uncle Drew invites help from old man name Wes who is really Timberwolves forward Kevin Love:  (Courtesy of Pro Basketball Talk)
The Minnesota Timberwolves fell apart last season after Ricky Rubio went down with an injury. How they'll fare with both him and star Kevin Love sidelined to begin the 2012-13 campaign remains to be seen. Brandon Roy and a host of newcomers make their team debuts Friday night when Minnesota hosts the Sacramento Kings, who will look to clean up their play after dropping their...
MINNEAPOLIS You'll have to wait a little longer to find out who's going to start tonight for the Timberwolves against the Kings. With Kevin Love out, the power forward position is up for grabs, and it'll likely be Dante Cunningham or Derrick Williams out there to begin the game. There won't be confirmation of the decision until about 6 p.m. tonight, after coach Rick...
NBA News

Delivered to your inbox

You'll also receive Yardbarker's daily Top 10, featuring the best sports stories from around the web. Customize your newsletter to get articles on your favorite sports and teams. And the best part? It's free!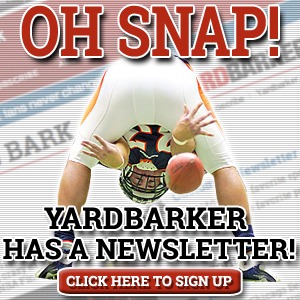 Latest Rumors
The Backyard

Today's Best Stuff

For Bloggers

Join the Yardbarker Network for more promotion, traffic, and money.

Company Info

Help

What is Yardbarker?

Yardbarker is the largest network of sports blogs and pro athlete blogs on the web. This site is the hub of the Yardbarker Network, where our editors and algorithms curate the best sports content from our network and beyond.