Found June 29, 2012 on Fox Sports North:
PLAYERS:
Derrick Williams
,
Michael Beasley
,
Martell Webster
,
Anthony Randolph
,
David Kahn
,
Chase Budinger
,
Brandon Roy
,
Ray Allen
,
Jason Terry
,
Delonte West
,
Jamal Crawford
,
Rick Adelman
,
Ricky Rubio
,
Kevin Love
TEAMS:
Minnesota Timberwolves
,
Portland Trail Blazers
,
Boston Celtics
,
Dallas Mavericks
MINNEAPOLIS Derrick Williams had his moment to shine. In fact, he had an entire lockout to be the most talked-about name for the Minnesota Timberwolves after they picked him second in the 2011 draft. A year later, with no lockout to speak of, it's still Williams whose name is again coloring the team's offseason. In 2011, the speculation was about how good Williams could be. In 2012, it's where he'll be, who the forward could bring the Timberwolves if they trade him, if he can use this offseason to get into better shape and play like a No. 2 pick.The resolution to the Williams situation is unlikely to come at any time in the next few days, and the players whose fates do hang in the balance as the 11:59 p.m. deadline on Saturday for qualifying offers approaches seem to be almost an afterthought. By Sunday morning, small forwards Michael Beasley and Martell Webster and power forward Anthony Randolph will all know their fates, but the Timberwolves' roster will likely not take shape for weeks.Before free agency begins July 1, the Timberwolves have the option of giving qualifying offers to Beasley (8.2 million) and Randolph (4.0 million). They also must decide if they would like to buy out Webster's 5.7 million contract for 600,000.Timberwolves president of basketball operations David Kahn said the team would wait until Saturday to announce its decision on the three players. However, all three underperformed in 2011-12, posting some of the worst statistics of their careers. And after Tuesday, getting rid of the contracts of Beasley, Webster and Randolph could be a cost-saving measure with a cheaper replacement in Chase Budinger now available.Because they're not technically under contract, neither Beasley nor Randolph could have been used as trade bait when the Timberwolves attempted to deal up in Thursday night's draft. Right now, they're looking more and more like players the team will let go, but Kahn stressed that he and the Timberwolves had not yet finalized their decision as of draft night."No determination has been made as to how we'll proceed," Kahn said Thursday. "We'll be making decisions I wouldn't say on the fly because that makes us sound like they're not well-thought."Once those decisions are made, the Timberwolves will have the 10-day July moratorium, a period from July 1-10 in which they cannot sign or make trades, only negotiate. There are exceptions, though; they can sign draft picks and free agents to minimum one- or two-year contracts and they can also sign restricted free agents. If they'd had a first-round pick Thursday night, they could also have signed him to a rookie scale contract.It's impossible to say yet who the Timberwolves will target during free agency. All it takes is a look at the Budinger trade to see these acquisitions can come out of nowhere. Kahn did confirm that the Timberwolves are interested in retired guard Brandon Roy and that they've spoken to him; still, signing him is still at least 11 days away, and other teams are interested as well. Roy will also have to prove that he is indeed healthy after he retired due to a lack of cartilage between the bones in his knees.Other notable shooting guards on the free-agent market will be Ray Allen, Jason Terry, Delonte West, O.J. Mayo and Jamal Crawford. They're stretches, especially guys like Allen and Terry, but the Timberwolves were rumored to be pursuing Crawford at the trade deadline. Right now, though, these are just names, players the team can't ignore but might prove less than interested in. When the Timberwolves acquired Budinger on Tuesday, they got a player who can help them both at small forward and shooting guard, two areas where they had the most need. However, Budinger won't solve all their problems, and he's primarily a small forward. Coach Rick Adelman was quick to point out that the team is not finished with offseason moves, and Budinger isn't a cure-all.Kahn, for his part, remains firm on the most concrete point he made at season's end: Only Ricky Rubio and Kevin Love are untouchable."It's not to say everyone else falls into some other bucket, there are just different degrees," Kahn said.That's his way of saying that yes, even a player with as much potential as Williams might still be on the trading block, though the team would have reservations about parting with him. He's not saying that the Derrick Williams era ends now, or even that it's likely to but rather hedging his bets. Right now, there's little that isn't an option.As far as salary cap room is concerned, the Timberwolves are still flexible. They can make room as necessary, Kahn said, and though it remains to be seen what the team does on Saturday, it would appear that Budinger only adds to that financial flexibility. Couched amid the vagaries going into free agency is one concrete fact: The Timberwolves are going to be active. It must be a trying time for the team ("It's just perpetual it just never stops," Kahn said to describe the process), with so much uncertainty affecting everyone from the front office to players. Logic says that the team will retain many of its players, but with such an explicit statement that anyone but Love or Rubio could go, it's hard not to feel unsettled.But for a team like the Timberwolves that dealt with so much last season everything from landing on the brink of contending to a crippling injury to a season that ended far worse than it should have unsettled can be good. The players are young, and they need to learn a lesson in how this process works. They need to see that they can earn stability but that they haven't yet.The players can take this offseason to work and mature. Kahn and the team might have a harder task, though. They must make the stress of uncertainty worth it to the players who will remain.Follow Joan Niesen on Twitter.
Original Story:
http://www.foxsportsnorth.com/06/29/1...
THE BACKYARD
BEST OF MAXIM
RELATED ARTICLES
As much fun as it is to speculate trades and their associated rumors, it would be nice if the Lakers would go ahead and get something done with Pau Gasol. To read this feature, please click the link below.
MINNEAPOLIS The Minnesota Timberwolves announced Saturday that they did not extend qualifying offers to Michael Beasley or Anthony Randolph, making both unrestricted free agents for the 2012-13 season. Beasley, a small forward who averaged 11.5 points and 4.4 rebounds in 2011-12, posted the worst numbers of his career last season with the Timberwolves. The team would have had to...
The Minnesota Timberwolves have declined to make qualifying offers to forwards Michael Beasley and Anthony Randolph, making them both unrestricted free agents. The Timberwolves announced the expected moves Saturday. They also extended the deadlines they had to reach buyout agreements with veterans Martell Webster and Brad Miller to allow them more time to try to work out trades...
MINNEAPOLIS Strip away the pomp and circumstance, the boos directed at David Stern. Forget the interviews that ran the gamut of emotional to senseless and the nascent dreams of relevance, and the NBA draft becomes something else altogether. Get rid of it all, gut it to its core, and the draft can be a burden. It's an economics professor's dream, a laboratory of risk aversion...
Pau Gasol teaming with fellow Spaniard Ricky Rubio and also Kevin Love? Sounds good to the Timberwolves. But the key now is finding a way to convince the stingy Lakers to pull the trigger on a Gasol deal. From The AP: The Wolves' interest in Gasol has long been rumored, with the highly skilled big man considered an ideal fit for coach Rick Adelman's corner offense, and the kind...
RICKY'S AMIGO
The Timberwolves are reportedly "pulling out all the stops" in an effort to land Pau Gasol and are rumored to have offered up Derrick Williams as part of the deal.
NBA News

Delivered to your inbox

You'll also receive Yardbarker's daily Top 10, featuring the best sports stories from around the web. Customize your newsletter to get articles on your favorite sports and teams. And the best part? It's free!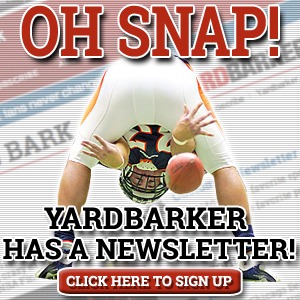 Latest Rumors
The Backyard

Today's Best Stuff

For Bloggers

Join the Yardbarker Network for more promotion, traffic, and money.

Company Info

Help

What is Yardbarker?

Yardbarker is the largest network of sports blogs and pro athlete blogs on the web. This site is the hub of the Yardbarker Network, where our editors and algorithms curate the best sports content from our network and beyond.