Found November 18, 2012 on Fox Sports North:
MINNEAPOLIS The latest on Nikola Pekovic's pain: It isn't special. Talking to Pekovic when he's rolling with his dry humor can be a blast. So, too, can talking to him post-injury, apparently, when his musings on pain seem like they might form the backbone of some advanced Jedi philosophy. On Sunday, the line was this: "I feel some pain, but nothing special." And then a shrug. That after participating in a full practice, his first full workout since spraining his left ankle on Monday in Dallas. Even by Friday, Pekovic seemed hopeful to be able to play, and now that he's missed two full games, he's getting a bit impatient to get back on the court. "It's bad to see how they play these close games, and you can't help," he said. "It's bad for me." Pekovic was the only one of the three Timberwolves with shorter-term injuries to participate fully Sunday. J.J. Barea (sprained left foot) and Brandon Roy (sore right knee) remained limited, and Rick Adelman said he has no idea if they'll be available for Wednesday's game against Denver. Pekovic, though, seems like he'll be a go if nothing changes, and his mere presence could be the boost the Timberwolves need. Adelman gave a positive assessment of Pekovic's practice -- he looked fine, played well, never left the court, no visible problems -- and admitted that though the two consecutive losses this week were due somewhat to fatigue, Pekovic's absence was also a major factor. Just take Friday's game, when the Warriors outscored the Timberwolves in the paint 58-22. In the games in which Big Pek has played, he and his teammates have outscored opponents in the paint 300-250; without him, the Timberwolves are on the losing end of a 102-66 margin. "It's a big factor," Adelman said of Pekovic's play. "They don't handle us on the boards like they did (with Pek). He's a handful around the basket that they would have to guard. He's a bit part of what we're going to do, and you add the other pieces we're missing, and it just kind of, we're just trying to make do for now. But I think getting back to the way we were playing in Dallas, in Brooklyn, that's what we have to do." There's also a ripple effect to other players. Greg Stiemsma, for instance, is a perfectly serviceable backup capable of a bigger game every week or so, but without Pekovic, it can appear that he's slumping or struggling simply because he isn't equipped to take on the role he's been forced into. The Timberwolves have two more practices before Wednesday's game, and after going hard Sunday, Adelman plans a similarly intense bout on Monday. Tuesday, he said, will be slightly more relaxed, and he hopes that the team will maintain its current uptick in manpower and be able to work as well as it did Sunday. They're baaaack (well, sort of): Ricky Rubio and Kevin Love participated with their teammates in 5-on-0 drills during Sunday's practice. For now, that's as much as they can do with the team, but just to have them on the floor can be a boost. "I think just having them 5-on-0 gives you the sense, we get them back, we'll be pretty good," Adelman said. "We can't wait for that. We have to go out and play." Despite taking this step forward, though, Rubio and Love are not on pace to return any sooner than planned, which is looking like early December for Love and sometime that same month for Rubio. The team is hesitant to give a specific target for the point guard, and Adelman said that once he gets on the floor with more contact, they'll have a better idea for a specific time frame for him. But even after sitting out for the past eight months, Rubio is still on top of the game. "Ricky's so smart," Adelman said. "I mean, he knew everything, every play we had, he knew where everybody should be. That's just who he is. I think the more we get him on the court, even if it's 5-on-none and do shooting, it's good for the team." Luke's legs: With the timing of Barea's and Roy's returns still in question and Will Conroy waived in favor of Josh Howard, the Timberwolves are left with three guards, essentially, though Howard might get some time at the two spot. Even if Howard can help, that still leaves Ridnour as the team's only true point guard, and he's been somewhat overworked early this season after suffering from back spasms in the preseason. After averaging just over 27 minutes per game in the team's first five contests, Ridnour has averaged more than 38 minutes in the past four games. Keeping him fresh right now is crucial, and Adelman said that until Barea's return, the veteran point guard can expect about 36 minutes a night. "It's a real quandary for me, because (when) I take him out, it's not the same," Adelman said. "Malcolm's not really a true point guard. Alexey's better off the ball than actually initiating, so it really hurts us when I get (Luke) out of the game. I've got to get him out. I've got to give him some rest." Follow Joan Niesen on Twitter.
Original Story:
http://www.foxsportsnorth.com/11/18/1...
THE BACKYARD
BEST OF MAXIM
RELATED ARTICLES
HOWL
With the team decimated by injuries, rehabbing Timberwolves stars Ricky Rubio and Kevin Love returning to the practice court on Sunday is a positive sign.
MINNEAPOLIS Timberwolves shooting guard Brandon Roy will have right knee arthroscopy this week. The minimally invasive surgery tends to keep athletes out for at least a week, and though Roy has undergone the procedure multiple times, there's still a chance he could receive a similar prognosis. The Timberwolves signed Roy to a two-year, 10.4 million deal this summer; only the...
Nikola Pekovic felt a little pain in his injured ankle.
MINNEAPOLIS It took only two words for panic. Two words, eleven letters, impending doom.Knee. Surgery.More specifically, Brandon Roy, right knee, arthroscopic surgery, Monday.That was the word late Sunday night, and to watch the internet (more specifically, the gossip monster that is Twitter) was to see just how fragile Brandon Roy really is. Fragile in the sense that it took 270...
Breaking news on the latest with Brandon Roy's knee, and it's not good folks: "Brandon Roy will undergo arthroscopic knee surgery this week, the seventh knee surgery of his career. Roy fatefully banged his knee in the Wolves' final preseason game, which led to ongoing soreness and caused him to miss the past four games. His upcoming surgery is another sad if...
Timberwolves coach Rick Adelman says guard Ricky Rubio worked out in Minnesota on Friday and is ''very close'' to returning from torn left knee ligaments that have sidelined him since March. Adelman says Rubio might be ready on Saturday night in Dallas. He says team officials will discuss Rubio's return before Saturday's game. The coach says medical staff...
According to Jason Quick of The Oregonian, Minnesota Timberwolves guard Brandon Roy will get surgery on his right knee.  With the surgery in place, he will not be able to play against his former team in Portland. This particular procedure is known as arthroscopic knee surgery and Brandon Roy has gone through this drill several times.  The Oregonian points out that this will be...
Minnesota Timberwolves shooting guard Brandon Roy will have arthroscopic surgery on his right knee Monday, a team spokesman told the St. Paul Pioneer-Press. Roy has experienced discomfort in the knee since sitting out the second half of the Timberwolves' game against the Indiana Pacers on Nov. 9. He has missed the last four games and did not practice last week. It is not...
Minnesota Timberwolves guard Brandon Roy will undergo another knee surgery this week which will sideline the former Portland Trailblazers star for an unknown amount of time, reports Jason Quick of The Oregonian.The much-anticipated return of Brandon Roy to the Rose Garden will not happen this week after the Minnesota guard and former Trail Blazers legend has scheduled a right knee...
Although most people who identify themselves as fans of the Association root for a certain team, every so often; a player comes into the NBA, that fans hope will do well, regardless of the uniform he wears. Whether it is the joy they bring to the court, the work ethic they display, or people just perceive the player as a genuinely nice guy, those particular athletes transcend...
Brandon Roy will undergo arthroscopic knee surgery this week.
"This here's the victory lap..."
Timberwolves News

Delivered to your inbox

You'll also receive Yardbarker's daily Top 10, featuring the best sports stories from around the web. Customize your newsletter to get articles on your favorite sports and teams. And the best part? It's free!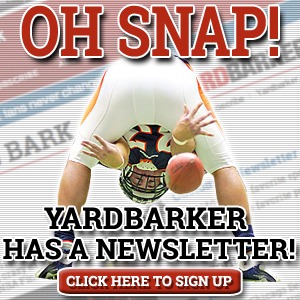 Latest Rumors
The Backyard

Today's Best Stuff

For Bloggers

Join the Yardbarker Network for more promotion, traffic, and money.

Company Info

Help

What is Yardbarker?

Yardbarker is the largest network of sports blogs and pro athlete blogs on the web. This site is the hub of the Yardbarker Network, where our editors and algorithms curate the best sports content from our network and beyond.