Found March 30, 2013 on The Victory Formation:
Nobody has too much information on the man who referred to as 'Worldwide Wes.' William Wesley has been known to rub elbows with anyone and everyone. While the man is an employee for Creative Artist Agency, we aren't quite sure what is job is. He's close with Michael Jordan, LeBron James, Allen Iverson and Richard Hamilton, and many other players in the NBA. He seemingly is close with college basketball coaches and even some players, which is why the NCAA was on high-alert when they learned he was in town of the Midwest Regional. As Dan Wolken of USA Today tells it, security was instructed to keep Wesley away from all credentialed areas, which would bar him from just about any direct contact with the players and the coaches: "We were told not to let him in," said one female security guard, who declined to give her name to USA TODAY Sports. Asked for clarification, her immediate supervisor in the area responded with "No comment." According to Deadspin, a photocopied picture of Wesley was given to staff members, and he in fact ended up escorted out the building as seen in the picture below. Wesley is the man looking at [...]
Original Story:
http://www.thevictoryformation.com/20...
THE BACKYARD
BEST OF MAXIM
RELATED ARTICLES
Normally I like my posts to have some kind of substance to them be it my whit and wisdom (go ahead and laugh) or a video clip of something cool.  This post has neither. What it does have is a hilarious LeBron James meme. In case you've been out of the country and on a desolate island with no WiFi (so, Survivor contestants) the Miami Heat have been streaking. No...
LeBron James – one of the league's most physical players – is upset with the "rough" treatment he's received this season. He ******* whined sounded off following last night's loss to the Bulls: "Those are not basketball plays and it's been happening all year," James said after the game, in reference to the two hard fouls. "And I was able to keep my cool and...
Our shining star is making a comeback! Well, not that kind of comeback.One of the greatest Philadelphia 76ers of all- time, "The Answer" Allen Iverson will be returning and reuniting with the City of Brotherly Love on Saturday night March 30, 2013 at the Wells Fargo Center.  The reason? AI has opened up his schedule to make an appearance in front of thousands of Sixers...
The Miami Heat's historic 27-game winning streak game to an end Wednesday night at the hands of the Chicago Bulls, 101-97. The contest was a bit physical. Following the game, LeBron James had a lot to say about the fouls and how it was called. "Let me calculate my thoughts real fast before I say (what I want to say), I believe and I know that a lot of my fouls are not basketball...
HEAT CHECK
Danny Ainge recently said that LeBron needs to stop doing so much complaining, and that apparently did not sit well with Pat Riley, to say the least.
You expect bloggers, fans and sports radio hosts to react to LeBron James' whining about officiating. But an NBA general manager? Yesterday on WEEI, Danny Ainge joined the fray: "I think the referees got the calls right. I don't think it was a hard foul," Ainge said of the mixups involving James and Heinrich, as well as another one involving James and Taj Gibson. "I think...
"Let me calculate my thoughts real fast before I say (what I want to say)," James said. "I believe and I know that a lot of my fouls are not basketball plays. First of all, Kirk Hinrich in the first quarter basically grabbed me with two hands and brought me to the ground. The last one, Taj Gibson was able to collar me around my shoulder and bring me to the ground. Those are...
The streak that some thought may never end, finally did. The Miami Heat ran out of magic and dropped last night's game to the Chicago Bulls, 101-97, putting an end to their 27-game win streak. As they did a number of times over the past two months, the Heat fell behind by double-digits in the first half, only to come roaring back in the second half and take the lead. This time...
Only Important Injuries: -LeBron James, Dwyane Wade, Mario Chalmers out (stock up for Chris Bosh, Ray Allen, Shane Battier, Norris Cole) Lineup 1 (60K) PG Norris Cole ($3400) John Wall ($9300) SG Demar DeRozan ($6500) Wayne Ellington ($5100) SF Jeff Green ($7500) JR Smith ($7900) PF Carlos Boozer ($7200) Amir Johnson ($5700) C Chris Bosh ($6800)
NBA News

Delivered to your inbox

You'll also receive Yardbarker's daily Top 10, featuring the best sports stories from around the web. Customize your newsletter to get articles on your favorite sports and teams. And the best part? It's free!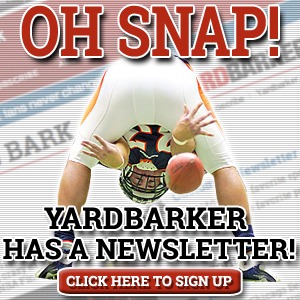 Latest Rumors
Best of Yardbarker

Today's Best Stuff

For Bloggers

Join the Yardbarker Network for more promotion, traffic, and money.

Company Info

Help

What is Yardbarker?

Yardbarker is the largest network of sports blogs and pro athlete blogs on the web. This site is the hub of the Yardbarker Network, where our editors and algorithms curate the best sports content from our network and beyond.