The Thunder are in the thick of the playoff hunt, but what is their potential and outlook? We are 59 games into the regular season and the Thunder sit in 5th place. A surge in the final 23 games of the season could elevate them to the 3rd seed, while a stumble could put them out of the playoffs entirely. In other words, this ride is far from over. The WTLC team takes stock of what...
OKC gets another crack at the struggling Grizz; can OKC enter All-Star weekend on a high note? 5 Numbers to set the stage as OKC prepares for a Valentine's Date with the Grizzlies in Memphis: 30.1 Russell Westbrook is shooting just 30.1% on 3 pointers this year, an abysmal mark. Russ seemed to make strides in his 3 point shooting last year, shooting a career best 34.3%. It appears...
By Berry Tramel Columnist btramel@oklahoman.com Standing at midcourt, Paul George slipped his arm around Alex Abrines and shared a few words Sunday night. They were words of celebration, not consolation.
By: A. Suave Francisco With Russell Westbrook and Carmelo Anthony out for the second straight game, both with a sprained ankle, it was a safe assumption that the Thunder would be disconnected on both ends of the floor, just like they were against the Los Angeles Lakers.  Paul George had something to say about that and surprisingly, so did Alex Abrines, who seems increasingly more...
Just a little over a week ago the Oklahoma City Thunder appeared ready to finally make a push towards the top of the Western Conference standings. They were winners of eight in a row, but now they are riding a losing streak of four games. They have struggled to adjust to life without lockdown defender Andre Roberson, and it doesn't get any easier as they head into Golden State to...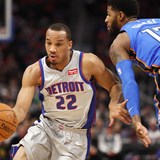 In the wake of losing All-NBA defender Andre Roberson to a ruptured left patellar tendon for the remainder of the 2017/18 season, the Thunder are interested in trading for newly-acquired Clippers guard Avery Bradley, reports Tim Bontemps of The Washington Post.Bradley, who is in the final year of his contract, likely doesn't fit into the Clippers' long-term plans, and Oklahoma City...
By Brett Dawson Staff Writer bdawson@oklahoman.com WASHINGTON – It wasn't Alex Abrines' first thought. It's not like Andre Roberson went to the court in pain last Saturday in Detroit and Abrines immediately considered his own playing time. But eventually, it gets to that point. "Not at the moment that he gets injured, but yeah," Abrines said Tuesday, before the Thunder's 102-96 loss...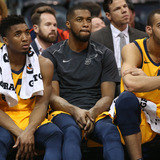 The NBA trade deadline is just over two weeks away, and there's no shortage of players around the league who could change teams. With that in mind, we're taking a closer look at some of those top trade candidates, breaking them down by division.While our focus will be primarily on teams expected to be sellers at the deadline, our lists may also include some players on contenders...
Kyrie Irving has the best handles of any player in the NBA. When he's coming at you full speed, you'd be better served just getting out of the way. Alex Abrines learned that lesson on Sunday, when Irving made him look silly with a great Eurostep for the easy bucket. How do you stop that? You don't.
NEW ORLEANS (AP) -- Russell Westbrook had 42 points and 10 rebounds, and the Oklahoma City Thunder beat the New Orleans Pelicans 121-110 on Wednesday night.Alex Abrines scored nine of his 18 points during a pivotal 11-0 run early in the fourth quarter. The surge gave the Thunder a 100-87 lead with 9:18 left and New Orleans never got within eight points after that.Enes Kanter, who...
MORE STORIES >>
Thunder News

Delivered to your inbox

You'll also receive Yardbarker's daily Top 10, featuring the best sports stories from around the web. Customize your newsletter to get articles on your favorite sports and teams. And the best part? It's free!