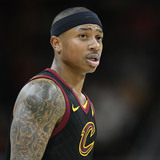 After weeks of speculation suggesting that it might be a quiet 2018 trade deadline, we got a pretty eventful day in terms of deals completed — NBA teams agreed to 12 trades today, after four others had been finalized in the 10 days leading up to the deadline.The deadline was still quiet on some fronts, with contenders like the Warriors, Celtics, Rockets, and Raptors staying out of...
If you're an NBA free agent next summer, your hopes of a lucrative deal like we've seen over the past two offseasons have just been altered by the league's new financial reality. Bobby Marks and Brian Windhorst produced an excellent piece this week breaking down the looming cap crunch NBA teams will be facing this summer and how it will impact upcoming free agents. The article does...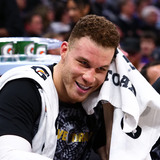 The blockbuster trade that sends Blake Griffin from Los Angeles to Detroit is now official. The deal will significantly shape the futures of both the Clippers and Pistons, so there are countless aspects of it worth discussing. We're going to use this space to focus on a few minor details, as we examine the salary cap minutiae involved in the trade.Let's dive in…Three trade exceptions...
The LA Clippers have agreed to trade All-Star forward Blake Griffin to the Detroit Pistons. The Clippers will receive Tobias Harris, Avery Bradley, Boban Marjanovic, and a first-round and second-round draft pick, league sources say. The Clippers are also sending Brice Johnson and Willie Reed to Detroit alongside Griffin. ► Subscribe to our YouTube Channel: http://www.youtube...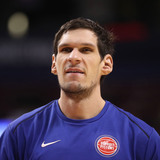 Pistons big man Boban Marjanovic is a force to be reckoned with in the paint, and his size makes things extremely difficult on his opponents.The seven-foot-three center may not log many minutes during games, but he did recently provide fans with some awesome entertainment off the court.Check out Marjanovic busting out some great dance moves in this funny video clip (via teammate...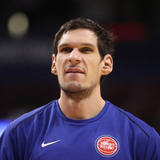 Boban Marjanovic definitely stole the show in the Detroit Pistons' Christmas video this year.The Pistons released the video to their official Instagram page on Sunday, and it featured the 7-foot-3, 290-pound Marjanovic dressed up in a fairly fitting costume: a Christmas tree. Check it out below (with appearances from Andre Drummond, Reggie Jackson, and other prominent Detroit players...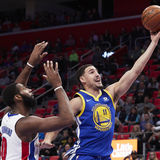 Klay Thompson failed miserably attempting to block seven-foot-three Boban Marjanovic, and it was pretty funny to watch.While some players would've elected to make a business decision, Thompson did not choose to get out of the way. Instead, he challenged Marjanovic at the rim during the fourth quarter of Friday night's game, and it did not go well.Thompson, to his credit, did not...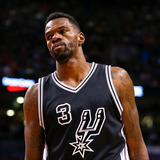 Another promising San Antonio Spurs role player has his teammates thinking deja vu.Dewayne Dedmon put up 17 points and 17 rebounds against the Detroit Pistons on Friday. That same Pistons team has signed big men Aron Baynes and Boban Marjanovic away from the Spurs the last two seasons, and point guard Tony Parker half expects Dedmon to be next."They take all our big guys," Parker...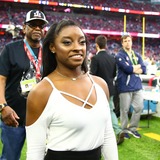 What happens when you put 7-foot-1 Shaquille O'Neal and 4-foot-9 Simone Biles next to each other? Hilarity happens.Biles posted the highly amusing image on Twitter, as the two met at Super Bowl LI in Houston. It should be noted that Biles is wearing heels and she still barely makes it past Shaq's waist.This is not the first time that Biles has posed with a significantly taller NBA...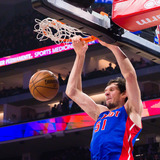 The San Antonio Spurs legacy may not live on for much longer in Detroit.According to a report by Michael Scotto of Basketball Insiders on Wednesday, the Pistons are exploring the trade market for big men Boban Marjanovic and Aron Baynes ahead of the February 23 deadline.Baynes, 30, is averaging 4.3 points and 3.8 rebounds in 15.2 minutes per game in 2016-17. He has a $6.5 million...
MORE STORIES >>
Clippers News

Delivered to your inbox

You'll also receive Yardbarker's daily Top 10, featuring the best sports stories from around the web. Customize your newsletter to get articles on your favorite sports and teams. And the best part? It's free!