We've just passed the quarter mark of the NBA season, and up until a few days ago, you'd have been excused for not knowing who Donovan Mitchell was. The rookie shooting guard out of Louisville was drafted 13th overall by Denver then was shipped immediately to Utah, where he has since become the team's starting two guard. In a loaded rookie class, Mitchell was already being lauded...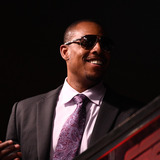 Even in retirement, Paul Pierce remains The Truth.Marc J. Spears of ESPN reported on Friday that guard Brandon Jennings has agreed to a one-year, $1.5 million deal to play overseas with the China Shanxi.In the wake of the news, Jordan Heck of Sporting News recalled Jennings' feud with Pierce last season, mentioning the 10-time All-Star in a tweet. For his part, Pierce obliged to...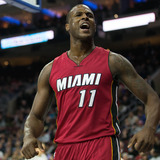 Monday night, the first televised NBA Awards show takes place. Finally, some two months after the end of the 2016-17 NBA season, we'll find out who takes home MVP, Rookie of the Year, Executive of the Year, Sixth Man, Coach of the Year, Defensive Player of the Year and more. However, the annual honors bestowed on players, coaches and executives alike leave something to be desired...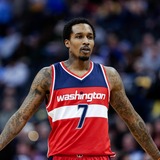 Almost all of the biggest NBA trade rumors we have heard in the past week involve the prospect of superstar players joining forces, and one veteran is warning teams that trying to become the Golden State Warriors won't work for everyone.While the idea of guys like LeBron James, Paul George and Jimmy Butler forming super-teams sounds enticing, Washington Wizards point guard Brandon...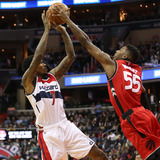 Brandon Jennings had spent the entire season with the New York Knicks before being released and signing with the Washington Wizards, and it sounds like he's enjoying it a lot more in the nation's capital.Jennings talked about playing for Washington and how it was nice to play for a team that actually played as a team."I'm in the same position I was in New York, but just in a better...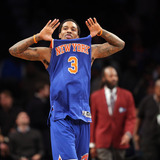 Brandon Jennings sounds likely to sign a deal with the Washington Wizards as long as he clears waivers.The Vertical's Adrian Wojnarowski says the Wizards and Jennings are "enthusiastic" about completing a deal: Jennings was waived by the New York Knicks on Monday so that the point guard could join a contender. It was initially expected that he might end up with Charlotte, but information...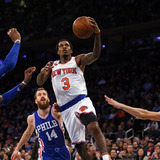 Brandon Jennings is reportedly headed to Charlotte. Detroit Pistons head coach Stan Van Gundy broke the news to reporters this morning after speaking with Jennings' agent. Jennings was waived by the New York Knicks this morning after a disappointing season coming off the bench. Currently averaging 12.5 points and 7.2 assists per 36 minutes on 38 percent shooting from the field, Jennings...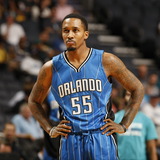 The New York Knicks are continuing what has been a very active summer for the fledgling franchise. After adding Derrick Rose, Joakim Noah and Courtney Lee to the mix, New York has reportedly signed former lottery pick Brandon Jennings. The Knicks are about to strike a deal with Brandon Jennings, according to league sources — Marc Stein (@ESPNSteinLine) July 4, 2016 Jennings...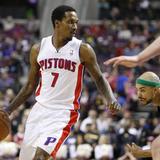 Rappers Drake and Meek Mill are engaged in a cute little beef that's led to multiple diss tracks, and Drake has apparently dominated the battle so much that Brandon Jennings believes Meek Mill's career is "over" and "finito." According to TMZ Sports, the Detroit Pistons point guard said he feels sorry for Meek, whose career "just got started and now it's done." A clearly forgiving...
MORE STORIES >>
Wizards News

Delivered to your inbox

You'll also receive Yardbarker's daily Top 10, featuring the best sports stories from around the web. Customize your newsletter to get articles on your favorite sports and teams. And the best part? It's free!