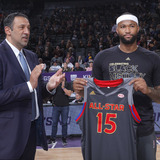 Monday night, the first televised NBA Awards show takes place. Finally, some two months after the end of the 2016-17 NBA regular season, we'll find out who takes home MVP, Rookie of the Year, Executive of the Year, Sixth Man, Coach of the Year, Defensive Player of the Year and more. However, the annual honors bestowed on players, coaches and executives alike leave something to be...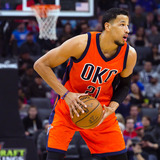 The Chicago Bulls must really want to corner the market on non-shooters.According to a report by K.C. Johnson of the Chicago Tribune on Thursday, the Bulls "pushed hard" for Andre Roberson to be included in their deadline day deal with the Oklahoma City Thunder, but the Thunder resisted, preferring instead to re-sign Roberson. The Bulls ultimately settled instead for Cameron Payne...
The Chicago Bulls are preparing to give new acquisition Cameron Payne every chance to make the point guard position his own.After dealing Doug McDermott and Taj Gibson to Oklahoma City to get Payne, it was made pretty clear that the Bulls are essentially ready to hand the keys over to the 22-year old. The Thunder also felt very strongly about Payne, but simply accepted that he was...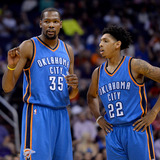 Cameron Payne doesn't play many minutes, but he's turned plenty of heads before playoff games dancing and doing intricate handshakes with Kevin Durant and Russell Westbrook. He and Westbrook angered the Dallas Mavericks, namely Charlie Villanueva, who tried to break things up, for doing crazy handshakes on the court during their playoff series. Durant and Payne did a crazy handshake...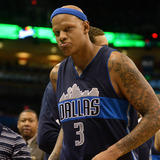 Prior to Monday's playoff game between the Thunder and Mavericks, Charlie Villanueva got in the way of a pregame handshake routine involving Russell Westbrook and Cameron Payne (watch here). On Tuesday, Villanueva was apparently in a mood to talk about it. In a video for FOX Sports, Villanueva responded to the comments of Westbrook and Kevin Durant during their postgame press conference...
Pregame handshake routines have become commonplace in today's NBA. However, Charlie Villaueva didn't appear to be all that entertained by one performed by members of the Thunder on Monday. Prior to Game 2 between the Mavericks and Thunder, Russell Westbrook and Cameron Payne were in their own little world, engaged in a fairly elaborate handshake routine. Then, along came Villanueva...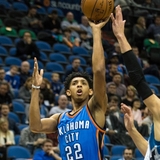 Whenever you check Oklahoma City Thunder superstar Russell Westbrook's game statistics, you usually see either a triple-double or just short of one. It makes you wonder: What exactly does he do to reach that level of play? Well, the pre-game dance routine Westbrook performs with Cameron Payne may be the answer. It may be silly, but it could turn out to be the stuff of...
Forget rookie hazing, the Kevin Durant, Russell Westbrook and other Oklahoma City Thunder players showed up for rookie Cameron Payne's high school jersey retirement ceremony. Of course, them being NBA superstars showing up to a high school, everyone in the stands freaked out. A bunch of Thunder players are posted up in a HS gym on a Tuesday in Memphis. Cheerleaders are freaking...
Stanley Johnson is one a few rookies that could make an immediate impact this season. Adjusting to the NBA is always difficult for rookies in their first season. The speed of the game, the amount of plays, and the defensive reads are aspects of the pro game that take time to learn and get used to. While a few rookies may have stand out seasons numbers wise, most generally finish...
With the 14th overall pick in the 2015 NBA Draft, the Oklahoma City Thunder selected point guard Cameron Payne out of Murray State. Payne was the third point guard selected behind D'Angelo Russell and Emmanuel Mudiay. Payne will look to contribute right away off the bench as Russell Westbrook's backup. His ability to handle the ball and control the pace of a game, coupled with a...
MORE STORIES >>
Bulls News

Delivered to your inbox

You'll also receive Yardbarker's daily Top 10, featuring the best sports stories from around the web. Customize your newsletter to get articles on your favorite sports and teams. And the best part? It's free!