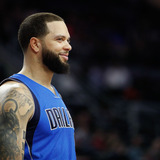 Veteran point guard Deron Williams is nearing the twilight of his professional basketball career, and he may want to end it right where it began.In a recent appearance on ESPN700's OC & Hackett, NBA reporter Tim MacMahon said that Williams is "really intrigued by the potential of getting back to Utah to finish his career" and "would love that opportunity."The 32-year-old Williams...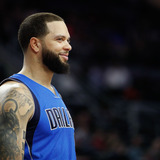 The Dallas Mavericks look as though they are preparing to go into the future with an emphasis on their young talent.To that end, the Mavericks are reportedly working towards a buyout for point guard Deron Williams, which would turn the position over to undrafted rookie Yogi Ferrell. The Cavaliers, who have long been interested in a backup playmaker, will almost certainly pursue Williams...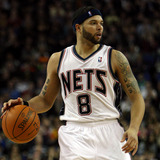 The Utah Jazz traded Deron Williams to the New Jersey Nets on February 23, 2011. Six years later, that pain still resonates with me.As a student of the game, you get a feeling when trades are going to work. Pau Gasol to the Lakers was an ideal match. Rasheed Wallace to Detroit was like adding one more bash brother to Gordon Bombay's Mighty Ducks.D-Will to the Nets had different ring...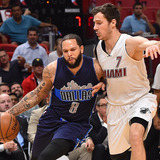 The Utah Jazz are trying to party like it's 2008 all over again.According to a report by ESPN's Tim MacMahon and Marc Stein on Tuesday, the Jazz have expressed interest in re-acquiring Dallas Mavericks point guard Deron Williams via trade. Williams, 32, played his first six NBA seasons in Utah and enjoyed the best years of his career there, averaging 17.3 points and 9.1 assists per...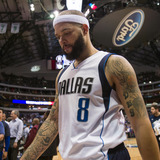 The Dallas Mavericks have re-signed point guard Deron Williams on a one-year deal for $10 million, reports Marc Stein of ESPN. The three-time All-Star signed with the Mavericks a year ago after taking a buyout from the Brooklyn Nets. He played in 65 games last season, averaging 14.1 points, 2.9 rebounds and 5.8 assists. Deron Williams shot an eFG% of 68% on open spot up jumpers...
By Larry Brown Deron Williams' time with the Brooklyn Nets has come to an end, but the stories about how negatively things went between him and his former team are still trickling out. Stefan Bondy of the New York Daily News reports that Williams had such a fragile psyche in his final season with Brooklyn that a teammate asked media members to take it easy on the point guard. ...
By Manny Campos Deron Williams' time in a Brooklyn Nets uniform is officially over after the Friday buyout of the former franchise player. It didn't take long for Williams to move on as he quickly signed a deal to join the Dallas Mavericks as they continue to regroup after the DeAndre Jordan fiasco. The Nets meanwhile have moved in a new direction, and here are a few short- and...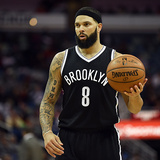 By Vincent Frank Early Friday morning, ESPN's Marc Stein reported that the Brooklyn Nets were working on a buyout agreement with guard Deron Williams. Williams, who has struggled a great deal since coming over from the Utah Jazz during the 2010-11 campaign, reportedly wants to join his home-town Dallas Mavericks. NBA.com's David Aldridge is now indicating that the two sides have...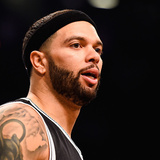 By Vincent Frank It's not a secret that the Brooklyn Nets have been attempting to trade high-priced point guard Deron Williams. The 31-year-old guard has struggled a great deal since joining Brooklyn and is due $43.3 million over the next two seasons — two factors that has made it incredibly hard for the Nets to trade him. Williams, who has seen his career hit a standstill with...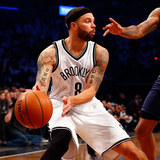 By Vincent Frank Ohm Youngmisuk of ESPN New York reported on Monday that the Brooklyn Nets believe there is a trade market for point guard Deron Williams, who has been an underwhelming presence for the team since being acquired from the Utah Jazz in February of 2011. Sources say Nets execs believe there's a trade market for Deron Williams w/ belief that some teams think PG just...
MORE STORIES >>
NBA News

Delivered to your inbox

You'll also receive Yardbarker's daily Top 10, featuring the best sports stories from around the web. Customize your newsletter to get articles on your favorite sports and teams. And the best part? It's free!