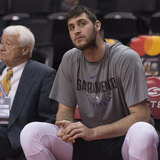 The agent for lottery pick Georgios Papagiannis ripped the Sacramento Kings for releasing his client without ever really giving him a chance.The Kings on Thursday waived Papagiannis, whom they selected No. 13 overall in the 2016 NBA Draft. Papagiannis was acquired by the Kings in a trade with Phoenix that brought them Bogdan Bogdanovic and Skal Labissiere for No. 8 pick Marquese...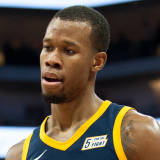 Over at USA Today, Sam Amick and Jeff Zillgitt broke down trade deadline goals for each of the NBA's 30 teams. While the duo's roundup mentioned several players already known to be trade candidates, Amick and Zillgitt also identified a few new names.Kings center Georgios Papagiannis, Timberwolves guard Jamal Crawford and Nuggets big man Darrell Arthur are among the players who could...
Greece produced a boil over upsetting Group B winners Lithuania 77-64 to advance to the Quarter-Finals. Serbia have booked a Quarter-Final with Italy after a 86-78 victory over Hungary in the Round of 16. ► Subscribe to our YouTube Channel: http://www.youtube.com/c/CowbellkingdomTV ►
You don't often see this type of injury report in the NBA, or any other professional sport, for that matter.Sacramento Kings center Georgios Papagiannis sustained an injury that forced him to leave the court with some assistance during Friday night's summer league game against the Phoenix Suns. An MRI determined that Papagiannis suffered what, in layman's terms, is a bruised butt...
Georgios Papagiannis responded with 17 points and 13 rebounds in a must-win game against the Bucks. He was key down the stretch and talked about how much he cares about his teammates. What was your biggest takeaway from this interview? Join the conversation! ► Subscribe to our YouTube Channel: http://www.youtube.com/c/CowbellkingdomTV ►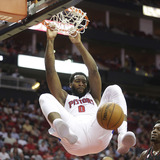 Is Andre Drummond the Sacramento Kings' post-DeMarcus Cousins savior?Detroit sportscaster Matt Dery reports on Thursday that the Kings have "big interest" in the Detroit Pistons center and talks are centered on Arron Afflalo and the No. 10 overall pick. Jokes about the Kings needing another frontcourt player aside (they already have three 23-and-under big men in Willie Cauley-Stein...
The times could be a changin' in Sacramento.According to Steve Kyler of Basketball Insiders on Tuesday, there's "a growing sense" the Kings could move point guard Darren Collison and big man Kosta Koufos before the February 23 trade deadline.Collison, 29, has overcome an early-season suspension for domestic violence to average 13.1 points and 4.0 assists per game this season. Meanwhile...
Cowbell Kingdom's Summer Vieites had an exclusive interview with Georgios Papagiannis and they discussed how his development is coming along and how he plans on improving his game overall in the near future. He finished with 22 points on 9-of-13 from the field Saturday night against the Salt Lake City Stars. Visit Don Weir's Reno Dodge dealership and ask for the CK Special. They...
Georgios Papagiannis made his debut tonight and he finished with 8 points on 4-of-7 from the field. He had his moments but admits that he will have to get better. Check out what he had to say. 20K GIVEAWAY- BEATS by Dr. Dre Pill + Portable Speaker Official Rules to Enter: 1. Repost the giveaway picture on Instagram and use the hashtag #CowbellKingdomGiveaway 2: Subscribe to...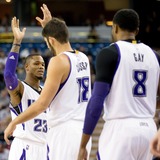 The Sacramento Kings look ready to host the NBA's hottest fire sale of the summer season. According to a report by Marc Stein of ESPN on Friday, the Kings have made Kosta Koufos and Ben McLemore available via trade along with Rudy Gay, who has previously been reported to be on the block. Kosta Koufos, Ben McLemore and, of course, Rudy Gay are three Sacramento Kings available...
MORE STORIES >>
Kings News

Delivered to your inbox

You'll also receive Yardbarker's daily Top 10, featuring the best sports stories from around the web. Customize your newsletter to get articles on your favorite sports and teams. And the best part? It's free!