The Spurs will be accepting food items support San Antonio Food Bank Gregg Popovich has been touting the cause of the San Antonio Food Bank for years. He and the Spurs host fundraisers and events year round in hopes of fighting hunger throughtout San Antonio. This Monday, fans are asked to support the San Antonio Food Band by bringing canned goods donations Monday night as the Spurs...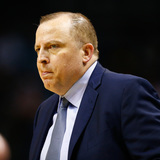 He's at it again.For almost the entirety of his coaching career, Tom Thibodeau has been a lightning rod when it comes to his rotation management. After playing Jimmy Butler 80 total minutes on a back-to-back at the start of this month then leaving emerging star Karl-Anthony Towns in for 48 minutes during an overtime loss to Philadelphia this past Tuesday, Thibodeau once again opened...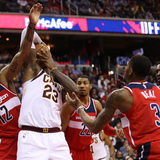 The NBA season is still taking shape but this is a nice time to take stock of different teams and players at varying levels of success. Victor Oladipo's big week earns the Pacers a few appearances on the list but the headliner is Cavs/Wizards on Sunday.MondayHeat at Grizzlies, 8 p.m.: Both of these teams are looking for momentum as the early part of the season has not gone as well...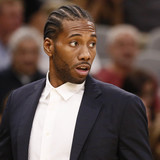 San Antonio Spurs forward Kawhi Leonard has yet to play a single game so far this season due to a nagging quad injury.It is an injury that has baffled head coach Gregg Popovich, who said he's never seen anything like it recently, but that's about to change. According to ESPN's Adrian Wojnarowski and Michael C. Wright, Leonard is setting his sights on a return to action on Tuesday...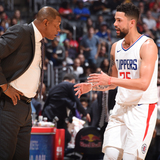 We are in the first calendar year of the NBA's new referee hotline, where players and coaches can call to vent frustration about officials. They can plead their cases, deliver apologies and get an official dictionary definition of "verticality." We've obtained access to the inner communications, which are about as real as Lonzo Ball's chances in the Three-Point Shootout. We know...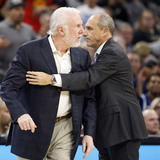 San Antonio Spurs head coach Gregg Popovich was ejected from Monday night's 115-108 victory over the Dallas Mavericks after suffering one of his legendary meltdowns over officiating. Popovich, never shy about letting referees know about it when he's unhappy with a call, blew up when the Mavericks were awarded possession on a loose ball during the second quarter. The fiery head coach...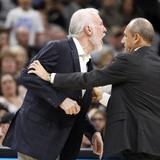 The 2017-18 NBA season hasn't even reached its quarter-mark yet, but Spurs head coach Gregg Popovich has already received four technical fouls. On top of that, he received his second ejection of the season during Monday's game against the Mavericks.Popovich was unhappy with the officials midway through the second quarter, and he made sure to let them know about it. He walked onto...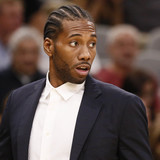 Since the coaching career of Gregg Popovich has spanned more than 40 years, it's easy to imagine that he's seen just about everything. But the San Antonio Spurs coach said on Wednesday that the injury to Kawhi Leonard is something new."Pop just told me he's 'never' throughout his entire coaching career come across the issue that Kawhi Leonard is experiencing with his quad," Michael...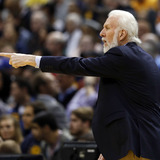 Spurs head coach Gregg Popovich has never been one to shy away from voicing his opinion, whether it's about his team's performance on the court or the officiating during games.That was on full display during Friday night's game against the Thunder, when Popovich gave the officials a piece of his mind. It happened in the third quarter, when Andre Roberson appeared to deflect the ball...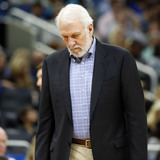 Gregg Popovich doesn't hesitate to tell the media what is on his mind. But on Sunday night, Pop kept his comments to a minimum after his San Antonio Spurs' 112-95 win over the Phoenix Suns out of respect for the church shooting nearby.Here's video of the only comments he made to reporters after the game. Popovich called basketball "meaningless" in the face of such a tragedy and said...
MORE STORIES >>
Spurs News

Delivered to your inbox

You'll also receive Yardbarker's daily Top 10, featuring the best sports stories from around the web. Customize your newsletter to get articles on your favorite sports and teams. And the best part? It's free!