TORONTO — Joakim Noah admits he's not the same player he was in 2014, when he was first team All-NBA and the Defensive Player of the Year. But the center said he still believes he can contribute to the club. Noah chose his words carefully, admitting he's attempting to make the best of a rotten...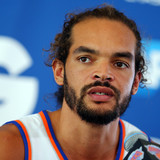 Joakim Noah seems to be in the acceptance stage of his decline as a player.The New York Knicks big man admitted on Friday that he "probably" will never be the same player that he once was, per Steve Popper of USA TODAY. Noah, 32, has averaged just 4.7 points per game over his last two seasons of play and has made just 75 total appearances over that span. He also has yet to play in...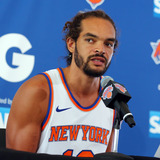 The New York Knicks signed Joakim Noah to a massive contract in July 2016, and their current return on investment is approximately nothing.Noah wasn't available for the first 12 contests of the campaign while serving the remainder of a 20-game suspension. However, the center has watched the last two outings from the sideline as an inactive.And according to Al Iannazzone of Newsday...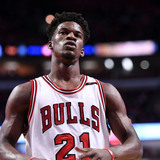 Jimmy Butler and Joakim Noah were tight for the first handful of years during Butler's NBA career, but things changed and the two grew apart during Noah's final year with the team, according to a report.ESPN's Nick Friedell has an excellent feature on the downfall of the Bulls, a team that showed so much promise when they reached the Eastern Conference Finals behind MVP Derrick Rose...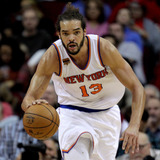 To say that Joakim Noah struggled last season during his first campaign as a member of the New York Knicks would be an understatement of epic proportions.The center hauled in a ridiculous contract in free agency, only to put up a relative egg of a season. He averaged just five points, 8.8 rebounds, 2.2 assists and 0.8 blocks per game, averaging just over 22 minutes per contest before...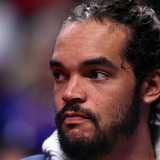 New York Knicks center Joakim Noah chose not to attend a team dinner with US Army cadets and a retired colonel on Thursday night because he is against the idea of war. Noah told reporters on Friday that he received permission from head coach Jeff Hornacek to skip the event. "It's hard for me a little bit – I have a lot of respect for the kids here fighting — but it's hard for me...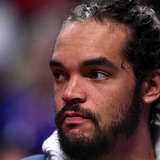 So much for the Chicago Bulls letting Joakim Noah walk in free agency this summer. The Bulls didn't look like a team wanting to bring back Noah, now 31 years old. He had already been relegated to a cheerleader role with Pau Gasol manning the middle, so better to cut ties and use the cap space to upgrade somewhere else. Noah seemed ready to leave, too, asking for more playing time...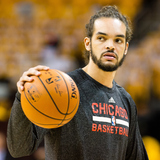 In the lead up to the 2015-16 NBA season, there was a lot of talk about the Chicago Bulls and whether former All-Star Joakim Noah would accept his new role as a reserve after being the team's starting center for his entire career.Prior to Chicago's blowout win over the Brooklyn Nets on Wednesday, first-year head coach Fred Hoiberg discussed the Noah situation with Grantland's Zach...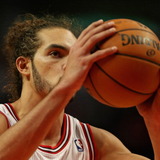 By Steve DelVecchio Fred Hoiberg is expected to be announced as the next coach of the Chicago Bulls in the near future, and he may have to have an awkward conversation - if he hasn't already - with Joakim Noah at some point. On Sunday, The Score dug up an old tweet that Hoiberg sent in which he mocked Noah for his poor shooting form. Look away kids! pic.twitter.com/5TLECVJb7u...
By Vincent Frank Ohio State quarterback Cardale Jones isn't necessarily afraid to rattle some cages. In what has been a continuing feud between Jones and Chicago Bulls big man Joakim Noah, the former decided to take on Noah as Chicago was hosting the Cleveland Cavaliers in Game 3 of the Eastern Conference Semifinals. I see @JoakimNoah ain't here to block shots, get dunked on...
MORE STORIES >>
Knicks News

Delivered to your inbox

You'll also receive Yardbarker's daily Top 10, featuring the best sports stories from around the web. Customize your newsletter to get articles on your favorite sports and teams. And the best part? It's free!