Florida State's 2016 basketball recruiting class is showing that it shouldn't be defined by just one person. Jonathan Isaac garnered most of the attention last season before deciding to leave college after one year for the NBA, where he was the sixth overall selection by Orlando. With Isaac's departure, sophomore guards CJ Walker and Trent Forrest along with redshirt freshman Mfiondu...
Jonathan Isaac has been inching closer to his return. He feels like he is back to where he was before the injury. But there are still steps to go through. Jonathan Isaac has been a ghost for the Orlando Magic. A specter looming over this disappointing season and one that may not have...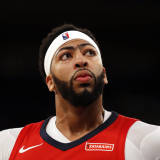 Here's the dismal, logical endpoint of something or other: in mid-February, eight NBA teams have between sixteen and nineteen wins. The Hawks, Magic, Mavericks, Kings, Suns, Bulls, Grizzlies, and Nets are all varying degrees of awful—or, as Tom Ziller aptly puts it, so bad, they can't help but beat each other—and the race for not just the number one pick, but the whole first half...
The Orlando Magic are getting closer to getting healthy as Jonathan Isaac and Nikola Vucevic return to practice. Their returns are coming soon. Ask Orlando Magic general manager John Hammond, and he will tell you injuries are the reason the team's season went so far off the rails....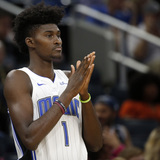 Magic rookie Jonathan Isaac gave a sermon on Sunday, although a few people he invited were not there to see it.Isaac is a proud Christian who stepped out of his comfort zone this past weekend to preach at church. He was a guest at JUMP Ministries Global Church in Orlando, where he delivered a sermon and had a laugh at the expense of his teammates. Isaac joked that he invited his...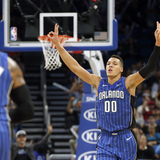 For a long time, everyone just sort of stopped caring about the Orlando Magic. They were something much worse than simply being bad. The Magic were irrelevant. Never awful enough to enter into the discussions at the top of the draft except for the especially bad 2013 edition. Never good enough to push for the playoffs, let alone actually play meaningful games in springtime. They...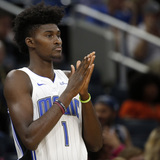 Jonathan Isaac may have had some slight butterflies prior to making his NBA debut on Wednesday against the Miami Heat.In a video shared to Twitter by Orlando Magic teammate Bismack Biyombo on Friday, the rookie forward sat on the bench for the team's season opener having forgotten to wear a jersey underneath his warmups. He quickly ran to the locker room to put one on upon realizing...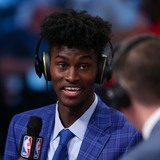 As another NBA chapter nears, it's time for our season previews. Oh hey, let's see what the Orlando Magic have going on…Expected Conference Ranking: 12thBest Move of the Offseason: Remember Rob Hennigan's whiteboard?Look at all of the bad players on that board. If you Voltron'd up that board you might not win the Sun Belt Conference. The Lakers would trade Luol Deng for cholera right...
For the Orlando Magic, the x-factor will be the one player in their current core that may actually have the least immediate impact on this season. Jonathan Isaac will be less directly involved with their 35 odd wins this year than Aaron Gordon, Elfrid Payton, Nikola Vucevic, or Evan Fournier, but his progress will determine the direction the new management team will take with the...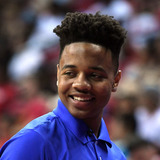 Los Angeles Lakers guard Lonzo Ball is the marquee attraction of the NBA's 2017 rookie class. Part of it is the marquee franchise, part of it is his college career, and part of it is definitely his outspoken father, but it's safe to say we will be hearing about the former UCLA guard more than any other rookie this season.That doesn't necessarily mean Ball will be at the top of his...
MORE STORIES >>
Magic News

Delivered to your inbox

You'll also receive Yardbarker's daily Top 10, featuring the best sports stories from around the web. Customize your newsletter to get articles on your favorite sports and teams. And the best part? It's free!