The rookie shared some of the highlight messages from his famous teammates. Being a rookie in the NBA isn't always the easiest thing. Having helpful and supportive teammates can go a long ways towards making a player feel comfortable, happy, and set in. That's especially true for a player like Jordan Bell. Being drafted by the Golden State Warriors means you have superstar teammates...
Golden State Warriors rookie Jordan Bell gives us an "Inside" look at some of his superstar teammates.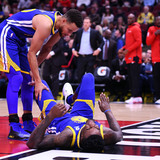 Stephen Curry is a two-time NBA Most Valuable Player and his shooting ability is one of the main reasons. He obliterated his own record for made three-pointers during his unanimous MVP season two years ago but he is actually having a better season shooting wise in 2017/18.Micah Adams of ESPN breaks down Curry's field-goal selection and how the 29-year-old is compensating for shooting...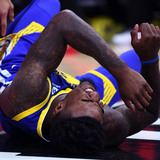 The news on Jordan Bell seems to be encouraging based on what was feared when the rookie first was injured during Wednesday night's Golden State Warriors-Chicago Bulls game.Bell sprained his ankle while landing on his left leg after going up for a block attempt on Chicago's first basket of the game. He ended up being taken off the court in a wheelchair. X-rays after the game showed...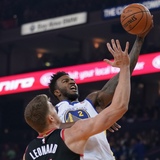 The opening seconds of the Golden State Warriors game against the Chicago Bulls were marred by an injury. Golden State rookie Jordan Bell went up in an attempt block a dunk from Chicago's Robin Lopez. As Bell came to the ground, he landed with all of his weight on his left leg. Bell tried to limp off the court with help of his team's medical staff, but couldn't make it. The Warriors...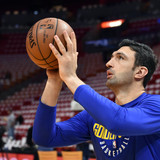 Could the Golden State Warriors be looking to sell off some of their frontcourt pieces before next February's trade deadline?Marcus Thompson II of The Athletic reported Monday that the Warriors have discussed a trade with the Milwaukee Bucks, who have asked about bigs Zaza Pachulia and JaVale McGee. The Bucks also supposedly inquired about rookie Jordan Bell, but the conversation...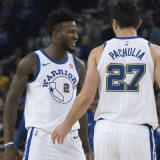 The Bulls were set to take on the Warriors last night but there was an interesting development leading up to the game. Golden State head coach Steve Kerr announced that two of his superstars, Kevin Durant and Draymond, Green would sit out for the game. Kerr also announced that he was going to start rookie Jordan Bell. The reason why that's interesting is not because of Durant or...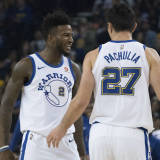 Golden State Warriors rookie Jordan Bell is not letting go of that chip on his shoulder.Bell was drafted by the Chicago Bulls in the second round in June but was traded to the Warriors for cash considerations. Chicago's decision to trade him for money was a matter that arose in pregame discussions for Bell. It also came up in the game between the team's on Friday night.Bell did a...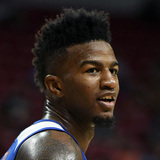 Golden State Warriors incoming rookie Jordan Bell has yet to step foot on an NBA court but already has confronted one of the most challenging and daunting tasks in professional basketball: guarding LeBron James.Bell was selected by Warriors with the 38th pick in the second round of the 2017 NBA Draft mostly due to his defensive prowess. Said admirable skills on that end of the court...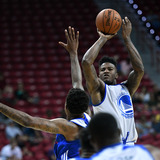 Jordan Bell is a firm believer in the ol' hand-eye coordination defense of the value of video games.In a feature by Anthony Slater of the San Jose Mercury News that ran over the weekend, the Golden State Warriors rookie said that playing Guitar Hero helped him with his timing on blocked shots."You ever played?" said Bell. "You got to like try to get it exactly. I hate video games...
MORE STORIES >>
Warriors News

Delivered to your inbox

You'll also receive Yardbarker's daily Top 10, featuring the best sports stories from around the web. Customize your newsletter to get articles on your favorite sports and teams. And the best part? It's free!