Los Angeles Lakers beat the Phoenix Suns, 112-93. Brandon Ingram went 9-12 from the field, 6-6 from the line and 2-2 from 3PT. After, he talked about his dunk over Marquese Chriss, the team's winning streak (3) and Larry's participation in the upcoming NBA Slam Dunk contest. Help us bring you even more coverage by SUBSCRIBING TO OUR CHANNEL: https://www.youtube.com/user/lakersnationdotcom...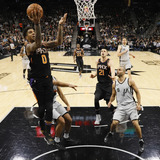 The Suns are reportedly planning to suspended Marquese Chriss one game for an altercation with a member of the coaching staff.ESPN's Chris Haynes reports the suspension stems from a verbal confrontation with one of the team's assistant coaches. Chriss, 20, is in his second season in the NBA after being selected No. 8 overall in the 2016 draft. In 46 games this season, Chriss is averaging...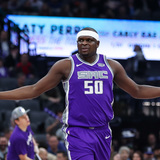 We've reached a point in the 2017/18 season where some front offices are facing a fork in the road, with one clearly preferable long-term path for their franchises' futures. Several of the clubs that find themselves atop our Reverse Standings have already begun to look past this season and into the future. Today, we're going to take a look at some of these bottom-dwellers from a...
While T.J. Warren is set to return against Denver, Marquese Chriss is still battling a hip flexor that could keep him out even longer. After taking a step and grimacing against Oklahoma City on Jan. 7 early in the first quarter, Marquese Chriss immediately went off with trainers to the locker room. We haven't seen Chriss on the floor since, and after an initial day-to-day diagnosis...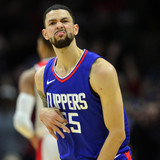 Injury woes continue to plague the Clippers, and the most recent victim of the team's misfortune is guard Austin Rivers. Per an ESPN report, Rivers suffered a concussion in the second quarter of Los Angeles' Wednesday night win.Rivers took an elbow to the head in the waning seconds of the first half and did not return for the Clippers. He has already been ruled out for Friday's contest...
Earl Watson's full pregame press conference prior to the Boston Celtics 3/24/2017 matchup with the Phoenix Suns. Get a free trial set from Harry's for free. That includes a razor handle of your choice, five-blade cartridge, and shaving gel. To redeem your free trial offer, go to Harrys.com/gardenreport right now. Get a $20 rebate off your first SeatGeek ticket purchase. Download...
With T.J. McConnell starting at point guard, all the Philadelphia 76ers do is win, win, win, and head coach Brett Brown thinks that should have merited an inclusion in the Rising Stars Challenge on All-Star Weekend.After the Sixers defeated the Milwaukee Bucks on Wednesday for their 10th victory in 13 games, Brown called out the NBA for snubbing McConnell."We are 9-2 with him as...
Marquese Chriss may be a rookie, but he's not intimidated by other big men in the league—not even Kristaps Porzingis. We found this out on Tuesday night, when the Suns and Knicks squared off. In the third quarter of the game, Porzingis appeared to get away with a foul while Chriss was attempting a jump shot, which he missed. Chriss would get his revenge soon after, though. The two...
Draymond Green's notorious kicking habit is far from a victimless crime, and Suns rookie Marquese Chriss will be one of the first ones to tell you that much. Chriss showed off his swollen right pinky finger on Monday, two days after getting kicked by Green on Saturday, per Paul Coro of the Arizona Republic. Just for kicks. Two days later, here's a look at Marquese Chriss' right...
In Saturday's game, Golden State's Draymond Green did it again, this time kicking Marquese Chriss in the hand on the way to his butt. Nobody wants to get their butt kicked. Especially in a literal sense. While the Warriors were figuratively kicking the Suns butts on the way to the 29-point win that probably wasn't as close as the score would indicate, the Warriors Draymond Green...
MORE STORIES >>
Suns News

Delivered to your inbox

You'll also receive Yardbarker's daily Top 10, featuring the best sports stories from around the web. Customize your newsletter to get articles on your favorite sports and teams. And the best part? It's free!