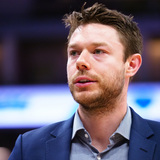 Bucks guard Matthew Dellavedova has been diagnosed with a grade 3 right ankle sprain and is expected to be sidelined for the next three or four weeks, league sources tell ESPN's Chris Haynes. Dellavedova suffered the injury during the fourth quarter of Sunday's game against Brooklyn.Dellavedova, 27, has seen his minutes cut back during his second season in Milwaukee. After playing...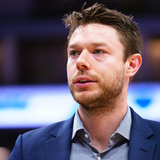 The hits just keep coming for the Milwaukee Bucks. Less than one week after losing Malcolm Brogdon for 1-2 months, Matthew Dellavedova will be out for up to a month."Milwaukee Bucks guard Matthew Dellavedova expected to be sideline 3-4 weeks with a Grade 3 right ankle sprain, league sources tell ESPN."Suddenly, the Bucks are running out of point guards. Eric Bledsoe is no sure bet...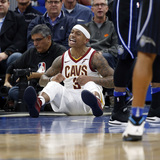 Isaiah Thomas was ejected from Monday's game for a blow to the head area of Andrew Wiggins.While Wiggins was on his way to the basket, Thomas swung his right hand and connected to the head/neck of Wiggins. You can see the play below. Thomas was assessed a Flagrant 2 foul and was ejected from the game. According to Jason Lloyd of The Athletic, it was the fifth Flagrant 2 issued in...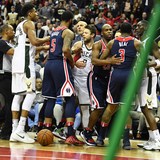 Milwaukee Bucks guard Matthew Dellavedova certainly has established a reputation. But it's not necessarily one many would seek out. And in Saturday night's victory over the Washington Wizards, Delly would show that side. Unfortunately, it would come at the expense of Bradley Beal. But teammate John Wall isn't here for it. And he's not afraid to push back.But before we get that far...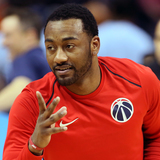 Wizards guard John Wall was not happy about the cheap shot Matthew Dellavedova put on Bradley Beal during Saturday's game.The play in question happened in the fourth quarter of the game, when Beal received a pass on the wing, and attempted to drive the lane, headed for the basket. Dellavedova, however, grabbed Beal up high and dragged him down to the ground. Beal immediately got...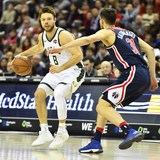 Matthew Dellavedova was rightfully ejected for a foul up around the head area of Bradley Beal on Saturday.During the fourth quarter of the Wizards-Bucks game, Beal received the ball on the wing and was headed towards the basket when he was nearly clotheslined by Dellavedova. Not surprisingly, Beal took exception to the play and immediately got up and had a few words for Dellavedova...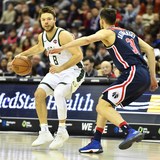 There are some out there who actually don't think Milwaukee Bucks guard Matthew Dellavedova is a dirty player. For all of those who don't boast the last name Dellavedova and think otherwise, here's a play that proves his dirty on-court tendencies to a T.Here, you will see Dellavedova clothesline Washington Wizards guard Bradley Beal as he drives to the lane for what would have likely...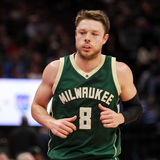 The entire NBA world knows that the Phoenix Suns are going to have to trade Eric Bledsoe, a malcontent guard who has made it known he doesn't want to remain in Phoenix.Realistically, this should lower the bounty the Suns receive in any potential trade. But don't tell that to the brass in Phoenix, who reportedly demanded this absurd package from the New York Knicks for Bledsoe.In...
Matthew Dellavedova and Marcus Smart got into a bit of a skirmish during Wednesday night's game. It didn't take long for things to get heated, either — which makes us wonder if there's some history there — as the two got into it in the second quarter of the game. Things got a bit chippy when Smart attempted to set a pick on Delly, who responded with an elbow that knocked Smart backward...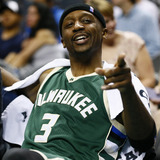 The Milwaukee Bucks may look to re-sign Jason Terry as their next move.The Bucks released Spencer Hawes on Friday night, clearing a roster spot on the team. Racine Journal Times columnist Gery Woelfel expects the team to re-sign Terry to fill the spot. Terry turns 40 in a few weeks, so he would just be on the roster mostly for his leadership and veteran presence. He averaged 4.1...
MORE STORIES >>
Bucks News

Delivered to your inbox

You'll also receive Yardbarker's daily Top 10, featuring the best sports stories from around the web. Customize your newsletter to get articles on your favorite sports and teams. And the best part? It's free!