Pau Gasol speaks on matching up with Dirk Nowitzki once again on the playing court. When people debate the greatest European to ever play in the NBA, it usually starts and finishes with two names… Dirk Nowitzki and Pau Gasol. Nowitzki came into the league in 1998 where he would spend...
In a month mired by injuries, the veteran center has kept his team on track by stepping up and expanding his game. Pau Gasol won't stop screaming. Whether capping a dunk or three-pointer, selling a foul or celebrating from the bench, the fire that continues to sustain him in year 19 is as conspicuous as the plodding, seven-foot body it inhabits. On any given night you can watch...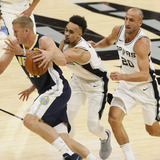 As another NBA chapter nears, it's time for our season previews. Is the Spurs' tank finally running on empty?Expected Conference Ranking: 5thBest Move of the Offseason: Getting Pau Gasol to opt out of the final year of his contract. How do the Spurs keep doing this? It makes sense when a player opts out of a big deal to leave the Kings. Because let's be honest, that's akin to gnawing...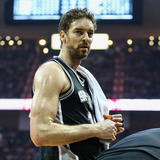 The San Antonio Spurs are intent on keeping all of their veterans this offseason, and that includes Pau Gasol.Adrian Wojnarowski of ESPN reports that Gasol has agreed to a three-year deal to remain with the Spurs. Gasol opted out of the final year of his contract after the season, but the belief all along was that he would return to San Antonio. His three-year deal will likely have...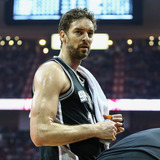 The San Antonio Spurs made their first big move in free agency Thursday evening, adding forward Rudy Gay on a two-year contract. Gay, who is coming off an Achilles injury, is expected to play a stretch-four role next to Kawhi Leonard in San Antonio's frontcourt.This leaves the statuses of both LaMarcus Aldridge and Pau Gasol clearly up in the air, especially with the Spurs still...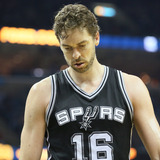 Pau Gasol is expected to opt out of the final year of his contract with the San Antonio Spurs this summer, but the veteran center does not intend to sign elsewhere.According to Adrian Wojnarowski of The Vertical, Gasol is planning to sign a long-term deal with a lower average annual salary than the $16.2 million he would have made by opting in. Gasol, who will turn 37 next month...
Pau Gasol knows what a championship team looks like considering he won two titles with the Lakers. And he thinks the Golden State Warriors definitely have the goods.Gasol's San Antonio Spurs got swept by the Warriors, losing Game 4 of the Western Conference finals by a comfortable margin on Monday. Afterwards, Gasol was complimentary of the Dubs."They're in a groove," Gasol said...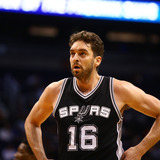 Pau Gasol is ready to commit to a second season with the San Antonio Spurs.The veteran big man said that he fully intends to exercise his $16 million second-year option to remain with the Spurs, saying they give him the best chance to win a championship."My intention is to continue here, and to be here as long as I can," Gasol told Jabari Young of the San Antonio Express-News.Though...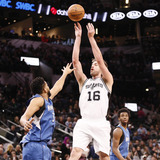 Pau Gasol underwent surgery to repair a fracture in the fourth metacarpal on his left hand Friday, and the veteran center will miss roughly four to six weeks, leaving a big hole in the middle for the San Antonio Spurs.Gasol, a six-time All-Star, is averaging 11.7 points, 7.9 rebounds and 1.2 blocks per game in his first season with the Spurs.According to the San Antonio Express-News...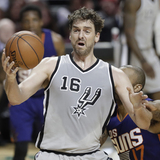 The San Antonio Spurs will be without Pau Gasol an indeterminate amount of time after the center underwent surgery to repair his hand.This news comes by way of Adrian Wojnarowski of The Vertical, who reports the surgery was to repair a fracture in the fourth metacarpal on Gasol's left hand."The procedure has a potentially broad recovery period, league sources said. There are scenarios...
MORE STORIES >>
Spurs News

Delivered to your inbox

You'll also receive Yardbarker's daily Top 10, featuring the best sports stories from around the web. Customize your newsletter to get articles on your favorite sports and teams. And the best part? It's free!