Last month Los Angeles Lakers legend Kobe Bryant had his two jersey numbers retired. Is it possible that one of his former teammates, Pau Gasol, is next in line? Not even a handful of weeks back the Los Angeles Lakers retired both of Kobe Bryant's jersey numbers. In light of the Lakers...
After a full career's-worth of time spent elsewhere, Gasol is showing he understands what San Antonio is all about. Pau Gasol didn't need the Spurs. He had a Hall of Fame-worthy resume before he set foot in the home locker room of the AT&T Center. Money wasn't really an issue, not after being one of the highest paid players in the league for years. Sure, he was at the tail end...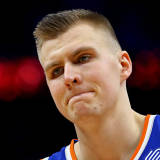 Two European-based NBA scouts have railed against the notion that the New York Knicks have a true franchise player on their hands in Kristaps Porzingis.The New York Knicks have chartered a course with a goal for success down the road after years of dysfunction. The team has decided to make Porzingis the centerpiece of that movement. However, some have cast doubt on whether that is...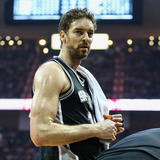 The San Antonio Spurs are intent on keeping all of their veterans this offseason, and that includes Pau Gasol.Adrian Wojnarowski of ESPN reports that Gasol has agreed to a three-year deal to remain with the Spurs. Gasol opted out of the final year of his contract after the season, but the belief all along was that he would return to San Antonio. His three-year deal will likely have...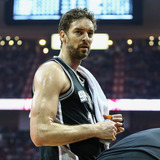 The San Antonio Spurs made their first big move in free agency Thursday evening, adding forward Rudy Gay on a two-year contract. Gay, who is coming off an Achilles injury, is expected to play a stretch-four role next to Kawhi Leonard in San Antonio's frontcourt.This leaves the statuses of both LaMarcus Aldridge and Pau Gasol clearly up in the air, especially with the Spurs still...
After one season with the San Antonio Spurs, future Hall of Fame center Pau Gasol has decided to opt out of his contract. He was originally slated to be paid $16.2 million for the 2017-18 campaign. Instead of locking into that payday, Paul is expected to take a longer-term deal with San Antonio as a way to give the team more flexibility in free agency. "Gasol's opt-out delivers San...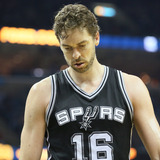 Pau Gasol is expected to opt out of the final year of his contract with the San Antonio Spurs this summer, but the veteran center does not intend to sign elsewhere.According to Adrian Wojnarowski of The Vertical, Gasol is planning to sign a long-term deal with a lower average annual salary than the $16.2 million he would have made by opting in. Gasol, who will turn 37 next month...
Pau Gasol knows what a championship team looks like considering he won two titles with the Lakers. And he thinks the Golden State Warriors definitely have the goods.Gasol's San Antonio Spurs got swept by the Warriors, losing Game 4 of the Western Conference finals by a comfortable margin on Monday. Afterwards, Gasol was complimentary of the Dubs."They're in a groove," Gasol said...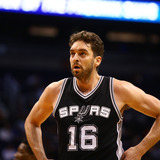 Pau Gasol is ready to commit to a second season with the San Antonio Spurs.The veteran big man said that he fully intends to exercise his $16 million second-year option to remain with the Spurs, saying they give him the best chance to win a championship."My intention is to continue here, and to be here as long as I can," Gasol told Jabari Young of the San Antonio Express-News.Though...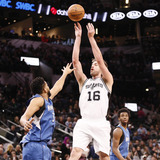 Pau Gasol underwent surgery to repair a fracture in the fourth metacarpal on his left hand Friday, and the veteran center will miss roughly four to six weeks, leaving a big hole in the middle for the San Antonio Spurs.Gasol, a six-time All-Star, is averaging 11.7 points, 7.9 rebounds and 1.2 blocks per game in his first season with the Spurs.According to the San Antonio Express-News...
MORE STORIES >>
Spurs News

Delivered to your inbox

You'll also receive Yardbarker's daily Top 10, featuring the best sports stories from around the web. Customize your newsletter to get articles on your favorite sports and teams. And the best part? It's free!