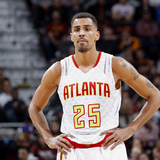 Former Atlanta Hawks center Pero Antic has filed a civil suit against the New York Police Department stemming from an incident last April, with Hawks swingman Thabo Sefolosha reportedly to follow. According to ESPN's Kevin Arnovitz, Antic filed claims of false arrest, unlawful imprisonment, assault, battery, negligence, civil rights violations and malicious prosecution. Sefolosha...
[Editor's Note: Thabo Sefolosha was found not guilty of misdemeanor charges minutes before the publication of this column.] Thabo Sefolosha was a victim of police brutality. The 6'7″ Atlanta Hawks shooting guard was arrested in April of this year for allegedly interfering with an officer after Chris Cooper from the Indiana Pacers was stabbed outside the 1 Oak nightclub in NYC....
It can be easy to forget just how many professional basketball opportunities there are around the world. None offer the prestige or pay of the NBA, but there are chances to play basketball in many countries. And the Euroleague is premiere among those non-NBA leagues -- and it's where former Atlanta Hawks big man Pero Antic will call home next season.It's that word "home" that was...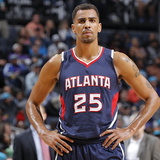 By Larry Brown Thabo Sefolosha suffered a season-ending injury the night he was arrested during an incident at a New York club that saw three people stabbed,including Pacers forward Chris Copeland. Sefolosha and Atlanta Hawks teammate Pero Antic were arrested for resisting arrest and making it difficult for officers to set up a crime scene after the stabbings at 1 Oak nightclub...
Atlanta Hawks forwards Pero Antic and Thabo Sefolosha were arrested early Wednesday morning in New York City for disorderly conduct. According to the Daily News, the incident stemmed from the melee that lead to Indiana Pacers forward Chris Copeland being stabbed: Sefolosha, 30, and Antic, 32, refused to move when police tried to set up a crime scene, the sources said. They were charged...
It's been a tough month for Atlanta Hawks' backup center Pero Antic. The 32-year-old Macedonian big man is mired in the worst shooting slump of his young career, aside from his dreadful performance in last year's first round playoff series against the Indiana Pacers. Antic, who despite his frame (6'11", 260 lbs), plays more away from the basket than he does near the rim – 71.8% of...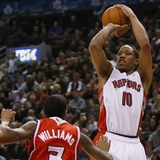 Though the Toronto Raptors are four and a half games behind the first-place Atlanta Hawks and are third in the Eastern Conference standings, they are 2-0 against the Hawks this season and recently activated injured star guard DeMar DeRozan, who had missed the previous 21 games with a torn groin tendon suffered in a November 28 home loss to the Dallas Mavericks. The Raptors were 12...
Thursday night every NBA team will make a decision that'll shape its franchise for years to come, when they select the next stars in the NBA Draft. This is regarded by many as one of the strongest draft classes in years, and I definitely agree. The Atlanta Hawks have the 15th and 43rd overall picks in this Draft. So here is my prediction for Thursday night. With the 15th pick the...
MORE STORIES >>
Hawks News

Delivered to your inbox

You'll also receive Yardbarker's daily Top 10, featuring the best sports stories from around the web. Customize your newsletter to get articles on your favorite sports and teams. And the best part? It's free!