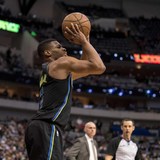 Dennis Smith Jr will be one of the participants in the Slam Dunk Contest on Saturday night in Los Angeles. He'll be tasked with coming up with some creative dunks to surpass what past contestants have done. But one thing he won't be doing is looking to his Dallas Mavericks teammates for suggestions.Take a look at this funny answer Smith gave on Tuesday when asked about getting help...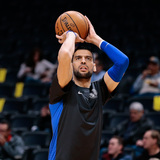 Tempers flared during Saturday's game between the Blazers and Mavericks, leading to one player reportedly threatening to go to the other team's locker room.During the fourth quarter, Salah Mejri and Jusuf Nurkić got tangled up, which resulted in pushing and some acting by Mejri. Following the game, the Blazers' Evan Turner sad Mejri was talking trash and threatened to go to the Blazers...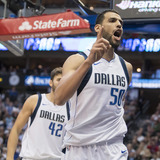 Mavericks center Salah Mejri was seen attempting to deliver a cheap shot on Spurs guard Patty Mills after Tuesday's game.It's unclear what Mejri was upset about, but TV cameras picked up Mejri sticking his foot out in an attempt to trip Mills in the postgame handshake line. The Mavs defeated their interstate rival, 95-89, so it was odd that Mejri was agitated enough to deliver the...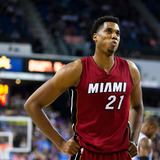 A new big man might be joining the Dallas Mavericks for the 2016-17 season.  Adrian Wojnarowski of The Veritcal is reporting that the Mavericks are leading the fight for Miami Heat center Hassan Whiteside. Sources on @TheVertical. Dallas Mavericks emerging as a frontrunner for Miami free agent center Hassan Whiteside. Heat's lost ground on him. — Adrian Wojnarowski (@WojVerticalNBA...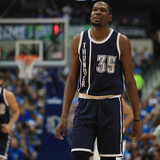 Tempers continue to flare in the series between the Dallas Mavericks and the Oklahoma City Thunder, with Salah Mejri the latest to jump into the fray. The Mavericks rookie big man called out Kevin Durant in the wake of Durant's hit on Justin Anderson, and he did not hold back in his criticism, accusing Durant of only going after rookies. Had a one-on-one chat with Mejri, who...
Tensions have been high in the Mavericks-Thunder series and Game 4 was no different. Russell Westbrook and Salah Mejri got into it in the third quarter after the Mavericks big man pulled the Thunder guard down on a drive attempt. Mavs fans stepped in and began yelling at Westbrook, so he gave them the business. "F— you" Westbrook could be seen yelling. That's one way to deal...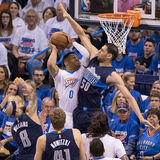 Salah Mejri has made himself a big part of the playoff series between the Thunder and the Mavericks. During Game 4 between the teams on Saturday, Mejri and Russell Westbrook were hit with technical fouls for a skirmish by Oklahoma City's bench. Matters developed when Thunder bench player Anthony Morrow would not give a ball that went out of bounds over to Mejri. Mejri and Westbrook...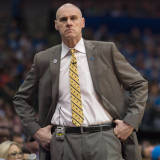 Dallas Mavericks coach Rick Carlisle isn't happy with Kevin Durant, or the Oklahoma City Thunder for that matter. He accused Durant and the Thunder of playing dirty in Game 3 Thursday. In particular, Carlisle was upset about an elbow thrown by Durant in the chest of Salah Mejri. "There were four, what I would categorize as, non-basketball physical escalations that were initiated...
Someone needs to tell Mavericks big man Salah Mejri that you shouldn't poke the bear, especially when said bear is destroying your team by 20 points. Mejri did that on Friday night in Dallas with his team down big after slamming home a dunk. For some reason, he turned toward the Spurs bench afterwards and had some words with the players to rub it in their faces. That wasn't really...
The Oklahoma City Thunder walked away from Friday night's game against the Dallas Mavericks with the win, but the play that everyone will be talking about will be the one Mavericks rookie center Salah Mejri made on Thunder superstars Russell Westbrook and Kevin Durant. He had yet to play much since joining the team, but Rick Carlisle was not too happy with what the team was doing...
MORE STORIES >>
Mavericks News

Delivered to your inbox

You'll also receive Yardbarker's daily Top 10, featuring the best sports stories from around the web. Customize your newsletter to get articles on your favorite sports and teams. And the best part? It's free!