If you love something, set it free. Stanley, in the Doghouse Stanley Johnson, the offensively challenged third-year small forward who nevertheless plays the role of defensive bulwark for the Pistons, is no longer starting. Stan Van Gundy changed the lineup before the game against Denver, citing Stanley's lack of consistent aggressiveness on defense. That's a rationale I have trouble...
The Detroit Pistons and Stanley Johnson have had a rocky relationship since the start. With Johnson relegated to the bench, and differing views of how he thinks he fits and how Stan Van Gundy think he fits, will this thing ever work out? One thing I did not want to see from the Detroit...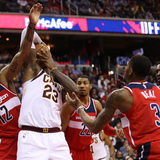 The NBA season is still taking shape but this is a nice time to take stock of different teams and players at varying levels of success. Victor Oladipo's big week earns the Pacers a few appearances on the list but the headliner is Cavs/Wizards on Sunday.MondayHeat at Grizzlies, 8 p.m.: Both of these teams are looking for momentum as the early part of the season has not gone as well...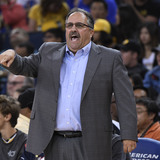 Detroit Pistons head coach Stan Van Gundy hailed NFL players who have participated in national anthem protests as "patriots of the highest order" in a passionate open letter written for Time magazine."These athletes and many others are risking future contracts and endorsement opportunities to speak out on issues of racial injustice because they feel duty-bound to do so," Van Gundy...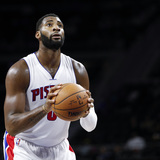 Detroit Pistons center Andre Drummond has been notorious for being one of the league's worst free throw shooters, having shot over 40 percent from the stripe just once in his five previous NBA seasons. Now, though, he thinks he's found a breakthrough, and so does his coach.Drummond is 6-for-6 from the line in three games so far, and coach Stan Van Gundy readily admitted that it's...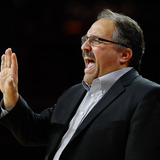 Detroit Pistons coach Stan Van Gundy doesn't think the NBA's new lottery rules will promote parity and do enough to dissuade teams from tanking, so he has a better idea.Van Gundy said Friday that if the NBA wants to stop tanking altogether, the NBA Draft and max contracts should become things of the past — and that rookies should simply become free agents."I'd get rid of it, just...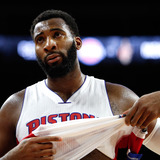 Detroit Pistons center Andre Drummond has been something of an enigma for coach Stan Van Gundy, with the talented center taking a step back in 2016-17.Now, Van Gundy is giving him a name to model his game after — Los Angeles Clippers center DeAndre Jordan."The step, to me, for Andre is to do a little bit of what DeAndre Jordan does and dominate the game at the defensive end of the...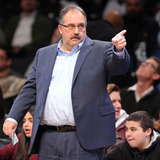 Stan Van Gundy's job as Detroit Pistons' head coach and president of basketball operations is safe, reports the Detroit Free Press. This is not particularly surprising news, but it affirms ownership's commitment to Van Gundy even as his plans have gone sour.With a core built around center Andre Drummond and point guard Reggie Jackson, Detroit expected to be in the Eastern Conference...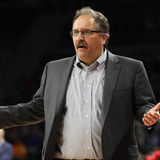 Detroit Pistons head coach Stan Van Gundy continues to stand up for his Eastern Conference adversaries.Before the Pistons played the Boston Celtics on Sunday, Van Gundy said he didn't understand the criticisms of the Celtics for not making a move at this year's trade deadline."Really?" Van Gundy said, per Steve Bulpett of the Boston Herald. "I don't get that. I think they're in great...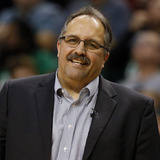 Rule No. 1 in negotiating trades. If you're offering a player who the other team has never heard of, it's not a good offer. Someone apparently didn't understand that rule when negotiating with Stan Van Gundy and the Detroit Pistons. That's no way to build good faith in negotiations.The Pistons reportedly have Andre Drummond and Reggie Jackson on the block, which you can read about...
MORE STORIES >>
Pistons News

Delivered to your inbox

You'll also receive Yardbarker's daily Top 10, featuring the best sports stories from around the web. Customize your newsletter to get articles on your favorite sports and teams. And the best part? It's free!