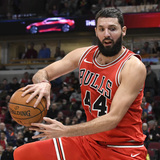 The NBA trade deadline is less than two weeks away, and there's no shortage of players around the league who could change teams. With that in mind, we're taking a closer look at some of those top trade candidates, breaking them down by division.While our focus will be primarily on teams expected to be sellers at the deadline, our lists may also include some players on contenders...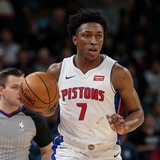 As the Pistons explore the trade market in search of potential upgrades, Stanley Johnson's name has come up in their discussions, reports Ian Begley of ESPN.com. According to Begley, teams that have spoken to the Pistons have come away with the impression that Johnson is available for the right return.Johnson, the eighth overall pick in the 2015 draft, had a promising rookie season...
The Detroit Pistons have been active in trade talks, and Stanley Johnson and Luke Kennard are two players who regularly come up, according to a report.ESPN's Ian Begley reported on Thursday that Johnson's name comes up frequently in trade talks, leading many to believe he is available. Kennard, who was the team's first-round pick in 2017, has also been a hot name, but Detroit isn...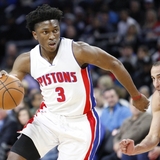 Stanley Johnson did not play in a game for the second time this season on Friday. The first one was a DNP-coach's decision. This time, it was due to a different reason. When the Pistons faced the Clippers on Friday, they did so without Johnson, who was suspended one game by the team for violating team rules. SVG says Stanley Johnson is suspended for one game for "violation of team...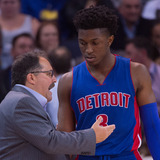 Detroit Pistons head coach Stan Van Gundy may or may not have had a little chat about maturity this week with rookie forward Stanley Johnson. After the Cleveland Cavaliers blew out Detroit in Game 2, Johnson said he is not afraid of LeBron James and that he even thinks he is in the four-time NBA MVP's head. Knowing that LeBron doesn't need any added motivation in the series, Van...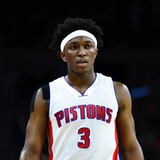 LeBron James may have tried an intimidation tactic on Stanley Johnson Wednesday, but the Detroit Pistons rookie is not letting it affect him. After Johnson made a 3-pointer in the first quarter of Game 2 between the Cavs and Pistons, James gave Johnson a bump. A little love bump from LeBron after Johnson knocked down that 3 https://t.co/tMEGCJ7Scg — Tommy Beer (@TommyBeer) April...
Detroit Pistons rookie Forward Stanley Johnson, this past year's first round pick, is in hot water after he posted Snapchat of him holding a toy gun to the head of a friend. Here is the video from the Sporting News. You decide for yourself if this should be a big deal. The Detroit Pistons have not responded to the Sporting News' request for comment on the issue. However, Johnson...
Detroit Pistons rookie Stanley Johnson hasn't been shy about the team's goals this offseason. The Pistons haven't made the playoffs since the 2008-09 season, but Johnson says that simply sneaking into the playoffs as an 8th seed isn't what the team wants.Here's what Johnson told Perry A. Farrell of the Detroit Free Press:"We just don't want to get in as the eighth-seed," said rookie...
The Detroit Pistons took Stanley Johnson with the eighth pick of the 2015 to the tune of some criticism with Justise Winslow still on the board. I myself was a bit surprised. Five weeks have passed and I am already ready to fully admit I was wrong for doubting him. Johnson The Detroit-Johnson relationship has been a rollercoaster of fun so far. A month or so before the draft, all...
The Detroit Pistons have played just two games in the 2015 Orlando Summer League, but first round pick Stanley Johnson has been as good as advertised. After scoring an event-high 24 points on Sunday, Johnson has looked like one of the top players in Orlando. "I think the thing that's most impressive is the calmness to his game right now," said Pistons Summer League head coach Bob...
MORE STORIES >>
Pistons News

Delivered to your inbox

You'll also receive Yardbarker's daily Top 10, featuring the best sports stories from around the web. Customize your newsletter to get articles on your favorite sports and teams. And the best part? It's free!