In a deal that came late on deadline day, the Phoenix Suns acquired Elfrid Payton from the Orlando Magic for a second round pick.Phoenix has developing young players up and down their roster at every position except for point guard. Tyler Ulis is a nice enough player, but this season has proven he's best utilized as a backup. With Payton, the Suns now have a worthy flyer for the...
Los Angeles Lakers forward Kyle Kuzma after they beat the Phoenix Suns 112-93, talked about their current 3 game win streak, his monster slam and Josh Hart's impressive starts. Help us bring you even more coverage by SUBSCRIBING TO OUR CHANNEL: https://www.youtube.com/user/lakersnationdotcom/?sub_confirmation=1 Kobe Bryant's Most Savage Practice EVER!!! https://www.youtube.com...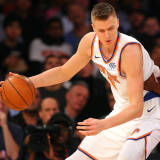 The calendar has flipped to November, Daylight Savings Time is no more, and most teams have played their first ten games or so, leaving roughly 72 contests remaining on the schedule. Of course, that can only mean one thing: [sounds airhorn] it's Overreaction Season. And perhaps the most sacred of all the Overreaction Season traditions is fangirling over those who have successfully...
He'll be at 100% in about 12 weeks. In Phoenix Suns injury news on Wednesday, guard Tyler Ulis' surgery on his right ankle was successful. The surgery was performed at the appropriately named Hospital for Special Surgery in New York City by Dr. Martin O'Malley. It will be twelve weeks before Ulis is able to return to "full basketball activity." Ulis is the reigning Kia NBA Western...
Positive things to say! Topics: Thunder win Celtics win Tyler Ulis Alan Williams Ball movement Wins
Isaiah Thomas had 35 points and five assists on the night but the Celtics made some costly mistakes and lost in unbelieveable fashion in Phoenix. Thomas hit some big shots but missed a crucial free throw and couldn't handle the ball so Tyler Ulis hit a buzzer-beater. At least we got this Thomas-Ulis jumpball... Jae Crowder got himself another double-double as he scored 16 points...
It's not everyday we see two 5'9" players go head-to-head in an NBA contest, and it's even rarer to imagine those same two guys getting tied up on a possession and being forced into a jump ball situation. But we had all of that in Phoenix on Sunday, as Boston's Isaiah Thomas and Suns rookie Tyler Ulis got to jump it up at center court during some second-quarter action. While this...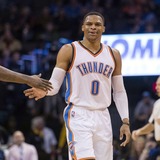 Russell Westbrook left fans spellbound with a beautiful move in the fourth quarter of the Thunder's win over the Suns on Saturday. Westbrook was being guarded by Devin Booker when he got a screen and dribbled to the free throw line. Then he completely stunned Tyler Ulis with an amazing "Shammgod," which is a ridiculous one-handed crossover made famous by former player God Shammgod...
Can you find the other Suns? Here's some highlights from the 2016 NBA Rookie Photo Shoot. Worth a laugh. Welcome to the 2016 NBA Rookie Photo Shoot! #NBARooks pic.twitter.com/3Fl9iwzahm — NBA (@NBA) August 7, 2016 Here's the picture with signatures. Kind of cool. A collector's item to someone, somewhere. Probably. Maybe. Remember these names! The future is bright! ...
The second round draft pick out of Kentucky is making a name for himself. Tyler Ulis was already turning heads at the NBA's Summer League. Through four games he's averaged 6.8 assists, tops in the league. In Saturday's quarterfinal game however, it was his shot that propelled the Suns over the Nuggets in tournament play. Check it out: Not a bad way to start a career.
MORE STORIES >>
Suns News

Delivered to your inbox

You'll also receive Yardbarker's daily Top 10, featuring the best sports stories from around the web. Customize your newsletter to get articles on your favorite sports and teams. And the best part? It's free!