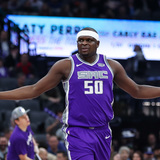 We've reached a point in the 2017/18 season where some front offices are facing a fork in the road, with one clearly preferable long-term path for their franchises' futures. Several of the clubs that find themselves atop our Reverse Standings have already begun to look past this season and into the future. Today, we're going to take a look at some of these bottom-dwellers from a...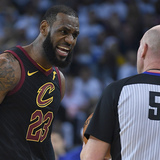 The NBA has a new hotline for players to call to weigh in about the officiating. It's a safe place to get clarification on rules, explanations for technicals and remuneration for travel expenses. Yardbarker has obtained exclusive access to the hotline's responses, which are about as genuine as Tom Thibodeau's commitment to resting his starters. We know when the hotline blings, that...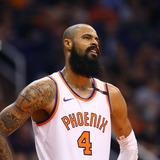 Phoenix may be trying to dump another veteran along with Eric Bledsoe.Marc Stein of the New York Times reported Friday that the Suns are exploring the possibility of moving Tyson Chandler in a potential Bledsoe trade. While it has become rather obvious in recent days that Bledsoe and the Suns both want to go their separate ways, the team could benefit from offloading Chandler as...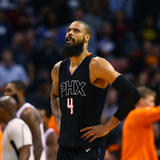 Former New York Knicks president Phil Jackson has been public enemy No. 1 of late, but at least one former player is grateful to the Zen Master.TMZ Sports caught up to Tyson Chandler, who said Jackson did him a huge favor by trading him out of New York in June of 2014.In one of his first big moves as president, Jackson traded Chandler and point guard Raymond Felton to the Dallas...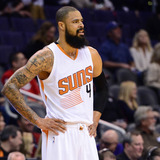 Phoenix Suns head coach Earl Watson is throwing cold water on the idea that Tyson Chandler will be traded to facilitate a second-half youth movement.Watson said on Thursday that the veteran seven-footer is "not going anywhere," per Spencer Davies of 16 Wins A Ring. The 34-year-old Chandler, who is in Year 2 of a four-year, $52 million contract, has fared quite well this season for...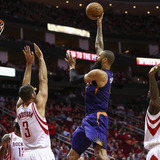 The Portland Trail Blazers allow the third-most points per game (111.2) in the league, and word is they are looking for a player to help them with their defensive issues. ESPN's Marc Stein reports that the Trail Blazers are targeting Phoenix Suns center and former Defensive Player of the Year Tyson Chandler for a possible trade. The 16-year veteran is averaging 7.5 points, 11.6...
Tyson Chandler 2014-15 Phoenix Suns: 39-43 Take a look at the roster of this season's Phoenix Suns. Three things should leap out at you: Born in 1996, Devin Booker turns 19 next Friday. My God, we're getting closer to having the first player born in the 2000s making a NBA roster. Color me frightened. The Suns must looooooooove Kentucky. Tyson Chandler has been in the league for...
Free agent big man Tyson Chandler sent shockwaves around the NBA galaxy Wednesday, agreeing to a 4-year, $52 million deal with the Phoenix Suns. The deal comes as a major surprise as the seven-foot center was largely expected to either remain with the Mavericks or head to the L.A. Clippers depending on what happened with...Read More
It is no mystery for Dallas Mavericks fans that Dirk Nowitzki is losing his touch at the ripe age of 37. Dirk knows, too, that he is no longer able to run this team by himself. He has never been that athletic, typically moves very slow, and has little to no defensive presence. In fact, Dirk's major contributions have mainly been on the offensive end. He has averaged 20+ points throughout...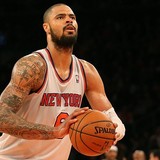 The time has come for the Dallas Mavericks. After making strides and improving all across the roster during the offseason, the Dallas Mavericks should have big expectations for the team moving forward. The former defensive player of the year; Tyson Chandler is back with the Mavericks, and he provides the much needed upgrade on defense that the Mavericks were desperately looking for...
MORE STORIES >>
Suns News

Delivered to your inbox

You'll also receive Yardbarker's daily Top 10, featuring the best sports stories from around the web. Customize your newsletter to get articles on your favorite sports and teams. And the best part? It's free!