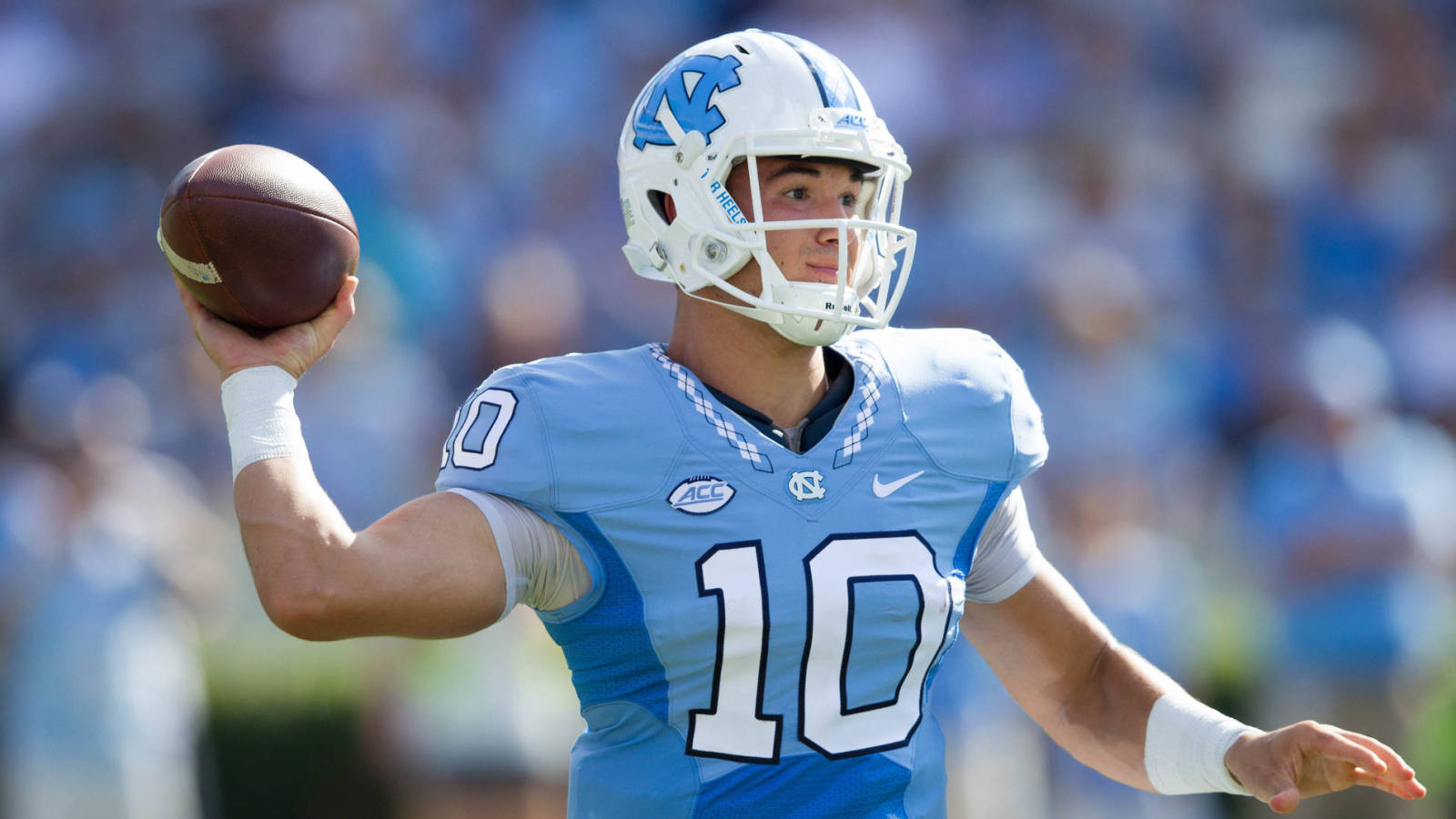 Sep 24, 2016; Chapel Hill, NC, USA; North Carolina Tar Heels quarterback Mitch Trubisky (10) passes the ball during the first quarter against the Pittsburgh Panthers at Kenan Memorial Stadium. 
Jeremy Brevard-USA TODAY Sports
The NFL Combine will be held from Feb. 28 through March 6 at Lucas Oil Stadium in Indianapolis, giving NFL teams a close look at many of the league's most promising prospects.
Players will not only have an opportunity to meet with NFL scouts and executives, but also to improve their potential NFL Draft stock with impressive performances on the field.
Whether it's a debate about skill level, or players being over-hyped/underrated, there are many athletes who will be at Indianapolis with stories that are slightly more interesting than others.
With that in mind, here's a look at 10 of the most intriguing players who will be at the NFL Combine.
10. Cooper Kupp (wide receiver, Eastern Washington)
There are 19 FCS players who will take part in the 2017 NFL Combine, and coming from small schools makes them all interesting. But of those who are slated to attend, perhaps none bring about as much intrigue as Eastern Washington wide receiver Cooper Kupp.
Kupp will enter the combine and subsequently the NFL Draft having amassed more college receiving yards than the legendary Jerry Rice. As a freshman, he set FCS records with 93 receptions and 21 touchdowns, but that was only the tip of the iceberg. Kupp eventually closed out his career with 428 receptions for 6,464 yards and 73 touchdown.
Oh, and did we mention he's a solid return man, can run the football, play gunner and if the situation calls for it, he can also throw the ball on some trick plays?
He has all the tools that make an interesting prospect, and he's quite intelligent, having scored a 37 on his Wonderlic test while posting a 3.6 GPA. He's also married and has not shown any off-field issues.
Needless to say, Kupp will be a name worth keeping an eye on. He's drawn high praise from NFL scouts early on, his college resume speaks for itself, and he expects to put up some pretty impressive numbers to help improve his draft stock.
9. DeMarcus Walker (defensive end, Florida State)
It's inevitable at the NFL Combine that some prospects will have their draft stock rise, while others will experience a fall. And perhaps more than any other player headed into Indianapolis, there's a growing belief that Florida State defensive end DeMarcus Walker will be one of the latter.
After struggling during his first two college seasons, Walker blossomed over his final two, recording 26.5 sacks during that span. In fact, he could have declared for the NFL Draft following the 2015 season and likely been drafted relatively early, but he opted to return to Florida State to earn his degree.
In doing so, Walker opened himself up to some additional criticism — namely where the 6-foot-3, 273-pounder will play once he makes the leap to the NFL. He also drew some ire for a slow start in 2016, which he took responsibility for and ultimately turned around.
But in recent days, some experts have gone from questioning his skill to questioning his character. So in addition to facing the flames of questionable athletic ability, Walker will also have to use his time at the NFL Combine to prove he's a person of high moral character — something he appears to be on the surface despite reports to the contrary.
8. Obi Melifonwu (safety, Connecticut)
If you heard the name Obi Melifonwu prior to the Senior Bowl, you're more than a casual football fan. Either way, Melifonwu's reputation has grown since he began opening eyes last month.
A completely under-the-radar player prior to the aforementioned Senior Bowl, Melifonwu now not only has the eyes of NFL scouts on him, but will enter the NFL Combine with a legitimate chance to propel himself up the projected draft charts.
At 6-foot-4 and 217 pounds, Melifonwu is a relatively large, hard-hitting safety who can also play nickle. He made a name by establishing himself as a reliable tackler who works well in small spaces and limits yards after the catch (YAC). However, he's still considered relatively raw and needs to work on his instincts to allow for more aggressive play.
Currently projected to go in the third round, Melifonwu could again thrust himself into the spotlight and climb the NFL Draft ladder with a strong showing at the combine. And who doesn't love rooting for the hard-working underdog?
7. Tim Williams (EDGE, Alabama)
Myles Garrett, whom we'll get to shortly, is arguably the most athletically sound pass rusher headed to the NFL Combine. But coming in at a close second is Alabama outside linebacker Tim Williams, who you won't see projected anywhere near where Garrett is expected to go.
The are multiple reasons why so many experts and scouts appear somewhat down on Williams. First and foremost, Williams has some questions about his character that will scare some teams off.
In late September, Williams was arrested for carrying a firearm without a permit, leading to a half-game suspension. But in addition to that arrest, Walter Football reports that Williams failed several drug tests in college and that NFL teams have become quite wary of his potential off-field issues.
Beyond the questions about his character, Williams' draft stock has also taken a hit because of his sporadic snaps at Alabama. He was primarily used in straight pass rushing situations, which prevented his run-stopping skills from taking shape. There are also questions about Williams' size and upper body strength.
Of course, those are all the things that make Williams interesting to watch at the combine. Not only can he explain his character issues to scouts and hope to clear his name, but he'll have the opportunity to prove that he's gained in strength and has the agility to be an every down lineman/linebacker in the NFL.
6. David Njoku (tight end, Miami)
2017 is being referred to as "the year of the tight end" given how deep the group is entering the NFL Draft. And one could argue that every single top-end tight end is interesting in some form of fashion, but the hype surrounding Miami tight end David Njoku is beginning to make him stand out.
At 6-foot-4 and 245 pounds, Njoku is an imposing figure who also features rare athleticism, good hands, and the ability to make the big play. He's been tutored by other Miami legends such as Greg Olsen and Jeremy Shockey, and has taken their advice ahead of the combine in Indianapolis.
"I'm working on both with my power and speed," Njoku recently told Sporting News. "I came into Miami as a receiver, so it's easier to say my blocking but obviously there's things that I need to work on with running routes. They both need some serious work, but I'm far from reaching my peak."
Currently projected as a first-round pick, but secondary to Alabama tight end O.J. Howard, Njoku has a substantial amount to gain if he can display increased power and speed at the combine. And while it may not be enough to overtake Howard for the top spot, he could realistically set himself up to be drafted in the middle of the first round.
5. Mitch Trubisky (quarterback, North Carolina)
If Mitch Trubisky had more years of success under his belt, he'd arguably be the best quarterback entering the NFL Draft. However, that distinction currently, but not unanimously, goes to Clemson quarterback Deshaun Watson, who comes with some red flags of his own.
Most experts believe Trubisky has the highest potential ceiling of any quarterback slated to attend the NFL Combine, but the question that lingers is how long it will take him before he realizes the full scope of his talent.
Trubisky erupted onto the scene a season ago and even thrust himself into the Heisman Trophy discussion. And while he had some hiccups along the way, he established himself as a potential quarterback of the future for an NFL team in need — the New York Giants immediately come to mind as they'll begin their search for Eli Manning's successor.
The NFL Combine will neither break nor make Trubisky, but he could still do himself some favors by putting up good numbers and proving to scouts he's a bit more athletically polished than some are giving him credit for.
4. Mike Williams (wide receiver, Clemson)
Western Michigan wide receiver Corey Davis is one of the most intriguing players in the 2017 NFL Draft, but an injury will prevent him from performing in the NFL Combine, which in turn opens up a unique opportunity for Clemson wide receiver Mike Williams.
At 6-foot-3 and 225 pounds, Williams is a legitimate downfield threat who can battle with the most physical cornerbacks in the league. For that reason, several teams are likely already considering him in the first round. But with Davis sidelined, Williams now has the opportunity to go out and make his case for being the No. 1 receiver in the draft.
The one thing that currently holds Williams back from that distinction is his inability to create more substantial separation, something to which Pro Football Focus recently alluded.
Mike Williams was possibly the deciding factor in Clemson claiming revenge against Alabama in a rematch of the 2015 National Championship. He displayed all the qualities that make him such an exciting prospect against NFL-caliber defensive backs. As well as presenting opponents with a matchup problem, Williams also represents a reliable target underneath. He projects as a receiver capable of using his body to move the chains while adding a downfield component to the passing game due to his ability to win at the catch point with strong ball skills.

[However] he may not create enough separation to fit with every quarterback style. Needs aggressive passer to allow him to win at the catch point in contested situations.
Straight-line speed isn't the be-all, end-all in the NFL, but there is quite a bit of value placed on it. Accordingly, if Williams wants to boost his draft stock and put Davis in his rear-view mirror, he's going to need to come out guns blazing at the NFL Combine.
3. Jabrill Peppers (defensive back, Michigan)
Jabrill Peppers is a unique and potentially elite talent — that's something few will deny. So what makes him such an intriguing player to watch at the NFL Combine? Because, well, no one really has a single clue where on defense he's going to play once he enters the NFL.
During his time at Michigan, Peppers was often referred to as a Swiss Army Knife, at one point playing 10 different positions in a single game. And while that versatility makes him unique, it's also what may drop him out of the first round.
"I think he is a better offensive player than defensive prospect. I'm concerned about the lack of interceptions and his lack of physicality. He is more of a run-and-chase defender to me. He might have a chance as a 4-3 (weakside) linebacker but I believe he might be better with the ball in his hands," an AFC college scouting director told Bucky Brooks of NFL.com.
A strong performance at the combine could change Peppers' fortunes. If he can dazzle with both speed and strength, it will give NFL teams a better feel for where he can be used and where he can't. So whether he ends up as a safety, linebacker or on offense, Peppers needs to put on a show or risk falling come draft time in April.
2. Dalvin Cook (running back, Florida State)
Dalvin Cook is projected by some to be the best running back the 2017 NFL Draft has to offer, but LSU's Leonard Fournette and Stanford's Christian McCaffrey are hot on his trail. It's for that reason that Cook is one of the most intriguing players to watch at the NFL Combine.
While the style of Fournette and McCaffrey are clearly defined, there's a belief that Cook has only just begun to scratch the surface of his potential ceiling. And in order to sell NFL scouts on his ability and future value, he's going to need to put up impressive numbers at the combine — and not just in the 40.
With the running back position somewhat devalued in today's NFL, Cook makes things interesting because of his do-it-all ability. However, if he slips up at the combine, he could see himself drop from a top-10 pick to a late first-round pick or potentially even lower. On the contrary, if he puts up impressive all-around numbers and goes on to have a solid Pro Day, he'll likely be the first running back chosen come April.
1. Myles Garrett (EDGE, Texas A&M)
The Cleveland Browns are very much in need of a franchise quarterback, but with the No. 1 pick in the 2017 NFL Draft, there's a strong chance they go with edge rusher Myles Garrett out of Texas A&M instead.
Many consider Garrett, who recorded 32 sacks and one interception during his college career, to be a game-changing edge rusher who could play outside linebacker in a 3-4 defense or defensive end in a 4-3 defense. Either way, the mere fact that he's being considered ahead of some of the highly-touted quarterback prospects is enough to warrant him being listed as the most intriguing player entering the NFL Combine.
Whether or not Garrett is ultimately chosen at No. 1 overall remains to be seen, but if he can put up impressive numbers at the combine that parallel the hype he's received, an already interesting talent will only become that much more interesting.
Adding to Garrett's intrigue is the potential for a trade at the top of the NFL Draft should the Browns decide to drop a few spots and target a quarterback.
MORE FROM YARDBARKER
NFL News

Delivered to your inbox

You'll also receive Yardbarker's daily Top 10, featuring the best sports stories from around the web. Customize your newsletter to get articles on your favorite sports and teams. And the best part? It's free!