Found December 20, 2011 on Bleed Black & Gold:
The Steelers came out and laid an egg last night.  They only put up 3 points on the board and gave up 20.  They looked flat from the first minute on.  The team tried to keep in the game but one big mistake on almost every drive on both offense and defense kept San Francisco ahead of the game.  The Steelers are now 10-4 and look to be headed for the number 5 seed in the playoffs. 
Observations:
Max Starks was abused-  Starks was beaten over and over again by rookie Aldon Smith.  He could not handle him.  He was overmatched physically by strength and speed.  Starks looked bad, real bad.
Ben Roethlisberger needed to play out a simulated quarter before the game started.  Roethlisberger got better as the game went on but every time there was a slow down he also slowed back down.  By the time he got in rhythm the game was out of hand and the pass rush was on him like nobody's business.  He had no chance tonight.
This will be two weeks in a row I talk about the officiating.  This crew was horrendous.  They could not do anything on their own.  They made bad calls all night long.  The NFL needs to make officials full time and not let them have other jobs.  If these guys can not do any better then they need to be replaced.  That was just pathetic.  Both ways.
Dick Lebeau needs to adjust earlier in games.  Our guys were getting beat by 10 yard outs the entire first half.  It let San Francisco just march down the field.  They only got field goals but they had the ball so long that the defense wore down in the second half. 
Pass Rush- We have none.  If Woodley or Harrison are not making a play then we do not even get a whiff of the quarterback.  We hit Smith 1 time.  1 damn time.  That was Woodley who did it.  Otherwise we did not touch Smith the entire night.  That is not acceptable.  Smith has been sacked 18 times in the last three games and we did not sack him once.
Vernon Davis ate us alive.  He made all the big catches and scored the 49ers first touchdown.  We could not cover him.  He took advantage of both Timmons and Farrior all night long.  They were just there for him to mess with.  He got 6 catches for 72 yards. 
Lets get some good in here.  Troy was like a missle last night.  He was on guys before they even had a chance to turn around and make a move.  He was hitting anything that moved.  It was the swiftest Troy has looked all season.  He has been making those plays in the run game but not the pass game.  That was good to see.
Red Zone Defense-  The 49ers came in the bottom third of the NFL in Red Zone offense and scored every single time down there.  They got 2 touchdowns and then kicked a field goal the other trip in.  That should not happen.  They are at the bottom of the league for a reason.
I am done with Shaun Suisham.  I can not take it anymore.  He is not even close.  He almost missed both kicks.  The second one I could have kicked as well.  He is terrible.  Next year we need a kicker.  We chose this guy over David Akers who is having a pro bowl year for the team that just beat us.
Have to give props to former Pitt Punter Andy Lee.  The guy is just sick.  He boots the ball a mile in the air.  It stays up for over 5 seconds every time giving his coverage units time to get down the field.  He makes is spin so that it never goes in the end zone.  He put us inside the ten 3 times and still have a 47.5 yard average.  That is insane. 
The Steelers have 2 games left in the season before the playoffs.  They are likely out as far as the division goes but Baltimore could lose.  You never know.
Original Story:
http://feedproxy.google.com/~r/BleedB...
THE BACKYARD
BEST OF MAXIM
RELATED ARTICLES
After a very poor performance against the San Francisco 49ers Monday night, it's becoming more and more of a reality that Pittsburgh Steelers QB Ben Roethlisberger could sit this Saturday against the St. Louis Rams. NFL Network contributor Jason La Canfora on Twitter this morning confirms this. Jason LaCanfora reports, "Steelers officials would be shocked if Ben...
Ben Roethlisberger is expected to start at quarterback Monday night for the Steelers against the 49ers, according to a report in the Pittsburgh Post-Gazette.
Pittsburgh Steelers quarterback Ben Roethlisberger is active against the San Francisco 49ers despite being limited in practice this week with a sprained left ankle.
Steelers quarterback Ben Roethlisberger basically remained in no-excuse mode, as his teammates prepared for the St. Louis Rams.
Pittsburgh quarterback Ben Roethlisberger is optimistic he'll play Saturday when the Steelers host St. Louis.
As Pittsburgh Steelers quarterback Ben Roethlisberger was announced as being active against the San Francisco 49ers, the stadium had different ideas. The start of Monday Night Football at Candlestick Park in San Francisco was delayed Monday when a transformer exploded just outside the stadium. The start of the game was delayed indefinitely and ESPN showed aerial footage of fans...
The lights weren't the only thing that went out in San Francisco. The Pittsburgh Steelers saw their opportunity to take control of the AFC disappear in a 20-3 loss to the 49ers. Injured quarterback Ben Roethlisberger passed for 330 yards but also threw three interceptions, and the Steelers were held without a touchdown for the first time in over two years. Instead of moving...
The most bizarre thing about Monday night's Steelers vs. 49ers game (okay, the second-most bizarre thing) was that gimped-up quarterback Ben Roethlisberger played all sixty minutes. On an injured ankle, when the Steelers' line couldn't protect him, and with the game decided, there was Large Benjamin, still under center, still getting pounded. Even more strange? Head coach...
In what should have been considered the most anticipated game of the week, sorry Tebow, San Francisco took it to the defending AFC Champions beating the Pittsburgh Steelers 20-3. The game was delayed twice due to power outages at the stadium, but that was overshadowed by the 49ers play on the field. San Francisco won mostly with their defense forcing four turnovers and sacking quarterback...
NFL News

Delivered to your inbox

You'll also receive Yardbarker's daily Top 10, featuring the best sports stories from around the web. Customize your newsletter to get articles on your favorite sports and teams. And the best part? It's free!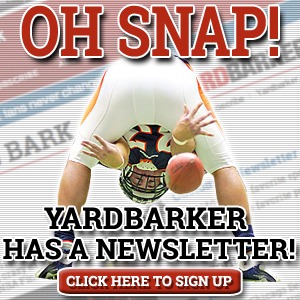 Latest Rumors
Best of Yardbarker

Today's Best Stuff

For Bloggers

Join the Yardbarker Network for more promotion, traffic, and money.

Company Info

Help

What is Yardbarker?

Yardbarker is the largest network of sports blogs and pro athlete blogs on the web. This site is the hub of the Yardbarker Network, where our editors and algorithms curate the best sports content from our network and beyond.