Found May 17, 2013 on Turn On The Jets:
PLAYERS:
Rex Ryan
,
Demario Davis
,
Mike Tannenbaum
,
Muhammad Wilkerson
,
Richard Seymour
,
Trevor Pryce
,
Haloti Ngata
,
Quinton Coples
,
Jason Pierre-Paul
,
Babe Ruth
,
Stephen Hill
,
Antonio Cromartie
,
Gisele Bundchen
,
Tim Tebow
TEAMS:
New York Jets
,
Oakland Raiders
,
Baltimore Ravens
,
New York Giants
Here at Turn On The Jets, we decided to take a page out of Robert Mays book over at Grantland (a polite way of saying rip his article idea off) by counting down the 115 days until the New York Jets kick off, with a daily reason to get excited about their return. Mays has the whole NFL to work with, we only have the Goddamn Jets…now there is a challenge, step your game up Mays!  We continue today with Rex Ryan's exaggerations and comparisons! (Note, you can track this entire series right here) Rex Ryan press conferences peaked somewhere during the 2010 season when it was arguably the best 20 minute sitcom available on a daily basis. He has gradually toned them down since the Jets have struggled the past two seasons but that doesn't mean they still aren't a source of entertainment, particularly when he begins making comparisons and inevitably some exaggerations. Among my favorites… Demario Davis - "Wow. … This is amazing. He reminds me of Ray (Lewis)," Ryan said, according to The Star-Ledger, after meeting with Davis and general manager Mike Tannenbaum at the Jets' team facility. Muhammad Wilkerson – "Ryan has been known to lay it on thick with the superlatives — he compared Wilkerson to Richard Seymour, likely a future Hall of Famer" "Ryan compared the team's first pick to a veteran he's very familiar with, Trevor Pryce, who has logged 14 seasons in the NFL." "Coach Rex Ryan compared Wilkerson to both Trevor Pryce and Haloti Ngata as a massive end who can also move inside to tackle on nickel downs" Quinton Coples - "Today, the Jets coach upped the ante, saying he hopes the Jets' first-round pick turns out as well as the Giants' Jason Pierre-Paul has. They are two unusual talents. … They're unusual guys," Ryan said. "Hopefully Quinton can be the same kind of player Pierre-Paul ended up being. This guy really gets it." Wayne Hunter - "The best backup tackle in football" Himself –  "Ryan reiterated the guarantee by channeling his inner Teddy Roosevelt, while at the same time comparing himself to Yankees legend Babe Ruth." Stephen Hill - "It kind of reminds me of when my dad took Keith Jackson when he was with the Eagles. I think Keith Jackson only had 19 catches, and I think he made the Pro Bowl his first year as a rookie. Hopefully that will happen here with Stephen." Antonio Cromartie - ""I think he took it as I have to step up. We've always said that he's got more ability than anyone at that position, him and Deion (Sanders)." LaRon Landry - Ryan said that Landry reminds him the most of Dick "Night Train" Lane, widely considered one of the league's most feared hitter of all time. His Wife - Gisele Bundchen - NEW YORK DAILY NEWS STORY PITCH OF THE DAY - 1,400 words on Tim Tebow contemplating renovating his kitchen in his spare time this autumn. A source close to the situation confirms "the tiling is getting a little shoddy and he really wants an island countertop…it is definitely time for some changes in there." The reports were confirmed by documents procured from rummaging outside of his home, including a Hometown Decorating magazine. RANDOM JET TO REMEMBER OF THE DAY – TORY WOODBURY! - A backup quarterback/special teamer in the early 2000s, who racked up special teams tackles and had a reception for 13 yards in 2002.
Original Story:
http://turnonthejets.com/2013/05/114-...
THE BACKYARD
BEST OF MAXIM
RELATED ARTICLES
A miffed Joe McKnight smacked down speculation that he could be the odd man out in the New York Jets' crowded backfield, saying they'd have to ''kill me'' to take his spot. The running back, entering his fourth season, says Thursday that he doesn't care who the Jets bring in at the position and he's going to ''prove'' he belongs. New...
David Garrard says his surgically repaired left knee kept swelling up on him after workouts, and that forced him to realize he couldn't compete for the New York Jets' starting quarterback job. Garrard tells SiriusXM NFL Radio on Thursday that his decision to consider retirement was a result of his knee not being healthy, not because the Jets drafted Geno Smith in the second...
It looks like Geno Smith and one of his new Jets teammates have been spending some time together.  Jets top pick, Dee Milliner has now also fired his agency, Impact Sports, according to Ian Rapoport.  #Jets CB Dee Milliner parted ways with Impact Sports after failing to be selected in the top 5. Story on @nfl.com. First Geno, now Milliner — Ian Rapoport (@RapSheet) May 16,...
Lincoln Haymakers (of the Champions Professional Indoor Football League) head coach Dave Brumagen did the unthinkable and clearly very stupid when he decided to show his players how to take a running back down. Problem is he did it during a game when he nailed Omaha Beef running back R.J. Rollins. Things like this classy move (sarcasm totally intended there) is what will keep...
Two weeks ago the New York Jets released Tim Tebow. Now 35-year-old David Garrard has announced he will retire due to his knee. "Having to call it quits. My knee is not holding up. Continuing to swell after practices. Limiting what I can do," Garrard wrote in a text message to SiriusXM. And then there were four?While this is sad news for Garrard, it is bad news for the...
New York Jets running back Joe McKnight says they will have to "kill him" to take his roster spot (Credit: AP Photo) Last season, New York Jets running back Joe McKnight attempted only thirty carries for 179 yards. With the addition of Chris Ivory this off-season and the presence of Bilal Powell and Mike Goodson, Joe McKnight may be the odd man out in New York. Just don't tell...
David Garrard may have a different future in store with the New York Jets. (AP Photo) Earlier this week, David Garrard was forced to retire from the New York Jets, telling general manager John Idzik that his left knee was not holding up in a way that would allow him to keep playing. While that eliminates the possibility of Garrard playing for the Jets this season, it won't rob...
There was some speculation that David Garrard could be the New York Jets starting quarterback to open the regular season, as the team develops Geno Smith and rumors of Mark Sanchez's trade/release swirled. However, Garrard ended that discussion yesterday, announcing his retirement from the NFL. Garrard told NFL.com's Adam Schein that his knee won't allow him to continue...
USA Sports came out with a piece today, saying that the Jets are making a push to keep Garrard in the building, even if it doesn't involve actually being on the field.  David Garrard is strongly considering returning to the New York Jets in training camp this summer - as a quarterback coaching intern, saying emphatically that his degenerative left knee, not the drafting...
Sanchez seems destined to start for the Jets, again.
Let's make it perfectly clear. Tim Tebow is not an NFL quarterback. An NFL quarterback needs to complete the pass 60 percent of the time to be effective.Some days it's hard for Tebow to complete 40 percent of his passes. I don't care what Skip Bayless of ESPN constantly says about Tim Tebow being a great playoff quarterback.The fact is Tim Tebow does well in the 4th quarter...
Carolina Panthers receiver Steve Smith doesn't think much of Mark Sanchez. Sanchez doesn't think much of it.Wednesday, Smith took a shot at the New York Jets' much-maligned quarterback. "He sucks," Smith told a Charlotte radio station. "I wouldn't let Mark Sanchez throw me a paper bag sandwich." Thursday, Sanchez was asked about Smith's comments...
NFL News

Delivered to your inbox

You'll also receive Yardbarker's daily Top 10, featuring the best sports stories from around the web. Customize your newsletter to get articles on your favorite sports and teams. And the best part? It's free!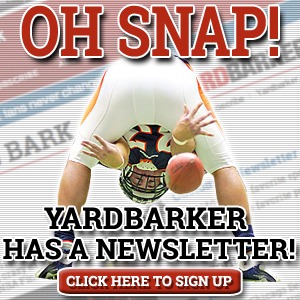 Latest Rumors
Best of Yardbarker

Today's Best Stuff

For Bloggers

Join the Yardbarker Network for more promotion, traffic, and money.

Company Info

Help

What is Yardbarker?

Yardbarker is the largest network of sports blogs and pro athlete blogs on the web. This site is the hub of the Yardbarker Network, where our editors and algorithms curate the best sports content from our network and beyond.