Found May 15, 2012 on Taking Bad Schotz:
PLAYERS:
A.J. Jenkins
,
LaMichael James
,
Alex Smith
,
Randy Moss
,
Mario Manningham
,
Frank Gore
,
Kendall Hunter
,
Brandon Jacobs
,
Joe Looney
,
Darius Fleming
,
Ahmad Brooks
,
Aldon Smith
,
Trent Robinson
,
Donte Whitner
,
Dashon Goldson
,
Jason Slowey
,
Cam Johnson
TEAMS:
San Francisco 49ers
,
Wake Forest Demon Deacons
,
Notre Dame Fighting Irish
,
Michigan State Spartans
The 49ers have had a very interesting offseason. Not content to rest on their laurels, they have added some serious explosiveness to their offense through free agency. Their draft strategy was no different. While the 49ers certainly made some surprising picks and maybe a few reaches here and there, they had a successful draft overall because they added to dynamic playmakers in A.J. Jenkins and LaMichael James. Alex Smith could put up big numbers in 2012.
Round 1 (30th Overall)
A.J. Jenkins, Wide Receiver, Illinois
Jenkins was projected to go in the second round by the majority of scouts. While many would view at this as an indictment of the pick, I certainly do not. Jenkins is an explosive receiver with top-end speed. He may not be the best route runner out there, but the 49ers had more of a need for a burner than a possession receiver. Jenkins has very good hands and catches the ball away from his body, allowing him to come down with a lot of contested balls downfield. The biggest weakness in Jenkins game is his inability to beat bump and run coverage. Since he's not adept at getting off jams, defenses at the next level will be sure to employ a lot of press coverage on him. With his sub-40 speed, however, this coverage strategy does come with some risk. Jenkins needs to polish his game more to become an impact player at the next level. While I wouldn't count on him ever becoming a star, I would be surprised if he didn't develop into an effective deep threat for the 49ers. I really like that the 49ers have not been content this offseason to sit around and hope that there offense becomes more dynamic. The Jenkins pick may have been surprising to a lot of people, but I can see where the 49ers were coming from with this one. With the additions of Randy Moss, Mario Manningham, and now A.J. Jenkins to the receiving core this offseason, Alex Smith should be pretty excited. Expect the 49ers offense to look completely different next season.
Grade: B
Round 2 (61st Overall)
LaMichael James, Running Back, Oregon
The LaMichael James pick has gotten a wide variety of different grades from analysts. Depending on who you talk to, the selection of James was either a late second-round steal or a highly questionable pick. The main reason the pick has been criticized is because the team already had three capable running backs on the roster in Frank Gore, Kendall Hunter, and free agent acquisition Brandon Jacobs. Was running back a need going into the draft this year for the 49ers? Not at all, but to dwell on that would be to miss the point. If there is one thing the 49ers offense lacked last season, it was explosiveness. James will never be a workhorse in the NFL, but the 49ers already have one in Frank Gore anyway. James will provide a lot of yards after the catch and big runs out of what would be short gains for many running backs. That being said, James does have flaws in his game apart from his obvious lack of size and durability. James lost a total of 165 yards in 2010 and 2011 after being tackled for a loss. This will not fly in the NFL, and James needs to work on his ability to get north and south quicker. He possesses the acceleration necessary to hit the smallest of holes, but he has a tendency to dance too much in the backfield. Still, James' rare combination of speed, acceleration, and agility should result in more explosive plays for the 49ers offense next year. James is dangerous in space, and the 49ers lacked those kinds of players last year. In today's NFL, you simply cannot have enough quality running backs. Those that have criticized this pick are simply missing that key point. At the very least, the 49ers acquired an above-average third down back in James.
Grade: A-
Round 4 (117th Overall)
Joe Looney, Guard, Wake Forest
Many analysts expected the 49ers to take a guard early. Instead, they waited till the fourth round to address one of their biggest needs heading into the draft. I don't really have a huge problem with this, as the 49ers selected two difference makers in the first two rounds of the draft. They could have gotten guard Brandon Brooks instead of James in the second round, but they were probably hoping that Brooks might fall to them in the fourth. There is a lot of uncertainty surrounding who still start at the right guard sport next season, and Looney now has a decent shot. Looney's strength and size make him an effective run blocker. He got a lot of pancakes pulling out on sweeps in college. Looney is also known as a bright kid with good leadership ability. His biggest weakness is clearly in pass protection, where he can be either bull-rushed or beaten by quicker linebackers. If Looney can improve in this area of his game, however, he could start this year and play for a long-time. The surprising thing about this pick is that Looney was actually projected to go in the sixth or seventh round. His stock dropped significantly before the draft due to a foot injury suffered at the Senior Bowl. Looney might not have been the guard the 49ers were looking for and also may have been a slight reach in the 4th round, but he has the potential to fill a need next season.
Grade: C+
Round 5 (165th Overall)
Darius Fleming, Outside Linebacker, Notre Dame
I really liked this pick for several reasons. The first is that the 49ers were in desperate need for more depth at the outside linebacker position, which Fleming should be able to provide instantly. Last season the 49ers luckily were able to get by with only three outside linebackers on the roster. Although they managed to avoid injuries, they would have been foolish to try their luck with only three outside linebackers on the roster again. Fleming will instantly be given a chance to compete for the first backup spot behind Ahmad Brooks and Aldon Smith. Though he has no chance of starting next season, Fleming will likely be used in a situational pass rushing role. Fleming could also be a terror on special teams with his top-end speed. He clocked out as the third fastest linebacker in the draft this year with two sub-4.6 40s at Pro Day. Although Fleming never put up huge numbers at Notre Dame, his best attributes as a football player may be hard to capture on the stat sheet. Fleming was extremely effective at setting the edge against the run throughout his college career, always displaying strong assignment discipline. Fleming was also a high-motor guy that made plays sideline to sideline. One would think Fleming's speed would make him a very good edge rusher, but he doesn't have a very impressive pass rushing repertoire. He also frequently looked lost in pass coverage at Notre Dame. If he can get coached up in these respects, however, Fleming has the strength and speed to be an impact player at the next level.
Grade: A-
Round 6 (180th Overall)
Trent Robinson, Safety, Michigan State
There's a lot to like in Trent Robinson as a football player. In his senior season, Robinson logged an impressive 80 tackles and 4 interceptions. He also surprised people with his 4.52 40 time at his pro day. The biggest concern over Robinson's potential at the next level stem from his lack of size. At 5'10" and 195 pounds, it's unclear whether he will be able to provide adequate run support in the NFL. Though this was never a weakness of his in college, it's unlikely that the 49ers would ever try to employ Robinson in the box a great deal unless he put on a lot of weight. One would think that his short stature would be a detriment in jump ball situations downfield, but Robinson more than made up for this in college with his long arms and leaping ability. Robinson is also a solid open field tackler. Most of the negative things you can say about Robinson relate to his lack of size, which he was definitely able to overcome in college. Whether or not he can do this in the NFL is a completely different story, but my guess is that Robinson will be a solid career backup at the very least. With Donte Whitner and Dashon Goldson already slated in as the starting safeties, the 49ers likely won't ask much more than that from Robinson for a number of years.
Grade: B+
Round 7 (199th Overall)
Jason Slowey, Center, Western Oregon
Though Slowey has a lot of weaknesses in his game, he could be worked in as the long-term answer at Center. This would take a lot of development, but the 49ers needed a backup center and Slowey could be that guy. The transition from Division II to the NFL is never easy, but the 49ers were smart to use the pick on a player that could potentially have some value for them down the road. If Slowey ever makes it off the practice squad, this pick will already have been a success.
Grade: B-
Round 7 (237th Overall)
Cam Johnson, Outside Linebacker/Defensive End, Virginia
The reason I like this pick so much is because Johnson embodies everything I think you look for in a seventh round pick. He would have been drafted much higher had it not been for his sickle cell trait, which will probably always keep him from being an every down type of player. There's no such thing as a risky seventh round pick however, and Johnson's potential as a 3-4 outside linebacker is very attractive. He was graded higher than almost every other seventh round pick, and there's really no telling where Johnson would have landed had it not been for the sickle cell trait. Johnson is a bit raw but could develop into a strong pass rushing specialist. He possesses the size to overpower smaller offensive tackles coming off the edge. It will be interesting to see whether or not both Johnson and Fleming will make the roster. Both players would be used in similar situations on the field, so it seems a little unlikely that the 49ers would yield two roster spots to both late round picks. I like that the 49ers drafted two pass rushers in the late rounds because it increases the chances that at least one of the two will pan out.
Grade: A+
49ers Final Draft Grade: B
There's no doubting that the 49ers offense will be fun to watch next season. The grades of a B and an A- in the first two rounds assured the 49ers at least a passing grade for me. They also did some good things the rest of the way as well given that they didn't have a third round pick. I could be wrong about this draft, as there are certainly a whole plethora of question marks surrounding both A.J. Jenkins and LaMichael James, but I like the attitude the 49ers have displayed through their moves this offseason. This was definitely one of the tougher teams to sort out grade wise, as I had to reconcile my own opinions with fact that a lot of the 49ers picks have been highly criticized. If the 49ers get more big plays next season thanks due to the additions of Jenkins and James, and one of those late-round pass rushers turns out to be a solid situational player, then you'll know I was right.
-Demers
Original Story:
http://www.takingbadschotz.com/?p=6615
THE BACKYARD
BEST OF MAXIM
RELATED ARTICLES
Offense Quarterback – Alex Smith: In 2011 Alex Smith went from being forever heralded as one of the biggest draft busts in recent history to a solid starting quarterback. In 2012, the 49ers hope Smith can take this rapid transformation to the next level. With all they've done to improve at wide receiver this offseason, Smith has no excuse not to put up big passing numbers next...
San Francisco 49ers 1st-round pick A.J. Jenkins took some heat last week when Jim Harbaugh criticized his conditioning on the first day of rookie camp. But according to 49ers defensive tackle Isaac Sopoaga, Jenkins is in better shape than Aldon Smith was when he first reported to camp in 2011. Sopoaga had this to say to the San Francisco Chronicle about Smith's debut: "I wish...
Round 1 (30thOverall)   A.J. Jenkins, Wide Receiver, Illinois   Jenkins was projected to go in the second round by the majority of scouts. While many would view at this as an indictment of the pick, I certainly do not. Jenkins is an explosive receiver with top-end speed. He may not be the best route runner out there, but the 49ers had more of a need for a burner than a possession...
These are the dog days of the NFL offseason. Rookies and fringe players are trying to impress enough in minicamps to get a look going into training camp.  Those same players are trying to not lose their roster spots, as a release in May is never a good sign for a player's prospects.  Players are also trying to avoid getting hurt in May, something that 49ers fifth-round rookie...
The 49ers will have to wait a year to see their 2012 5th round pick hit the field as linebacker Darius Fleming has torn his ACL. The injury, which was suffered in practice, but did not happen because of contact, will likely sideline him for the entirety of the 2012 season. With two solid rush [...]
The 2012 season is likely over for 49ers rookie fifth-round pick Darius Fleming, who suffered a torn ACL at the team's rookie minicamp. NFL.com reported Fleming was injured according to the former Notre Dame linebacker's agent, Andy Simms. Fleming sat out midway through the team's first workout with what was believed to be a hamstring injury.
Michael Crabtree was the player whose name was drawn out of a hat this week to participate in the 49ers Player/Fan Chat. I don't know why I was expecting that maybe a tough question would be answered. We all know that the questions are screened and that they choose the non-controversial or interesting ones. As I type this, the chat has been going on for about 30 minutes and from...
The San Francisco 49ers had a chance to fill some holes in this draft but reached too often and failed to add any instant-impact players. It was a disappointing haul for a team hoping to make another deep playoff run in 2012. A.J. Jenkins is a talented receiver but was a huge reach in the late 1st round. He put together a solid 2011 season, but has always been inconsistent and...
SAN FRANCISCO– The 49ers bewildered the football community when they chose wide receiver A.J. Jenkins in the first round. Jenkins was taken off the board before higher ranked names such as Stephen Hill and many others. Jenkins was brought in to be that top flight speedster that could become a consistent deep threat. Now the only problem is that he may not be in shape. To read...
In the 2012 Illini spring game, they seemed to have the same exact issue that they have during the final seven games of 2011- throwing the ball forward. Perhaps part of the spring scrimmage m.o. was to hold back that part of the offense, but then again it's a preseason exhibition why wouldn't you let it fly? Unless it's simply because you can't? And the statistics for starting...
Tough break for rookie linebacker Darius Fleming at San Francisco's minicamp. The team, along with the MRI results, have confirmed that it is indeed a torn ACL, according to Comcast SportsNet Bay Area. Fleming, chosen 165th overall in the 5th round, came down on his knee awkwardly during a non-contact drill.
49ers News

Delivered to your inbox

You'll also receive Yardbarker's daily Top 10, featuring the best sports stories from around the web. Customize your newsletter to get articles on your favorite sports and teams. And the best part? It's free!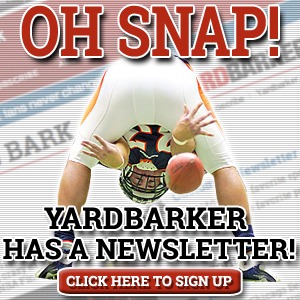 Latest Rumors
Best of Yardbarker

Today's Best Stuff

For Bloggers

Join the Yardbarker Network for more promotion, traffic, and money.

Company Info

Help

What is Yardbarker?

Yardbarker is the largest network of sports blogs and pro athlete blogs on the web. This site is the hub of the Yardbarker Network, where our editors and algorithms curate the best sports content from our network and beyond.