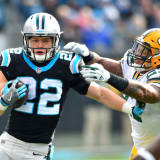 Carolina Panthers fans watching Christian McCaffrey rip the Green Bay Packers to shreds Sunday must be wondering why he doesn't do this all the time. One of the most talented players to come into the NFL in years, the running back can literally do it all offensively but has had a sporadic impact due to poor scheme at times this season.That wasn't the case early at home against the...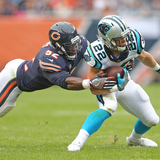 In just his eighth career NFL game, Christian McCaffrey has already done something no other Carolina Panthers running back has accomplished. When he hauled in his fourth pass of the game in the first half, it brought his season total up to 48, which is one more than any other running back in one season in franchise history. When training camp was starting to kick into high gear,...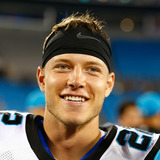 The Carolina Panthers envisioned big things for Christian McCaffrey when they drafted him eighth overall in the NFL Draft, and it sounds like they are putting those plans into motion.ESPN's Dianna Russini reported on Tuesday that the Panthers have created an entire playbook just for McCaffrey, who is expected to be a huge part of the team's offense in his rookie season. The Panthers...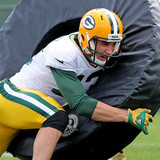 There will be two McCaffreys in the NFC South — for now.Max McCaffrey, the older brother of Carolina Panthers rookie Christian McCaffrey, is signing with the New Orleans Saints' practice squad. Max played college ball at Duke and initially signed with the Oakland Raiders last year before being released. The wide receiver was with the Green Bay Packers in training camp and caught...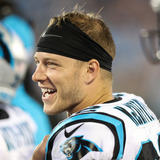 Someone needs to let Panthers rookie running back Christian McCaffrey know that he needs to take it easy on his teammates, and save the sick moves for the regular season.The eighth overall pick in the 2017 NFL Draft has already been showing up in flashes during training camp, and Wednesday's practice was no different.McCaffrey was simulating coming out of the backfield and getting...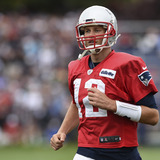 The fact that Tom Brady leads the NFL in merchandise sales since Super Bowl 51 came to a close — officially marking the start to the offseason — isn't much of a surprise. Brady won his fifth Super Bowl ring, and came back from a seemingly-impossible 28-3 deficit to accomplish that feat.But Marshawn Lynch being the player that sits right behind him in that department is a surprise...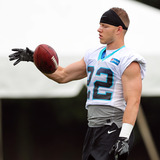 Carolina Panthers rookie running back Christian McCaffrey hasn't been able to catch up on the highly addicting HBO series, "Games of Thrones." But his reason might surprise you. It has nothing to do with the rigors of his first NFL training camp. First world problems.For whatever the reason, McCaffrey's parents' HBO account is not working properly. If it is the matter of an unpaid...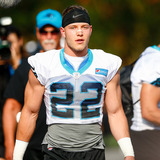 The Carolina Panthers have kicked off training camp, and not surprisingly Christian McCaffrey is already clearly a big part of their plans.ESPN's David Newton reported from camp Thursday that "it is obvious from the number of short passes and screens being thrown in the running back's direction there are big plans for him."He also noted how the crowd hung on every single move the...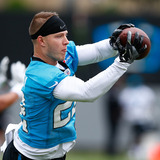 Christian McCaffrey, the standout former Stanford running back selected by the Carolina Panthers with the eighth pick in the 2017 NFL Draft, officially joined his teammates on the practice field during minicamp Thursday morning.Photographic evidence of McCaffrey in his Panthers gear began trickling onto Twitter as soon as he made an appearance. McCaffrey has been unable to practice...
Luke Kuechly is pulling rank this offseason.He's so impressed with Panthers rookie running back Christian McCaffrey that he wants to delegate the task of covering him in practice to other linebackers."He's going to be a nightmare for us. It'll be a good challenge for us. We'll put Thomas (Davis) and Shaq (Thompson) on him and see what they can do," Kuechly told The Charlotte Observer...
MORE STORIES >>
Panthers News

Delivered to your inbox

You'll also receive Yardbarker's daily Top 10, featuring the best sports stories from around the web. Customize your newsletter to get articles on your favorite sports and teams. And the best part? It's free!