Found April 30, 2012 on The Sports Headquarters:
Raise your hand if you are waiting for the Detroit Lions to come back to earth and be the Lions that we all have known for so long.
It's been an interesting turn of events for the Lions in their recent history and as a Cardinals fan, I am happy for them.  I know the feeling and frustration of being a perpetual doormat, or being told, we are almost there, just be patient.
Then when they finally get there, you enjoy it, but with reservation about when is it going to end?  Well one of the ways to make sure it doesn't end any time soon is to draft well, so let's take a look at the 2012 Detroit Lions Draft Grade, and see if they can continue that good momentum they've picked up in recent years.
The first pick for the Lions was the sort of pick that never used to fall to them, but this season they were able to add Riley Reiff and hopefully get some protection for Matt Stafford.
What our own Eric Judd had to say about Reiff: Riley Reiff is a technician. He knows what to do, and when to do it. He will jump right in to either tackle position on day 1. He is quick and nimble, strong and anchored. Reiff could add some strength to tackle his technique to the next level. Reiff has few issues, some of which are handling counter moves, and his previously mention room to grow. The draft positions between Reiff and Kalil might be vast in April, but the difference in talent isn't nearly as wide. His technique and tenacity are his two biggest assets.
Then in round two things got more Lions like, with the selection of Ryan Broyles.  I want to stress this, I LOVE Broyles as a prospect, think he has high end #2 WR upside, with the ability to line up all over the field, but my problem with this pick is where it was made.  Broyles was not going to get drafted in the second round, and it was unlikely to see him go in round 3, but why not address your horrid secondary first before adding to an already good unit in the passing game?
Let's look at Broyles though, an explosive player with the ball in his hands, fantastic route runner who gets in and out of breaks well, and has very good hands. The problem? He is coming off ACL injury and already a smallish WR who has trouble getting of the jam at the line.
I like the player, I like the fit, I don't like where he was picked, but again if in a year or two or three he is as dynamic as I think he can be, then it doesn't matter, but we are "grading" on the here and now, so I am not a fan of where the Lions took him
In round 3 we finally see the Lions address their secondary issues Dwight Bentley.
Bentley is a lean, finesses cover man, who has fluid hips, good feet and finds the ball and attacks it when in coverage.
He is a smaller DB, who isn't an elite athlete, but he has a good amount of skills that should allow him to come in and contribute right away as a nickel back and possibly become a starter down the road.
The Lions continued to double dip, and went back to defense, this time taking a possible falling star in LB/DE Ronnell Lewis.
While he appeared to be more of a 34 OLB who could rush the passer, the Lions do like undersized DE's that can get after the quarterback.
Lewis is a compact, strong striking player, athletic player, with a good initial burst and likes to blow up plays when he gets there.
He is smaller at 6-1 and is raw in his ability.  Not very instinctual yet, and relies on athleticism far too often.
In the fifth they continued to add defensive depth with another undersized OLB in Tahir Whitehead.
Whitehead is sort of like the anti-Lewis, in that he is an instinctive, smart, heady linebacker who isn't a great athlete and works more in a back up and special team's role.
Adding to their defensive haul in round 5 also was corner Chris Greenwood, a division three college prospect.
Greenwood is super athletic, long, and lean corner.  He has good hips, but isn't the quickest to change over into coverage, partially because he was so much faster than everyone else that he played so he never learned.
Needs time to get adjusted to the speed of the NFL, and learn how to harness that raw athleticism and turn it into projectable playing time at the next level, but he has the things you want in a corner.
Apparently cornerback was position of need for Detroit, I kid I know their secondary is awful, and they addressed the area again in round 6 with Jonte Green.
Green is going to have to fight for a roster spot, because even if the Lions need help in the secondary, he wasn't a draftable player on most boards.  He is an adequate athlete, but lacks size, speed and instincts to play at the next level.
I am actually shocked the Lions didn't take a flier here on Alfonzo Dennard.  While Dennard has some off the field issues, and that's putting it mildly, he can play, and in the sixth round, at the same position you drafted Green, you could have had a player that if he keeps his nose clean, would have been the best CB on your roster immediately.
The last pick was probably the best pick they made outside of round 1, when they took Travis Lewis, another Oklahoma linebacker.
Lewis is a super athletic, instinctive and active linebacker.  He attacks the play downhill and maintains a good base and balance while doing so.
Good in zone coverage, and has the speed to stay with some TEs and WRs in man.
Needs to get stronger at the point of attack and sometimes tries to knock out people instead of making solid tackles.
Overall: I was excited to see the Lions pick up Reiff in round 1, and adding Bentley, both Lewis' and Greenwood in the later rounds was something the Lions needed to do on the defensive side of the ball.
The two issues I have are with their second round pick, and their sixth round pick.  I know Broyles has huge upside, but adding a slot receiver wasn't a priority, and he most likely won't be able to contribute fully in his first season.
Then the drafting of Green in round 6, when a first round talent in Dennard is still on the board is head scratching, even if you are worried about his off field stuff, at least he has a chance to be a player, as opposed to a camp body.
I really wanted the Lions to continue to trend up, but this draft was just a good draft, and should have been more.
Original Story:
http://feedproxy.google.com/~r/TheSpo...
THE BACKYARD
BEST OF MAXIM
RELATED ARTICLES
When Iowa tackle Riley Reiff dropped to the Detroit Lions at pick number 23, I had high expectations for the 2012 draft class. After watching Detroit follow one puzzling pick with another in the rounds thereafter, my expectations have dropped significantly. Yes, Reiff was a good pick and will likely improve the Lions offensive line right away, but drafting wide receiver Ryan Broyles...
Detroit Lions running back Jahvid Best, who missed 11 games last year after sustaining his second concussion of the season, is expected to be cleared for football contact in June, according to what Lions general manager Martin Mayhew told a radio station, the Lions' official website reported Tuesday. "He's been doing everything in the offseason program and we expect...
The Detroit Lions drafted some bigger names from big-time schools this past weekend.  Three players from Oklahoma one from Iowa.  And they also took a couple from smaller schools – New Mexico State, Temple and Louisiana-Lafayette.  In the sixth round, they drafted a cornerback from Division III Albion College in Albion, Michigan.  His name is Chris Greenwood. Greenwood became...
According to DetroitLions.com, Lions general manager Martin Mayhew has stated that running back Jahvid Best is expected to be cleared for contact some time in June. "He's been doing everything in the offseason program and we expect he'll be cleared sometime probably in June," said Mayhew. "We look forward to having him on the field." Best is expected to fully participate...
According to Chris McCosky of The Detroit News, Boise State quarterback Kellen Moore has signed with the Detroit Lions.  Undrafted, Moore is presumed to land behind starting quarterback Matthew Stafford and backup Shaun Hill on the depth chart. In his time with Boise State, Kellen Moore compiled an astonishing 14,667 yards passing, with 142 touchdowns and just 28 interceptions....
The Detroit Lions have found a No. 3 quarterback candidate. Boise State standout Kellen Moore has agreed to free-agent deal with the Lions after he wasn't picked in the NFL draft. Athletes First spokeswoman Savannah Wall confirmed the agreement on Monday. Moore is represented by agent David Dunn, chairman of Athletes First. Moore won 50 games in college, a Football Bowl Subdivision...
DETROIT (AP) -- Boise State standout Kellen Moore has agreed to a free-agent deal with Detroit, giving the Lions someone to develop behind starter Matthew Stafford and backup Shaun Hill. Athletes First spokeswoman Savannah Wall confirmed the agreement on Monday after Moore wasn't picked in last week's NFL draft. Moore is represented by agent David Dunn, chairman of Athletes...
ALLEN PARK, Mich. The Detroit Lions didnt get their much-needed cornerback in Thursday nights first round of the NFL Draft, but they did make a move to try to protect star quarterback Matthew Stafford well into the future. For only the second time in the last 11 years, the Lions took an offensive lineman in the first round, even though the club has all five starters up front returning...
The Lions were once again big movers in the draft, trading back and forth positioning themselves to get the players they wanted. Now, before the dust has a chance to settle and actual skill or talented assessment clouds the issue, let's give out some draft grades.  1)   1st round, 23 overall - Riley Reiff - OT Iowa : One of the best offensive lineman in the draft, expected...
Lions News

Delivered to your inbox

You'll also receive Yardbarker's daily Top 10, featuring the best sports stories from around the web. Customize your newsletter to get articles on your favorite sports and teams. And the best part? It's free!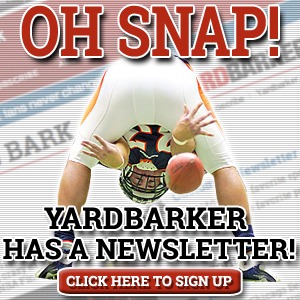 Latest Rumors
The Backyard

Today's Best Stuff

For Bloggers

Join the Yardbarker Network for more promotion, traffic, and money.

Company Info

Help

What is Yardbarker?

Yardbarker is the largest network of sports blogs and pro athlete blogs on the web. This site is the hub of the Yardbarker Network, where our editors and algorithms curate the best sports content from our network and beyond.