Found August 18, 2012 on Football Nation:
PLAYERS:
Jim Irsay
,
Peyton Manning
,
Dwight Freeney
,
Reggie Wayne
,
Robert Mathis
,
Josh Chapman
,
Andrew Luck
,
Donald Brown
,
Mewelde Moore
,
Vick Ballard
,
Austin Collie
,
Dwayne Allen
TEAMS:
Indianapolis Colts
,
Denver Broncos
,
Pittsburgh Steelers
,
Chicago Bears
The 2012 Indianapolis Colts are very intriguing. Unlike most teams in the NFL, this season's success will not be determined by their team record at the end of the season or even by individual statistical achievement.  This Colts team will be judged by the fans, press, and owner a few years from now when the structure they are building this year matures or fails.  The dramatic overhaul of the Colts' management, coaching, and players is the brainchild of the franchise's twitter-chatty owner, Jim Irsay, who made the bold decisions that led to the end of the Peyton Manning era in Indianapolis.  Three years from now will the Indianapolis Colts be returning to the playoffs and begin regularly challenging for the Super Bowl or will Irsay be firing Chuck Pagano?  Here are five key factors to this season, with a best and worst-case scenario for each. 1. New coaching staff along with a new culture.  First-time head coach, Chuck Pagano, comes to Indianapolis from Baltimore whe...
Original Story:
http://www.footballnation.com/content...
THE BACKYARD
BEST OF MAXIM
RELATED ARTICLES
Andrew Luck has a name that is also a noun. Worse still, it is a name that is also a noun that people correlate to football and lends itself easily to puns. Easy puns, of course, are the forte of a lazy journalist writing headlines. So here you go, a punny headline for every week of the season. Week 1: With a little Luck… Colts win (Bearly) Week 2: Luck-y late, Colts ride late...
Before the 2012 NFL draft a few highly regarded (along with more than a few not-so-highly-regarded) pundits openly questioned Andrew Luck's arm strength leading some to project Robert Griffin III as a better prospect. Luck's camp and preseason thus far has started to answer those questions. George Bremer of the Herald Bulletin notes Adam Vinatieri has seen some of the best...
Who's ready for the Redskins-Colts preseason game coming up next week? The Redskins Store is! Seriously, they're selling an RGIII-Andrew Luck "QB Showdown Rivalry T-Shirt" for $35 (plus S & H). It should be noted that the Colts Pro Shop is also selling this shirt, but I think we all know whose idea it was. Previously: Redskins Store Knows What You Want, Has No Shame...
Yes, I realize that Indianapolis Colts QB Andrew Luck has only appeared in two games. Yes, he has only played a few quarters of two preseason game. That being said, Andrew Luck is as advertised and barring a major injury, he is going to be a monster talent in the NFL during his career. In his first career start last week, Luck posted a 142.7 passer rating after tossing two scores...
Today is the first day of school for a lot of children across the United States. And while most of their first day is consumed with meet and greets, it won't be too long until the kids get some free time to color some fantastic pictures for Mom and Dad. Ya know, pictures that look exactly like the one first round Colts draft pick Andrew Luck did that fetched $1500 off...
His quarterback prowess aside, we've learned two things about Andrew Luck — he can't sing and can't draw. Exhibit A: The "art" displayed to your right, which, sadly, is the monetary equivalent of a mortgage payment. Long story short, a collectables company in May presented Luck and several other rookies with an index card and asked them to sketch whatever their hearts...
It's not often that there's a large amount of hype surrounding a preseason contest. This year, however, there's one exception — Colts vs. Redskins. Andrew Luck vs. Robert Griffin III; No. 1 overall pick vs. No. 2 overall pick. Battle of the highly-touted quarterbacks. You get the picture. Both teams will meet at FedEx Field on August 25, and the home team is doing their best...
Indianapolis Colts quarterback Andrew Luck needed just one game to make Pittsburgh Steelers coach Mike Tomlin a believer. Tomlin says the top pick in April's NFL draft played like a veteran in a 38-3 win over St. Louis in last week's preseason opener. Luck completed 10 of 16 passes for 188 yards and two touchdowns, looking very much like the franchise player the Colts were...
AP According to NFL.com an eBay shopper bought a drawing that Colts rookie quarterback Andrew Luck put together for $1,500. "In May, a collectibles company presented index cards to a group of high-profile NFL rookies and asked them to draw whatever they liked. "It was an exercise straight out of a southern California private school where there are no grades, only...
Andrew Luck and the new-look Colts, fresh off of an impressive (even for pre-season) victory against the Rams last week, head to Heinz Field to take on the Pittsburgh Steelers. Don't expect a repeat performance. Pre-season or not, you had better believe the Steelers defense took notice of what Luck did against St. Louis, and will be determined not to let it happen twice. The Rams...
The Colts traveled to Pittsburgh Sunday night to take on the Steelers in the second preseason game of the year. Before we dissect the performance of Andrew Luck or discuss which players stood out, we need to start with a much more somber topic. Austin Collie left the game in the first quarter due to concussion like symptoms. The head injury came on a hit that should never have happened...
Reggie Wayne is coming off of his worst season (75 catches for 960 yards) since the 2003-2004 season, and his average draft position reflects pessimism in his ability to bounce back. But why? He moves from an unsettled QB situation to a potential franchise signal caller in Andrew Luck, making a repeat of his 2012 stat line the worst case scenario. That stat line is is just shy of...
NFL News

Delivered to your inbox

You'll also receive Yardbarker's daily Top 10, featuring the best sports stories from around the web. Customize your newsletter to get articles on your favorite sports and teams. And the best part? It's free!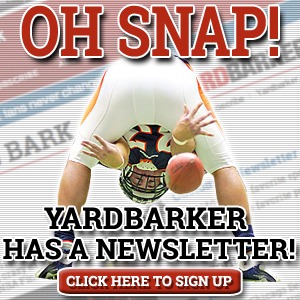 Latest Rumors
Best of Yardbarker

Today's Best Stuff

For Bloggers

Join the Yardbarker Network for more promotion, traffic, and money.

Company Info

Help

What is Yardbarker?

Yardbarker is the largest network of sports blogs and pro athlete blogs on the web. This site is the hub of the Yardbarker Network, where our editors and algorithms curate the best sports content from our network and beyond.