Found February 05, 2013 on Purple Jesus Diaries:
Adrian Peterson is your 2012 NFL MVP, and dammit, I couldn't be prouder. You want to talk about how silly being a fan of the NFL (or anything, for that matter) is? As I sat and watched Peterson's acceptance speech for the MVP award, I felt proud. I felt like the guy really deserved it, and I was really happy to see him win it, give a speech, smile, thank his dad, mom, God, LESLIE FRAZIER, whoever else. I mean, he didn't say he thanked me BY NAME, but I know he did. I could feel it. I was proud. And why? I didn't do anything. I didn't even go to a regular season game to support him this year. I'm a horrible fan. I deserve the opposite of credit. Blame? I deserve blame for him winning MVP, somehow? That would make more sense than my proud feelings I felt with my heart-thing. I don't even know how to use that anymore. And yet here we are. Doesn't matter though. Cities would have burned if Peterson didn't win that award. No one has deserved it more, EVER, I promise you that, and regardless, I'm still proud. Acceptance speech video after the jump. OK, there is a lot to take note of about this video, so let's jump right in: - Peterson is looking good. The high lapel on the suit just screams FANCY SHRIMP NIGHT. - Peterson's long-time girlfriend, Ashley Brown, is looking acceptable. Forget that she probably is supposed to as a former Playboy model, and just be happy that our boy is enjoying some high class pie every night for dessert. - The shout outs to his dad and mom are OBVIOUSLY adorable. Thanking his mom for his speed is fun. - Um, old Silver Fox sitting with the Vikings and not the Packers?! SWEET REVENGE! He looks like he could still play better than Ponder, by the way, even though he's a huge butt hole. - Damn Frazier always makes me like him. You can tell that Peterson and him have a nice personal connection, and that actually makes me happy. It makes me believe that, unlike Percy Harvin, Peterson is committed here long term. I mean, he's signed to a huge contract obviously, but I'm talking more personally. He's personally invested in Minnesota, and that gives me a real big feel. - Did you hear that? We're winning the Super Bowl next year! SUCK OUR BONERS, PACKERS!! In the end, it was almost a really solid weekend. Peterson gets his MVP, joining Alan Page and Fran Tarkenton as the only other Minnesota Vikings players to win the award. May as well just get his "Ring of Fame" spot reserved like two years ago. Peterson also won the Fantasy Player of the Year Award, and Offensive Player of the Year Award (are those maybe the same thing?) and joined Cris Carter as notable recipient of Vikings-related awards this weekend, as Carter finally went into the Hall of Fame. If Randy would have pulled out a victory with the 49ers I may have fainted. Instead, other former Minnesota Vikings gay-hater Matt Birk and slovenly broke-face Bryant McKinnie ended up with Super Bowl rings. Think about that for a second, and then go weep yourself to sleep. Oh well, can't win them all. Unless you're Adrian Peterson, and you have a full wall of awards: Holla. [follow]
Original Story:
http://www.purplejesusdiaries.com/201...
THE BACKYARD
BEST OF MAXIM
RELATED ARTICLES
Vikings head coach Leslie Frazier indicated today that wide receiver Percy Harvin's future in Minnesota remains up in the air.  "We definitely had to talk just in general about a lot of things," Frazier said in an interview with 1500 ESPN's "Judd & Dubay" show. "We had a good conversation. We talked, and it was good conversation. So, hopefully, everything will...
Minnesota Vikings wide receiver Percy Harvin has been medically cleared by the team after suffering a damaging ankle sprain during the NFL regular season. Head coach Leslie Frazier told reporters, "It went well. He's fine. He's cleared. All the medical was good," when asked about Harvin's condition. While medically cleared to participate in offseason workouts with the team...
Vikings head coach Leslie Frazier told reporters on Tuesday that WR Percy Harvin's future with the team "remains up in the air." "We definitely had to talk just in general about a lot of things," Frazier said, per Tom Pelissero of ESPN 1500 Twin Cities. "We had a good conversation. We talked, and it was good conversation. So, hopefully, everything will work out." Harvin...
Jasper Brinkley completed his first year as a starter and is scheduled for free agency. What will the Vikings do with him and what did coordinator Alan Williams think of Brinkley's season?
And it couldn't go to a better person! ++++ Adrian Peterson called it a blessing in disguise. Strange way to describe a career-threatening major knee surgery. The Minnesota Vikings' star came back better than ever, just missing Eric Dickerson's longstanding rushing record and closing out the season with two of the top NFL awards from The Associated Press: Most Valuable Player...
Tonight was all about the Super Bowl. What happened before the lights went out, what happened during the blackout and what resulted after. We also talked about the coverage and the commercials! Thanks to Minnesota Vikings' kicker Blair Walsh. Walsh was inside the Superdome for the game and he proved to be an All-Pro guest as well as an All-Pro kicker! Next up was Barry Barnes of...
Vikings center John Sullivan reportedly had microfracture surgery on his left knee last week, but he is expected to be ready for training camp.
Mr. Brett Favre and Aaron Rodgers made a surprise make-up handshake at the NFL honor awards.  Well done NFL!  That was genius and must watch TV! Click here to view the embedded video. Obviously it was 99.9% scripted.  But of course the actual words don't tell the story it's the body language and everything else that creates the story. Let's get to it. The first :12 seconds...
The NFL handed out it's 2012 season awards on Saturday in New Orleans at the second annual "NFL Honors" hosted by actor Alec Baldwin. Vikings RB Adrian Peterson won MVP, Broncos QB Peyton Manning won Comeback Player of the Year, Redskins QB Robert Griffin III won offensive rookie of the year and  Texans JJ Watt wins defensive rookie player of the year.   photos via NFL
NFL News

Delivered to your inbox

You'll also receive Yardbarker's daily Top 10, featuring the best sports stories from around the web. Customize your newsletter to get articles on your favorite sports and teams. And the best part? It's free!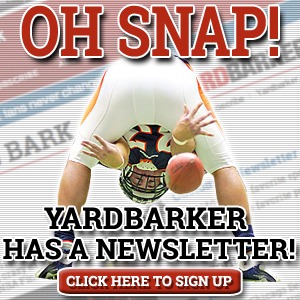 Latest Rumors
Best of Yardbarker

Today's Best Stuff

For Bloggers

Join the Yardbarker Network for more promotion, traffic, and money.

Company Info

Help

What is Yardbarker?

Yardbarker is the largest network of sports blogs and pro athlete blogs on the web. This site is the hub of the Yardbarker Network, where our editors and algorithms curate the best sports content from our network and beyond.