Found January 18, 2013 on Rams Herd:
Well, Bob, here we are again. It's the end of the year, and we've got guys whose contract with the Rams is up. It's a fun time, isn't it? I mean, fun for us, not so much for these guys who just spent five months getting the you-know-what beat out of them every week, and now they have to prove to us that they're not too old or too beat up for us to pay them to do it again. But hey, it's a part of life in this career. Don't hate us for thinning the herd. We're like lions. Or sharks. Nice sharks. Totally necessary to the ecosystem. So, Danny Amendola? Here's an interesting case. Really had three seasons in one this year. Let's bring him in. Danny! Danny, Danny, Danny. Where were you all last year? I mean, we were paying you, right? And you missed … let me see … EVERY GAME? No, wait, that's not right, there you were in the opener against Philadelphia. And then this happened. Our guy throws you a pass, and you just decide to lie down and take a little nap, right on the team's logo. Didn't even get hit, did you? Well, that wasn't so good. But then again, we didn't get much better performance from the two youngsters we hired on last year, Pettis and Salas. So we welcomed you all back this year, not really knowing what to expect, and we drafted a couple more new guys just in case. And here's where we doff our hats to you, symbolically of course because people don't wear hats any more. You put in the work in camp, and kind of forced our hands into naming you a starter again. Nothing wrong with that, having a little fire under one's rear, am I right? Okay, so. Then we have what I'll call "season number one." This is "Healthy Danny," the Danny Amendola that we always thought you could be. This is you, finally earning all those Wes Welker comparisons. What? You never heard that before? You wouldn't be funning us, would you?. Week 1 at DET: 5-9, 70 yards Week 2 vs WAS: 15-16, 160 yards, 1 TD Week 3 at CHI: 5-9, 66 yards Week 4 vs SEA: 6-10, 55 yards, 1 TD That's 31 catches on 44 targets, a 70% catch rate, and 88 yards a game. Spread that out over a full season, and we're talking 120 catches for 1400 yards. Can you imagine numbers like that? I can, but that's only because I've seen Isaac Bruce and Torry Holt play. We had those guys right here in this room, did you know that? They both sat in the same seat you did. Though I'm starting to wonder whether we made the right call on Ike, aren't you? Anyway, water under the bridge. But then, because this is apparently a bit of a bad habit of yours, here comes Week 5 and you go up to catch a ball, and you come down … kind of looked like you caught it, but they say the ball touched turf … and in any case there you go into the tunnel and back to the trainer's room!   Week 5 vs ARI: 1-5, 44 yards (collarbone injury) Week 6 at MIA: Week 7 vs GB: Week 8 vs NE: (returns to practice) Okay. "Season number two." That's one catch in four weeks. Extrapolate that over a full season, and … well, now we're talking about Keenan Burton numbers. Yes, we had that guy sit in this seat, too. That wasn't so pleasant. Nice fellow, of course, don't get me wrong, but there was just no case to be made there. So, you had four full weeks, counting the bye week, to rest up. Then you came back from the collarbone and toughed out a hell of a game against San Francisco. I mean, a HELL of a game. Week 10 at SF: 11-12, 102 yards And of course, you and I know that that line should say "12-13, 182 yards." It doesn't go down in the record book, but we remember. We'll have Mr. Gibson in this seat shortly, and talk about that quite a little bit more, won't we? In any case, here's Healthy Danny making an encore performance. Do you know how many 100-yard receivers Sammy has had before this season? One. And here you are with two just in this season alone. If we add that to your Healthy Danny portfolio, we're talking 42 catches on 56 throws, a 75% catch rate, and 90 yards per game. Here's what that line looks like over a full season: 134 catches for 1450 yards. Unfortunately, that's the last we saw of Healthy Danny, isn't it. Because here comes that awful game against the Jets. I mean, awful. Nothing at all good happened in that game, but maybe the least good thing was this: you're in a hole in the zone on the right side, and Sam wheels back and throws a terrible ball. I mean he looked like a monkey throwing a turd. And he threw it way behind you. You had no business going after that ball, but you did anyway. You twisted your body like a Russian ballerina trying to make a play. Are you a Russian ballerina, Danny? We admire that you want to make a play. That's why Sam loves throwing to you. But I think we can safely say that you're not putting on Lenin's tutu any time soon. In any case, there went your heel. And there went your ability to practice during the week. Coach would tape an Advil to your foot on gameday and send you out there, but it wasn't the same Danny, was it? No, this was "season number three." Week 11: 7-11, 41 yards (heel injury) Week 12: 1-1, 38 yards Week 13: Week 14: Week 15: 6-12, 58 yards Week 16: 2-7, 5 yards Week 17: 4-9, 27 yards 20 catches in 40 targets. That's only a 50% catch rate, if you needed help with the math there, and only 34 yards per game in the games you played. You know what, I don't even want to tell you what that is over a full season. It's not good, is what it is. So what are we going to do with you? We'd love to get out Mr. Stan's checkbook and pay you like a 1400-yard guy. Believe me, there's nothing more that we'd love than to do that. In fact, if we put the old franchise tag on you, that's exactly what we'd be doing, isn't it? But you're not a 1400-yard guy. No, not yet. You're kind of like two different guys, and i'm not sure which one we'd be paying for. Look, we like you. Sam loves you. But here's the funny thing: do you know what our guys' record was after that Jets game, while you were gimping around? Four wins, two losses. Now, if you'd been healthy, is that six wins? Could be. I'm no fortune teller. But four and two is awfully fine for having your "best" receiver play like dirt. So I think we'll have to let you know. You'll be hearing from us, don't worry Danny. This decision is far from made. Thanks to @squick3n for contributing and breaking down data for this article.
Original Story:
http://www.ramsherd.com/2013-articles...
THE BACKYARD
BEST OF MAXIM
RELATED ARTICLES
The St. Louis Rams have no shot to make the Playoffs in 2012, but the Rams made big improvements and everyone is left wondering what the St. Louis Rams roster changes will be in 2013. The first place to look for roster changes in 2013 is on the offense with the Ram wide receivers. The Rams have to face up to the facts that they need a veteran wide out to round out the group and 2013...
Pittsburgh Steelers' Wide Receiver Mike Wallace is heading toward free agency in 2013, and into the welcoming arms of some desperate wide receiver needy team. Now don't get me wrong, Dwayne Bowe will be another name teams will be going after, but Wallace would be the best option for any team looking for a receiver. One of the big benefits to signing Mike Wallace in the off-season...
After interviewing with the Rams, defensive coordinator Rob Ryan left St. Louis without a contract, according to Jason La Canfora of CBS Sports. Rams interview with Rob Ryan for D coordinator spot is complete. He departed without a contract — Jason La Canfora (@JasonLaCanfora) January 20, 2013 I think Ryan is a very good coordinator that has worked with some bad teams.  The problem...
There has been speculation over the past year that the St. Louis Rams could eventually move back to Los Angeles. The agency that operates the Edward Jones Dome rejected a proposal for improvements that was submitted by the team. The two sides are beginning arbitration and, if improvements are not made to the stadium, the team could break its lease and move. Rams players were well...
Is Steven Jackson contemplating retirement if he does not get the deal he wants in St. Louis? (Credit: AP Photo) Before the last game of the season St. Louis Rams running back Steven Jackson spoke about possibly retiring at the end of the season. Jackson then backtracked and said he was only answering a question posed to him by a journalist. Now, it appears as though Jackson was...
St. Louis Rams running back Steven Jackson told Michael Fabiano of NFL.com that he plans on sitting down with the Rams this offseason.  He hasn't ruled out the possibility of retiring. Steven Jackson told fantasy editor Michael Fabiano he plans to sit down with the St. Louis Rams in the offseason to determine his options, but admitted that "retirement is an option" if he's...
Could you imagine if you had to deal with a different boss every year.  A different boss with a new set of rules and new set of guidelines on how you do your job. With guidelines on how much flare you need to wear.   Sam Bradford has had a new offensive coordinator each of his three years in the NFL with the St. Louis Rams. Brian Schottenheimer was being considered for the Jacksonville...
Steven Jackson joined the NFL Network on Friday and mentioned that he still considers "retirement is an option" as he heads into the offseason. Jackson, 29, reworked his contract during the season, which will allow him to be become an unrestricted free agent in a matter of months. He has a $7 million player option for the 2013 season, but odds are that he'll decline the option...
Veteran fantasy football drafters know about risk and reward. They know that waiting on a quarterback is a risk, as you let premier talents like Tom Brady and Drew Brees slip off the board. They know that drafting Peyton Manning, two years, one team change and at least four neck surgeries removed from his last NFL action, represented a huge risk, albeit one with potentially great...
For the team with the worst record in professional football just a year ago, playmakers are definitely in high demand for the St. Louis Rams.  With no real "elite" prospects at the wide receiver position and the Rams having more pressing needs at other positions, I would not be pleased if the Rams took a receiver in the first round.  There is one playmaker though that the Rams...
NFL News

Delivered to your inbox

You'll also receive Yardbarker's daily Top 10, featuring the best sports stories from around the web. Customize your newsletter to get articles on your favorite sports and teams. And the best part? It's free!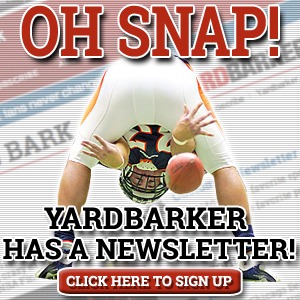 Latest Rumors
Best of Yardbarker

Today's Best Stuff

For Bloggers

Join the Yardbarker Network for more promotion, traffic, and money.

Company Info

Help

What is Yardbarker?

Yardbarker is the largest network of sports blogs and pro athlete blogs on the web. This site is the hub of the Yardbarker Network, where our editors and algorithms curate the best sports content from our network and beyond.