Found August 29, 2012 on 60 Max Power O:
The Dream Team. A moniker that the media jumped upon after new signing Vince Young described his new team. Who could blame him? The team assembled by the Eagles in 2011 was on paper astounding.
Jason Babin, Cullen Jenkins, Dominique Rodgers-Cromartie and the gem of the 2011 free agent class Nmandi Asomugha all donned the Eagles green. That wasn't even the entire list of free agents they brought in. It truly was impressive, and scary, and that's coming from a 'Skins fan.
However the group of superstars was exactly that; a group. Andy Reid's team limped to an 8-8 finish not fulfilling any of the expectations the league's fans had pinned upon them before the season started.
Despite all the new names, it was the familiar that shone for the Eagles with LeSean McCoy exploding on the league. The mercurial running back ran straight into fantasy owners' hearts and solidified himself as one of the league's best.
Andy Reid is one of the best coaches there is. He will have taken outside pressures this season as he has been dealt a family tragedy, one that has rocked the Eagles organisation and will serve to rally the players around their coach and no doubt elevate their play beyond normal circumstances.
2011 Record: 8-8
Head Coach: Andy Reid
Off. Cord: Marty Mornhinweg
Def. Cord: Juan Castillo
Offense
Under Center
Michael Vick came back to the league a backup. When he replaced Donovan McNabb we were treated to sight fans never thought we'd see. Vick has drastically improved his passing ability since his days with the Falcons, not always thinking run first.
Vick somewhat regressed a little in 2011 throwing for 3303 yards, only 18 TDs to 14 INTs completing 59.8% of his passes. He ran for a further 589 yards, only scoring once. Vick is 32 and while he shows no signs of slowing down, he definitely faces an uphill battle to lead his team to a championship before the time comes to stop running.
The Eagles seemingly have the best depth at quarterback, consistently delivering good signal callers that catch the eye of QB needy teams. The latest batch comprises of rookie Nick Foles and Mike Kafka who will show the league their ability as they play in the preseason.
In the Backfield
LeSean McCoy positively ripped the opposition apart in 2011 finding the endzone 17 times. His 1309 yards and 4.8 yard average left the league trailing in his dust as McCoy speedily became one of the better backs in this league, and a sure favourite to go early in this year's fantasy drafts.
Philadelphia have a pair of rookie running backs competing for roster spots in Chris Polk, who went undrafted and Bryce Brown, drafted in the seventh round. The Eagles also have Dion Lewis who managed just over 100 yards and one touchdown.
Off course Vick plays a big part in the Eagles running game with 586 yards in 2011. But even he cannot carry the running game on his shoulders if McCoy goes down. The Eagles, while having a superstar at the position have very little depth to back him up.
Pass Catchers
Having either DeSean Jackson or Jeremy Maclin on your team is great. Having them both is gluttonous. Easily one of the best tandems in the league, Jackson (961 yards and 4TDs) and Maclin (859 yards and 5TDs) stretch the field and give the strong armed Vick reliable targets down the field. Jackson's exploits as a punt returner are also well documented and serve to make him an extremely dangerous threat.
The starting duo are joined by Jason Avant (679 yards), Riley Cooper (315 yards) and tight end Brent Celek (811 yards) with Avant and Cooper each catching a touchdown while Celek was found five times in the endzone.
The Big Uglies
The Eagles' offensive was dealt a huge blow when left tackle Jason Peters ruptured his Achilles tendon. When on the field Peters is an animal solidly protecting the blind side, but he has been dealing with injuries his entire career and all of Philadelphia will be hoping that when he returns next season he will be fit again to play.
In his place the Eagles will be forced to move Demetress Bell, King Dunlap or Todd Herremans into the role hoping one of them will be able to consistently handle the rigours of the position. The Eagles will also hope that 2011 first round pick Danny Watkins can develop into a starting guard opposite Evan Mathis. As Watkins is already 27, he will need to develop fast in order to stay on the team.
Defense
Up Front
Despite the Eagles not gelling as a team, their dream team superstars played extremely well. New addition Jason Babin was accused of taking run plays off and only going 100% during pass plays. While this may or may not be true, Babin did flourish in the Eagles' wide 9 base set up, with 18 sacks in 2011. Fellow end Trent Cole also had a great season with 11 sacks for the year.
Babin and Cole were joined on the line by tackle Cullen Jenkins who had 5.5 sacks, Darryl Tapp (2.5 sacks) and Derek Landri (2 sacks). All five players return in 2012 and will be joined by 2012 draftees Fletcher Cox and Vinny Curry who will vie for playing time all the while trying to fill in for Mike Patterson after the defensive underwent brain surgery.
Linebackers
Jeremiah Trotter must be extremely proud. His place as a dominating leader on the Eagles' linebacker corps has yet to have been filled with a consistant playmaker. The Eagles tried Takeo Spikes, Stewart Bradley and Casey Matthews at the spot, but none have played well enough to warrant keeping the position.
This summer the Eagles traded for the Houston Texans' DeMeco Ryans, a trade that may just have landed the Eagles the linebacker they have been wanting. Alongside him in 2012 will be Jamar Chaney (92 tackles, 1 sack and 3 INTs), Brain Rolle (54 tackles and a sack), Akeem Jordan (40 tackles) and Casey Matthews (37 tackles and a sack). They will be joined by exciting rookie Mychal Kendricks who has some glowing reports so far this summer.
The Secondary
The secondary was positively bursting at the seams with talent last year. The trio of Nmandi Asomugha (3 INTs), Dominique Rodgers-Cromartie (28 tackles and a sack) and Asante Samuel (3 INTs) was featured heavily in the preseason analysis of the team and if it such a trio could survive each other much less a full season.
As they only combined for 6 INTs, the experiment didn't really pay off, with Samuel now in Atlanta. The Eagles will need this pair to play at a higher level in 2012. The safety combination of Nate Allen and Kurt Coleman did play well last year, with Coleman snaring 4 TDs and making 78 tackles and Allen posting 59 tackles and 2 TDs.
The Eagles have a number of players that can fill out the rotation with the likes of O.J. Atogwe and Joselio Hanson on the roster. Rookie Cliff Harris came to the NFL from Oregon with a lot of red flags, but he comes into the season with a lot of glowing reports of his play.
Special Teams
The Eagles didn't score a special teams touchdown in 2011, but with DeSean Jackson fielding punts, the Eagles possess one of the most feared returners in the game. Rookie Dion Lewis handled the majority of kick-off returns with Rodgers-Cromartie also in the mix. 2012 rookie Cliff Harris comes to the Eagles with his fair share of red flags but will be able to help out in the returning duties if needs be.
A good season for kicker Alex Henery saw him connect on 24/27 field goals and every one of his extra points. The Eagles will hope his good form continues in 2012. Chas Henry had an average of 42.9 yards per punt last year but Philadelphia has brought Matt McBriar into camp in order to create a competition between the two.
Analysis
The dream team got a bit of a shock last year. Their 8-8 record was such a disappointment from the expected Superbowl win that most Philly fans envisioned. The Eagles are always a threat to get to the playoffs as they are so well coached by Andy Reid and their talent they have is incredible.
With a year of playing next to each other, the players that arrived before 2011 will have better sense of how their teammates play and will be able to gel more as a team. At every single position the Eagles are wealthy and will call upon those playmakers to make a more focused push in 2012.
Vick still holds the key however. McCoy will be in for another great season, but the injury to Jason Peters may see his huge numbers form 2011 decrease. Vick will have to pick up the slack and unleash one of the best receiver tandems in the league.
Philadelphia's defence will to hope Nmandi Asomugha returns to the dominant form he has shown in Oakland, and DeMeco Ryans can become the dominant linebacker Philadelphia has been missing for a long time.
Philadelphia will look to end this season with a winning record and will force the Giants into a race to win the division. A race the Eagles have got more than enough talent to win.
Be sure to check out other great articles at Heavy in the Games.
Original Story:
http://www.60maxpowero.com/patriots/c...
THE BACKYARD
BEST OF MAXIM
RELATED ARTICLES
Will Trent Edwards' smile grow even bigger on Friday? The Philadelphia Eagles have some tough decisions to make in the next 48 hours. By Friday, their roster, currently standing at 75, must be reduced to 53 players. There are battles happening at virtually every position on the team and pure talent is only part of the equation. One of the biggest decisions the coaches have in...
Earlier this week the Philadelphia Eagles named Akeem Jordan the starting "Will" or weakside linebacker.  Jordan had not been getting much attention from the media throughout the position battle, but he must have gotten the attention of the coaching staff.  Akeem was in competition with Brian Rolle for the position.  Brian Rolle is a second year linebacker out of Ohio...
The Eagles have their final preseason contest of the year against the New York Jets 6:30 on Thursday night.The starters will not be playing, sure, but significant players will be vying to make the cut from the 75- to 53-man roster that will occur on Friday night at 9 p.m. Here are some key players to watch. Marvin McNutt:  After Andy Reid confirmed that Riley Cooper will be a...
Mike Vick's ribs are still bugging him, a concern for his fantasy owners as we are 11 days away from live action. The Eagles are setting their franchise QB up with an innovative flak jacket that is personalized just for Vick's body and his injured ribs. The good news for fantasy owners here is that the Eagles seem desperate to fix the equipment and not the style of play. The...
Do you love the Philadelphia Eagles, but can't devote inordinate amounts of time to the team because you feel the need to incessantly play Angry Birds on your smart phone? I've got some good news for you. The Eagles are teaming up with Rovio Entertainment to launch an all-new version of the insanely popular Angry Birds game.  The game, which will be featured exclusively...
Former Eagles Pro Bowl and All Pro running back Brian Westbrook will always be an Eagle in fan's hearts but now the team is making it official: He will retire as a Philadelphia Eagles on December 23 during halftime against the Washington Redskins. Team owner/CEO Jeffrey Lurie said of the decision: I will always remember Brian for the electrifying, game-changing plays he made during...
Eagles' Head Coach Andy Reid admitted that defensive tackle Mike Patterson will be out for a while and could miss the entire season, according to CSN Philly. The Eagles have placed him on the non-football injury list, which functions the same way as the PUP, meaning Patterson can be activated after week 6, but that doesn't seem likely. Patterson had surgery on his brain to remove...
Getty The new Angry Birds game featuring the Philadelphia Eagles  is set to release on September 4th.  You can check out the trailer below.
Former Philadelphia Eagles running back Brian Westbrook has announced that he will officially retire as a member of the Eagles tomorrow. Read More...
The Irony is thick like school teachers working at Magic City. Wonder if Ms. Thayne will get two years in jail? The owner and founder of a group that bought Michael Vick's former Surry County home in an effort to care for rescued dogs is being sought on animal cruelty charges. According to Tracy Terry, Chief Animal Control officer for Surry County, Tamira Thayne is wanted for animal...
Eagles News

Delivered to your inbox

You'll also receive Yardbarker's daily Top 10, featuring the best sports stories from around the web. Customize your newsletter to get articles on your favorite sports and teams. And the best part? It's free!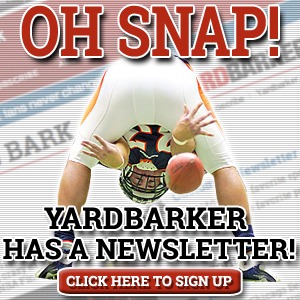 Latest Rumors
The Backyard

Today's Best Stuff

For Bloggers

Join the Yardbarker Network for more promotion, traffic, and money.

Company Info

Help

What is Yardbarker?

Yardbarker is the largest network of sports blogs and pro athlete blogs on the web. This site is the hub of the Yardbarker Network, where our editors and algorithms curate the best sports content from our network and beyond.