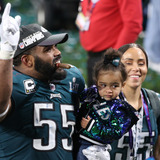 Fresh off helping his Philadelphia Eagles to their first Super Bowl title, defensive end Brandon Graham is now out here looking to get paid the big bucks.The 29-year-old former first-round pick is coming off a career-best 2017 campaign that saw him record 47 tackles, 9.5 sacks and two forced fumbles. He's also now openly talking about looking for an extension."For me, it's all about...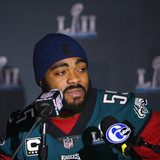 Eagles linebacker/defensive end Brandon Graham is ready to cash in after turning in the best season of his career. The 29-year-old (30 in April) has one more season to go on his contract, but he's looking for an extension that will reflect his performance."For me, it's all about getting as much as you can while you can play because when it's over, it's over," he said (via Dave Zangaro...
Brandon Graham is back at work, and the defensive end has heard enough talk about a holdout. Graham reported to the Eagles' voluntary workouts this week, according to NFL.com, and sent out a tweet saying that any reports of a holdout were, well, fake news. "I was never holding out. I was in Detroit last week spending some time with my family. I've never had an issue with my contract...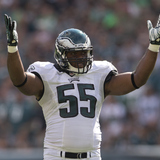 There's blocking someone on Twitter because you don't like what he or she has to say. Then, there's blocking a whole bunch of people because you don't like the opinion of a whole clique.Then, there's Brandon Graham, whose Twitter-blocking prowess is so elite that it has earned him his own hashtag.The Philadelphia Eagles linebacker still gets flack for being drafted over Earl Thomas...
Philadelphia Eagles pass rusher Brandon Graham hasn't quite lived up to the expectations that came with being a top-13 pick in the NFL draft. In five seasons, the former Michigan standout has racked up a total of 17.5 career sacks. While Graham has taken on a larger role in the Eagles' defense over the past three seasons, he played inconsistently in his first two years with the team...
With training camp less than one month away, Chip Kelly and his staff will have their hands full trying to find a winner of various positional battles. On a defense that is still in the rebuilding process, there are plenty of opportunities for rookies and second year players to gain a starting job. With a strong influx of rookies coming into the picture, unproven vets such as Brandon...
The Philadelphia Eagles head into the 2014 draft with the 22nd overall pick. While every player that is selected in the first round of the NFL draft is expected to make a difference for whichever team on which they end up, it is never a bad idea to trade a pick in order to move down or up in the draft. Sitting at the 22nd overall pick, the Eagles are likely to search for an athletic...
WEIGHT WATCHER
Former Michigan football player and current Philadelphia Eagles defensive end, Brandon Graham, has added a bit of weight to his frame since coming down with an injury. Graham, the Eagles 2010 1st round pick, has been nursing a torn ACL since last December. As a result, Graham has been in has recovery mode, not doing a lot of lifting and his weight has jumped from 270 to 290 pounds...
MORE STORIES >>
Eagles News

Delivered to your inbox

You'll also receive Yardbarker's daily Top 10, featuring the best sports stories from around the web. Customize your newsletter to get articles on your favorite sports and teams. And the best part? It's free!