Found September 06, 2012 on NorthWest Sports Beat:
PLAYERS:
Richard Sherman
,
Doug Baldwin
,
Russell Wilson
,
Matt Flynn
,
Max Unger
,
Pete Carroll
,
Marshawn Lynch
,
Robert Turbin
,
Leon Washington
,
Michael Robinson
,
Sidney Rice
,
Ben Obomanu
,
Charly Martin
,
Golden Tate
,
Braylon Edwards
,
Zach Miller
,
Anthony McCoy
,
Evan Moore
,
JR Sweezy
,
Kellen Winslow
,
Russell Okung
,
Frank Omiyale
,
Paul McQuistan
,
Lemuel Jeanpierre
,
John Moffitt
,
Breno Giacomini
,
Trent Cole
,
James Carpenter
TEAMS:
Seattle Seahawks
,
Philadelphia Eagles
Game 1 is here…
That's right, at long last regular season football is upon us! It's Season Preview time. Part 1 & Part 2
251 long days since the Seattle Seahawks season ended, it starts again in the same place; Arizona's University of Phoenix Stadium.
On that day, the Seattle Seahawks suffered their ninth lose on the season, but it was an exciting season, a season that featured breakout stars Richard Sherman and Doug Baldwin.
Who will it be this season?
For that answer AND more, keep reading!
Seahawk Offense Quarterbacks
Russell Wilson – 5'11″, 206.  Matt Flynn – 6'2″, 225.
When Russell Wilson receives that beautiful first snap from Max Unger on the 9th, it will be the first time since 1993 that a Seattle Seahawks rookie quarterback has started the season.
And expect there to be many, many more snaps received.
Pete Carroll isn't a normal coach.  He started a third round rookie over the big money free agent Matt Flynn, so don't think for one second that Wilson will be on a short leash.
No sir, he will take his bumps and bruises; but at the end of the day he could be back on the field where it all started, in three years time, as a Super Bowl Champion.
Running Backs
Marshawn Lynch – 5'11″, 215.  Robert Turbin – 5'10″, 222.  Leon Washington – 5'8″, 203.  Michael Robinson – 6'1″, 240.
Marshawn Lynchjust signed a big money extension and as a result he will get fewer touches.  He is already over 1100 carries on the career, at just 26.  Last season he carried the football 285 times, and I believe that number will drop to 200-225.
Lynch is over 1100 carries for his career, at just 26
Kickoff specialist Leon Washington will stick around 50 carries again this season, but I think will have a better season statistically.  Rookie Robert Turbin will have upwards of 100 carries this season as the new backup to Lynch.
Returning Pro-Bowler Michael Robinson will bring more of the same this year, and will be more involved with the offense as Justin Forsett didn't run behind his fullback often, whereas Turbin does.
Wide Receivers
Flanker: Sidney Rice – 6'4″, 202.  Ben Obomanu - 6'1″, 204.  Charly Martin - 6'1″, 212.
Split End: Golden Tate - 5'10″, 202.  Braylon Edwards - 6'3″, 214.
Slot: Doug Baldwin - 5'10″, 189. (Tate & Martin can both play inside as well when called up)
Stay healthy!  That's the theme for this wide receivers group.
Supposed number one Sidney Rice has all the potential and talent in the world, and this is the season to show it if he can stay healthy.
Same goes for surprise addition Braylon Edwards who has only played a full season in 50% of the seasons he's been in the NFL.
More of the same from Doug Baldwin this year, as he looks to improve on a rookie season that shocked the NFL and led the Seahawks in catches and yards.
Will this be the season for Golden Tate to breakout?  He set the table for a breakout season with his strong ending after Sidney Rice went down last season.
Tight Ends
Y-Tight End: Zach Miller – 6'5″, 255.  Anthony McCoy – 6'5″, 259.
H-Back: Evan Moore - 6'6″, 250.
Due to the lockout shortened offseason and three new starters, big money free agent addition Zach Miller wasn't utilized in the passing game last season as much as he was accustomed to from his time in Oakland.
I expect him to bounce back to 40-50 catches this year, barring a healthy and productive offensive line.
Anthony McCoysurprised many in preseason action, where his hands in the passing game looked solid.  He will backup Zach Miller and line up on the offensive line as a blocker often this season, where he is best.
Rookie defensive tackle turned offensive guard J.R. Sweezy. Is he the next big thing? (Photo: Seahawks.com)
Newly signed Evan Moore will slot in as the pass catching tight end in the Seattle offense, a role vacated by Kellen Winslow's release.  The biggest concern will be his health, which has been an issue thus far in his career.
If he can play a full 16 games than he could put up numbers mirroring Miller's.
Offensive Lineman
LT: Russell Okung – 6'5″, 310.  Frank Omiyale – 6'4″, 315.
LG: Paul McQuistan – 6'6″, 315.  James Carpenter – 6'5″, 321.
C: Max Unger – 6'5″, 305.  Lemuel Jeanpierre – 6'3″, 301.
RG: JR Sweezy – 6'5″, 298.  John Moffitt - 6'4″, 319.
RT: Breno Giacomini – 6'7″, 318.  Frank Omiyale – 6'4″, 315.
This year seems like a good year for injury prone players to break out.  Sidney Rice?  Yup, sounds about right.  Next on that list? Russell Okung!
Okung was having a great season last year, before it was ended by a cheap shot from Eagles defensive end Trent Cole.
James Carpenter is also back at practice this week, and should see the field this year, recovering from an ACL injury.  Whether or not he starts any games is up to super backup Paul McQuistan who was absolute dynamite last season.
Today during Pete Carroll's press conference, he announced that rookie defensive tackle turned offensive guard J.R. Sweezy would start the season at right guard.  As a starter.  Wow!
Something I believe the 'Hawks want to stress is that this is not due to John Moffitt's poor performance, just excellent growth shown by Sweezy over the few months he's been an offensive lineman.
Stay tuned to NWSportsBeat.com for the defensive breakdown!
CLICK HERE CHECK OUT THE SEAHAWKS BLOG IN OUR CLUBHOUSE SECTION AT NWSB!
© Alistair Corp for North West Sports Beat, 2012. | Permalink | No comment |
Follow NWSB on Twitter or join US on Facebook for real-time updates OR... | Share This on Twitter | Share NWSportsBeat.com on Facebook
Post tags:
Depth Chart
,
Doug Baldwin
,
Evan Moore
,
Golden Tate
,
JR Sweezy
,
Leon Washington
,
Marshawn Lynch
,
Russell Wilson
,
Seahawks Blog
,
Seahawks roster
,
Seahawks Season Preview
,
seattle
,
Seattle Seahawks
,
Sidney Rice
Original Story:
http://www.nwsportsbeat.com/seahawks/...
THE BACKYARD
BEST OF MAXIM
RELATED ARTICLES
The Seattle Seahawks are not sure whether running back Marshawn Lynch will be able to play in Sunday's regular-season opener against the Cardinals because he has had back spasms, ESPN.com reported. Lynch did not practice Monday and has not played since the second week of the preseason. Lynch rushed for 1,204 yards last season, when he started 15 games for Seattle. The one...
Seattle Seahawks rookie Robert Turbin may be forced into a starting role for his NFL debut as Marshawn Lynch is reportedly questionable for their opener against the Cardinals. Turbin may start on Sunday The Seahawks also have Leon Washington and Kregg Lumpkin on the roster, but Tubrin would be the best fit in terms of replacing Lynch. He's a physical runner with a similar build...
Seattle Seahawks RB Marshawn Lynch has been suffering back spasms this preseason and his status is uncertain for Sunday's game against the Arizona Cardinals. If Lynch is unable to go, rookie RB Robert Turbin will start in his place according to 710 ESPN Seattle. In deeper leagues, Turbin is worth owning this season. I have watched every Seattle Seahawks preseason game this summer...
Marshawn Lynch sat at his locker on Wednesday as Seattle's star running back talked for the first time since the start of training camp. The Seahawks hope Lynch is on his feet and on the field come Sunday in the season opener at Arizona and not just a spectator on the bench. ''The goal is to (play). But I stay ready,'' Lynch said. ''So if I do, I do...
It's the first week of the NFL regular season and before I begin talking about it, why don't we take a moment to be thankful that football is back. Now I know college football started last week and I'm aware that the preseason started over a month ago, but for an NFL guy like me, Wednesday night was the beginning of the best time of the year. The Giants and Cowboys already...
TEMPE, Ariz. When the Seahawks signed free agent quarterback Matt Flynn this summer, some assumed they were grooming their franchise quarterback a guy who would eventually take the reins from Tarvaris Jackson (now with Buffalo). Then Seattle drafted Wisconsin standout Russell Wilson in the third round and the game changed. After an impressive preseason, Wilson was named the starter...
Seattle halfback Marshawn Lynch (back) returned to practice on a limited basis Thursday, according to the Tacoma News Tribune.Fantasy Spin:There's really no way of predicting whether Lynch will be available Sunday. Even if he doesn't have back spasms for a few days the spasms could always return prior to Sunday's game. Lynch owners should be ready to plug in another option...
The Seattle Seahawks may be without their starting running back when they open their season in Arizona on Sunday.Marshawn Lynchhas had troubles with chronic back spasms this week, putting his status for Sunday's game in question and possibly in doubt. The trickle down affect in fantasy football leagues is great, as this could put more on the shoulders ofRussell Wilson. The Cardinals...
According to ESPN's Adam Schefter, Seahawks running back Marshawn Lynch has experienced back spasms and the team is uncertain if he'll play Sunday.Fantasy Spin:It's looking like Lynch is going to carry a questionable tag Sunday and he may even wind up being a game-time decision.
The Seattle Seahawks could possibly be without Marshawn Lynch for Sunday's season opener at the Arizona Cardinals. The running back has been experiencing issues with back spasms, according to Adam Schefter of ESPN, and his status remains up in the air at this point.
The Patriots continue to weed through tight ends, and thus the upcoming visit of Kellen Winslow isn't surprising. Rob Gronkowski, Aaron Hernandez, and Visanthe Shiancoe are currently gainfully employed as the Patriots tight ends, however, we all know Shiancoe could be gone in a heartbeat. Winslow, released last week by the Seattle Seahawks will be passing through Gillette, but...
These teams have strong defenses.In a division won by the 49ers last year because of defense, this should come as no surprise. Teams often wind up mimicking their divisional rivals (the Ravens are built around defense, power running, and a developing quarterback with a big arm and big body, just like the Steelers), and the NFC West is no exception.Both teams have considerable continuity...
NFL News

Delivered to your inbox

You'll also receive Yardbarker's daily Top 10, featuring the best sports stories from around the web. Customize your newsletter to get articles on your favorite sports and teams. And the best part? It's free!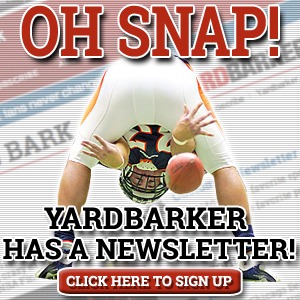 Latest Rumors
Best of Yardbarker

Today's Best Stuff

For Bloggers

Join the Yardbarker Network for more promotion, traffic, and money.

Company Info

Help

What is Yardbarker?

Yardbarker is the largest network of sports blogs and pro athlete blogs on the web. This site is the hub of the Yardbarker Network, where our editors and algorithms curate the best sports content from our network and beyond.