Found August 02, 2012 on Taking Bad Schotz:
PLAYERS:
Michael Vick
,
Aaron Rodgers
,
Drew Brees
,
Tom Brady
,
Trent Richardson
,
Mark Sanchez
,
Tim Tebow
,
Rex Ryan
,
Peyton Manning
,
Darren McFadden
,
Roddy White
,
Robert Griffin III
TEAMS:
Philadelphia Eagles
,
Green Bay Packers
,
New Orleans Saints
,
New England Patriots
,
Cleveland Browns
,
New York Jets
,
Washington Redskins
,
Oakland Raiders
,
Atlanta Falcons
9. Michael Vick will finish in the top 5 ranked Quarterbacks. After a disappointing campaign last season, both team-wise and individually, Vick will bounce back stronger than ever. He finished outside the top 10 QB ranks via Yahoo last season. But with a boosted Eagles confidence, I predict Vick to finish right atop the biggest names in Fantasy with Aaron Rodgers, Drew Brees, Tom Brady, and Matthew Stafford. 8. Trent Richardson will not reach the 1,000 yard mark in his rookie season for the Cleveland Browns. The Browns will inevitably give Richardson a heavy workload right away, and I predict this to be detrimental to his rookie campaign. The NFL will prove to bring a much greater level of difficulty to Trent's success, and the fact that he is running for the Browns will not help much either. Expect the Browns' opponents to put a lot of pressure up front, and throw off the coveted rookie running back. 7. Mark Sanchez and Tim Tebow will both be completely invaluable to any Fantasy Football roster. If you can take anything away from this article: do not draft or pick up either one of these guys all season long. The Jets will be surrounded with drama all season, led behind overly confident and ambitious head coach Rex Ryan. Mark Sanchez will struggle, leading to a change to Tim Tebow, where he will inevitably struggle as well. Tebow and Sanchez are a guaranteed way to sink any fantasy football team to the bottom of the standings. 6. Jordy Nelson will have more touchdowns than Calvin Johnson. This is arguably my boldest prediction for the NFL season, but one that can be reached if Jordy continues to perform as well as he did last season. He finished with 15 TD's last season, and is just entering the prime of his career now. I predict Aaron Rodgers to make Nelson his favorite target this season, giving him even more looks in the end zone than last. Calvin Johnson will of course continue his dominance, but then again there's Stafford who is injury prone and that little thing called the  "Madden Curse". 5. Peyton Manning will not finish in the top 10 for fantasy quarterbacks. I predict him to have career lows in both yards and touchdowns this season. Missing an entire season will prove to be a major blow for Manning's play, as well as the change in scenery. Peyton has become very comfortable playing indoors on turf for the past 13 seasons, and his change to an outdoor stadium will be harmful to his performance. Don't reach for Peyton Manning in your draft this year. 4. Robert Griffin III will lead the NFL in interceptions. Being a first year starter for a struggling Washington Redskins team, Griffin will find his passes caught in the wrong teams' hands too many times. With a very mobile quarterbacking style, Griffin will be throwing outside of the pocket into dangerous places. His daring playing style and immaturity will lead Griffin to the dubious title of most interceptions for the 2012 NFL season. 3. A.J. Green will be better than Larry Fitzgerald. Both guys have very similar playing styles by using their incredible athleticism and height. But with A.J. Green entering his second season, his youth will prove to be the difference maker. Not to say Larry Fitzgerald is getting old, but he is entering his 9th season and has shown significant declines in receptions and touchdown's the past 2 seasons. A.J. Green will reach his potential quickly this season, and will out perform Larry Fitzgerald. 2. Darren McFadden will finish the season as the second best fantasy running back behind Arian Foster. Everyone knows McFadden has one of the best and most lethal running styles in the game, but year after year he has been plagued with injuries. In addition to his talent, the Raiders are coming off an impressive season and show no signs of slowing down this year. I am predicting Darren McFadden to play all 16 games while recording career bests in every stat category. 1. Both Andre Johnson and Roddy White will not be in the top 5 ranked Wide Receivers. I was tempted to say top 10, but no need to get out of control. I predict Julio Jones to truly peak this season and take away a lot of looks from Roddy White, maybe even put up better numbers throughout the season. And for Andre Johnson, injuries should continue to plague him just as they did last season. Johnson just has been reported to have suffered a groin injury that will make him miss a few weeks of camp. This is the start of another injury plagued season for Johnson. -Andre
Original Story:
http://www.takingbadschotz.com/?p=8052
THE BACKYARD
BEST OF MAXIM
RELATED ARTICLES
Philadelphia Eagles defensive end Jason Babin may miss the entire preseason due to a right calf strain injury, a league source tells CSNPhilly's Reuben Frank . Babin got hurt on Saturday during 1-on-1 drills. Per Frank,  Babin has suffered a Grade 2 muscle strain, meaning that a small tear exists in the muscle and that there is some bleeding.  According to the source, the injury...
As Philadelphia Eagles training camp continues, the contenders and pretenders for roster spots are starting to separate themselves a little bit.  Nothing is settled yet, of course, but there are a few new players who have a legitimate chance of making this team. By new players, I'm not referring to any of the Eagles' draft picks because for the most part, they are all virtual...
No matter what I say or do, I won't be able to convince owners who drafted Michael Vick last year that they should take him again this year. The damage has been done. It's irreparable. Fantasy owners don't forget, and they hold grudges. It's part of our game. But for the other 11 owners in any given league, Vick and other post-hype players are ripe for the picking. The five...
The longest tenured coach in the NFL right now is Andy Reid. He has been the coach in Philadelphia since 1999. Since he has taken over the Eagles, they have won 6 division titles. Been to the NFC Championship game 5 times(which he is 1-4), and has made it to the Super Bowl just 1 time (which he lost to New England 24-21). Since 1999 the rival Giants have made it to the Super Bowl...
One by one, the Eagles' starting defensive line has been picked off by injuries, and all four of them watched Thursday's practice, including defensive tackle Cullen Jenkins, who injured his hamstring Wednesday. "We have our defensive line meetings in the training room," Jenkins joked Thursday. Jenkins said the injury is mild and the "tweak" would likely...
Throughout the NFL, the injury bug is biting down...Hard. Just days into camp, receiver Ron Johnson endured a dislocated ankle and Riley Cooper suffered a broken left collarbone. Philadelphia Eagles' head coach, Andy Reid, has yet to confirm the addition of any replacement free-agent receivers.  If the Eagles are serious about winning, then they should bring in their old friend...
The Philadelphia Eagles have traded linebackers Moise Fokou and Greg Lloyd to the Indianapolis Colts for cornerback Kevin Thomas and a conditional seven-round pick in the 2013 draft. Thomas, a third-round pick in 2010, played in nine games last season with the Colts, starting five. He had 33 tackles and three knockdowns. Thomas spent his rookies season on injured reserve because...
The Philadelphia Eagles acquired cornerback Kevin Thomas and a conditional seventh-round draft pick in a trade with the Indianapolis Colts that sent linebackers Moise Fokou and Greg Lloyd to the Colts. Colts general manager Ryan Grigson had been the Eagles director of player personnel before being hired by Indianapolis in January, and this is the second trade he's made with...
Call it the "Dream Team," call it a "dynasty," or simply call it a team that has yet to cash in on its potential. For the second year in a row, a comment from an Eagles quarterback has brought attention to the one thing missing from head coach, executive vice president of football operations, and de facto sultan Andy Reid's resume: a Super Bowl win.   As the Eagles arrive...
NFL News

Delivered to your inbox

You'll also receive Yardbarker's daily Top 10, featuring the best sports stories from around the web. Customize your newsletter to get articles on your favorite sports and teams. And the best part? It's free!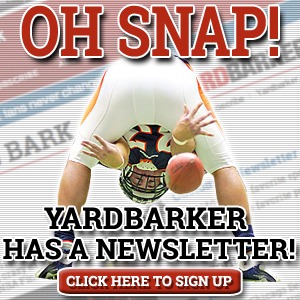 Latest Rumors
Best of Yardbarker

Today's Best Stuff

For Bloggers

Join the Yardbarker Network for more promotion, traffic, and money.

Company Info

Help

What is Yardbarker?

Yardbarker is the largest network of sports blogs and pro athlete blogs on the web. This site is the hub of the Yardbarker Network, where our editors and algorithms curate the best sports content from our network and beyond.