Found August 14, 2012 on CJ Sports NFL Talk:
PLAYERS:
A.J. Green
,
Brandon Weeden
,
Colt McCoy
,
Seneca Wallace
,
Trent Richardson
,
Greg Little
,
Josh Gordon
,
Travis Benjamin
,
Evan Moore
,
Alex Smith
,
Jordan Cameron
,
Joe Haden
,
Billy Winn
,
Phil Dawson
TEAMS:
Cleveland Browns
,
Cincinnati Bengals
,
Pittsburgh Steelers
,
Oklahoma State Cowboys
Previewing the NFL,  from A to Z
With things once again not turning out how the fans wanted or expected, the Cleveland Browns have started to once again do a complete make over.  The Browns have not won a division title since returning to NFL play in 1999, and they have made the postseason only once.  Nine seasons have passed since that lone playoff appearance, a loss to division-rival Pittsburgh in the 2002 wild-card round.  Let's fast forward to the 2012/2013 season.  The Cleveland Browns have a new owner, a new quarterback, an actual running back, some young up and coming receivers, and a solid defense.  Last season was a let down, many expected this Browns team to go 8-8 and finish above that joke of a team from the bottom part of the state.  Instead, we watched the defense stand there with their thumbs up their butts as the Bengals went to the line, snapped the ball, and watched AJ Green score on a wide up pass.  That was how the season began and pretty much how it finished for the Browns last season.  The Browns finished at 4-12, but left the season with hope and potential.  I am not expecting a complete turn around this season, but I am expecting a 6-10 season.
Quarterbacks
With the Browns already squashing any chance of a quarterback controversy, they named Brandon Weeden the starting quarterback before week one.  That is week one of the preseason, before they really had a chance to see what he can do against NFL teams and players.  Don't get me wrong, Colt McCoy is not the answer nor is he that good of a quarterback, but at the same time the unknowns on Weeden scare me.  The Browns are banking on the former minor league baseball player to be a stabilizing and playmaking force at a position of great need.  Now Weeden is bigger and stronger than McCoy and has a better arm, but lacks the experience and the NFL knowledge that McCoy posses.  The Browns also believe the accuracy he showed at Oklahoma State, where he completed 69.8 percent of his passes in two seasons as a starter, can carry over with him in the NFL.  The Browns are also confident that Weeden, who turns 29 in October, will be a quick study in the West Coast offense.  There are some changes that Weeden is going to have to work at.  For instance, Weeden primarily worked out of the shotgun at Oklahoma State and will have to learn to take more snaps under center in this offense.  Weeden also struggles against pass-rush pressure and will suffer greatly against the toughest division in the NFL until he can improve in the area.  Also, the West Coast offense can take years to master. Will the Browns actually hold on to a quarterback long enough to do this?  Now with Colt McCoy and Seneca Wallace being Weeden's backups he doesn't have to fear for his job, but Cleveland fans will have to worry if Brandon Weeden gets injured.  This would set them back many steps and could cause a controversy.
Running Backs
Trent Richardson is supposed to be the focal point of the running game and could have a tremendous impact on the offense.  But an old nagging injury keeps showing its ugly head.  Richardson, by far the best running back available in the 2012 draft and the most highly regarded back the team had added since its return in 1999.  Richardson is a ferocious competitor and a dynamic playmaker.  He is strong, physical, hammering inside force as a runner and a good pass receiver.  Montario Hardesty will be Richardson's top backup, but his durability has been a big concern. Last season Hardesty, just like most of the Browns, suffered and had a bad year.  If Hardesty can return to his best form, he could be a nice complementary player in this offense.
Receivers
Greg Little led the Browns in receptions (61) and yards (709) as a rookie and fits this offense well.  Athletic and physical, Little has a nice catching radius.  Little is not a burner but does have some run-after-the-catch ability.  The Browns added a couple of key pieces to this receiving group.  Josh Gordon was picked up in the supplementary draft.  Gordon has a lot of potential and is expected to be a big contributor to this offense.  They also added Travis Benjamin, who has field-stretching speed but is slightly built.  These additions can help slide Joshua Cribbs back to strictly special teams and not so much as a wideout.  I am sure Brandon Weeden will be utilizing his tight ends e gets comfortable in the NFL.  Benjamin Watson, the top target at the position, suffered three concusions in 2011 but reportedly is expected to play this season.  Evan Moore is a converted wideout whose pass catching is his strength.  Alex Smith is the most versatile of the tight ends.  Jordan Cameron is a size-speed prospect. (Yes I know I left out Massaquoi, but so should the Browns!)
Defense
Until last week, the defense was the most promising piece to this Cleveland team.  Then Joe Haden potentially messed that up by not passing a drug test.  The verdict is not 100% sure, but I would guess he is guilty just like everyone else who has come up positive on their "A" sample.  But luckily it is just four games and with the addition of DE Juqua Parker and DE Frostee Rucker, things are looking even better on the defensive ball than last year.  You throw in the steal of the draft, DT Billy Winn, a sixth round gem and this defense is as tough as they come.  Cleveland successfully transitioned from a 3-4 to a 4-3 last year.  Last year the Browns usually played man coverage on the back end.  This defense rarely was outclassed last season, although it did have problems against the run.  But with those additions, this season will be a different story.
Special Teams
RS Joshua Cribbs reputation as a special-teams star precedes him, and he's one of few players on this Cleveland Browns team that the opposition respects for his game breaking abilities.  This season as Cribbs is able to focus more on special teams and less on the offense, his numbers so shine even greater.  Reliable Phil Dawson will be once again knocking them through the uprights for us this season.  Even though the special teams took a beating last year, you should expect the things to get back to par this season.
The Browns are in a tough spot in the AFC North.  The Steelers and Ravens, while each battling Father Time, are still formidable, and the Bengals are no slouches, either.  If the offense perks up and the defense is the strength it was a season ago, the Browns could draw closer to making the playoffs.
Related articles
Original Story:
http://110sportztalk.com/2013-nfl-pre...
THE BACKYARD
BEST OF MAXIM
RELATED ARTICLES
The mistakes I made were so small that they're easy fixes. I work on them every day after practice now. The one, the fumble, when I was trying to dump it down to Jordan [Cameron], regardless of if it was or fumble or if it wasn't a fumble, I've got to get that ball out quicker just knowing where we were on the field, knowing how good Phil [Dawson] is. That's three points...
Of course in the preseason it doesn't matter who ends up winning the games. The preseason is about basic execution, getting up to NFL speed, and individual players competing for spots. With preseason objectives being what they are, gameplans are naturally vanilla. So naturally, the focus of Mary Kay Cabot's preview for tonight's game is rookie quarterback Brandon Weeden's...
BEREA, Ohio Brandon Weeden is anxious to get back on the field after a less than stellar opening performance against the Lions. He was 3-of-9 for 62 yards and turned the ball over twice. His rating was a paltry 19. Its been a quick turnaround, but its been good, Weeden said. Im excited to get back out there and correct the mistakes from last week and just get back out and (play)...
Injuries happen in the NFL. It's pretty much inevitable. Between grueling practices and preseason games, the fantasy football owner of now has to keep their fingers crossed that high-ranking fantasy options can not only stay healthy during the regular season, but can stay upright throughout August. One such player who has made the news in the past week has been Browns RB Trent...
After Brandon Weeden, the 26-year-old rookie quarterback and the second of the team's first-round draft picks, the Browns will turn over the offense to Colt McCoy. We take an inside look at Thursday's opponent.
Smell the air. Tilt your head back, stick your nose in the air & sniff. Take a deep breath. It's that beautiful smell of Week 2 of the NFL preseason. Tonight's games: Cincinnati at Atlanta, 8 p.m.; Cleveland at Green Bay, 8 p.m. Bud Shaw, of the Cleveland Plain Dealer, is already trying to tell Browns' fans that Brandon Weeden might not be their savior. Ouch. Remember...
The most high-profile position battle really wasn't a battle at all. Brandon Weeden was named the starting quarterback days before the Browns opened the preseason
Nine passing attempts isn't a lot. It only seems that way when one is picked off, another bounces off the pads of an opposing cornerback who's streaking for your end zone, and a tenth is ruled a fumble. Eight penalties in the first half, and allowing your opponent 6.4 yards per carry in the same half, though? That's just Shurmurball. DRINK! Like Brandon Weeden in 2012, Joe...
Six days. That's how long the Browns have in between their first preseason game last Friday, and the second contest Thursday in Green Bay. For a number of Browns (and their fans) that six days probably seems like an eternity. Quarterback Brandon Weeden is in that group, anxious to put his first performance in the rear view mirror. Weeden could silence (for a while anyways) a lot...
Well, here we are: The Dress Rehearsal. The Browns head to historic Lambeau Field to take on a team that was 15-1 just one season ago. As the Browns continue through their four-week journey of stadiums which will be empty by the third quarter, we here at WFNY will shed some light on the one thing we will each respectively be looking for from the otherwise meaningless contest. Naturally...
The Browns take on Aaron Rodgers and the Green Bay Packers at Lambeau Field in the second preseason game of the year. As with the first game, most Browns fans will have their eyeballs fixated on rookie quarterback Brandon Weeden.
The Cleveland Browns won their first pre season matchup against Detroit but as I have said one million times, IT IS JUST PRE SEASON. Every writer and analyst in the US will tell you there is much to be desired. Pre season games show you as a coach, what your skilled positions have to offer in the new season and where young players fit in. As far as the Browns are concerned, this...
NFL News

Delivered to your inbox

You'll also receive Yardbarker's daily Top 10, featuring the best sports stories from around the web. Customize your newsletter to get articles on your favorite sports and teams. And the best part? It's free!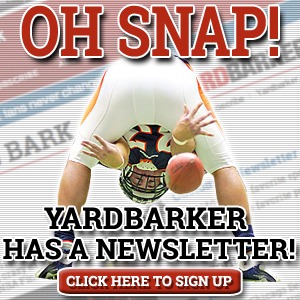 Latest Rumors
The Backyard

Today's Best Stuff

For Bloggers

Join the Yardbarker Network for more promotion, traffic, and money.

Company Info

Help

What is Yardbarker?

Yardbarker is the largest network of sports blogs and pro athlete blogs on the web. This site is the hub of the Yardbarker Network, where our editors and algorithms curate the best sports content from our network and beyond.