Found April 09, 2013 on Purple Jesus Diaries:
Leading up to this month's draft, Purple Jesus Diaries will take time analyzing potential draft targets for the Minnesota Vikings. With our cutting edge video technology, long hours spent scouting literally DOZENS of college players from our couch, and insight from Vikings meathead CapitalJsCorner, we're give you details you never even dreamed of from prospects that could help the Vikings in 2013. Based on the team needs established in our offensive and defensive team reviews, we present to you the 2013 Who Ya Gonna Draft? feature ... Who? Manti Te'o. Ohgodwe'regonnadrafthimwe'regonnadrafthimwe'regonnadrafthimwe'regonnadrafthimwe'regonnadrafthim we'regonnadrafthimwe'regonnadrafthimwe'regonnadrafthimwe'regonnadrafthimwe'regonnadrafthimwe'regonnadrafthim we'regonnadrafthimwe'regonnadrafthimwe'regonnadrafthimwe'regonnadrafthimwe'regonnadrafthimwe'regonnadrafthim we'regonnadrafthimwe'regonnadrafthimwe'regonnadrafthimwe'regonnadrafthimwe'regonnadrafthimwe'regonnadrafthim we'regonnadrafthimwe'regonnadrafthimwe'regonnadrafthimwe'regonnadrafthimwe'regonnadrafthimwe'regonnadrafthim we'regonnadrafthimwe'regonnadrafthimwe'regonnadrafthimwe'regonnadrafthimwe'regonnadrafthimwe'regonnadrafthim we'regonnadrafthimwe'regonnadrafthimwe'regonnadrafthimwe'regonnadrafthimwe'regonnadrafthimwe'regonna............. Capital Js Take: Before the hoax, Manti Te'o was projected to be a top 5 pick. His 4.8 40 time didn't help, but he is still a top MLB prospect in the draft and the Vikings would probably be ecstatic if he was sitting there at 23 or 25. Supposedly not great in coverage, but did have 7 INT's last year. NFL.com Notes: Oh god, this is awful. OK. Let's settle down. OK. Uh, well, he's a linebacker that got catfished by a bro who had romantic feelings for him and then Te'o sold this story about a girl he never met dying in a car accident and WHAT THE HELL MAN. I wonder, when NFL.com talks about the good and the bad about Te'o, will they mention any of this? Let's find out! The "good" stuff: Aggressive middle linebacker with a thick overall build. Vocal leader on the off the field, communicates the call and moves teammates into place when necessary. Downhill player who recognizes plays and closes quickly. Provides pop as a tackler, capable of thumping the ballcarrier and wrapping up to secure the stop. Aware run-stopper between the tackles, finds the ball and can mirror backs to prevent cutbacks. Stops backs' momentum on first contact and drive them backwards. Takes on linemen and fullbacks, can bounce or use his hands to rip off and make a stop. Hustles to recover from cut blocks, work through double teams at the second level. Shows enough movement skills to follow stretch plays to either sideline and cover running backs in the flat. Drops to the first-down marker, but is able to close on receivers and backs over the middle to prevent yards after the catch. Attacks gaps as a delayed blitzer, will try to work past the shoulder of linemen picking him up. High character player who performs community service and became an Eagle Scout in 2008. OK. Wouldn't expect it there. This whole incident wasn't particularly "good" so I would suppose it would be in the "bad" section if it were at all, right? Let's see: Only average height for the position. Linemen and bigger tight ends have a size and length advantage, can ride him out of plays. Backpedal is high and stiff on his drops. Must prove he has the short-area quickness and long speed to stay with tight ends and receivers in coverage. Takes false steps on play action and misdirection; has only adequate recovery speed. Blunt instrument as a tackler, slips off some tackles when trying to make a big hit. Comes into ballcarriers with his head down at times, allowing them to elude him. ........ Soooo .... No one is going to talk about this? Huh. OK. So? Alright. Despite the fact that Te'o got involved in some REAL WEIRD ****, MAN, I also just don't think he's that good of a football player. And that is what scares me about the Vikings possibly drafting him. Frankly, I think the Vikings have been lacking in the "character" department for the past year or two. We don't really have any STARS on the team that are weird or other teams hate. Peterson? Everyone loves him. Jared Allen? Can't talk about him because of his PR team. Who's left? Kyle Rudolph is like a super nice dude, John Sullivan is a manly man, we traded Percy Harvin, and Chris Kluwe is a punter. Where's our Ray Lewis and his murder sub plot, Clay Matthews and his steroid abuse, Jay Cutler and his collection of Tumblr pages? I WANT OUR HATEABLE PLAYER, DAMMIT! Te'o could be that dick nose. And he just might be. God dammit, I just have never seen the drafting of a player to a team as telegraphed as this. You just KNOW the Vikings are going to draft him, don't you? Bringing him in for personal interviews, talking with him at the combine, not signing a free agent middle linebacker during free agency ... I mean, come on. You may as well just deliver your draft card to the commissioner right now. This sucks. Manti Te'o WILL BE a Minnesota Vikings, I promise you that. And that kind of sucks, because he'll be slow as **** playing middle linebacker in a Cover-2 defense that requires him to run backwards pretty much every play, fast, and cover tight ends and quick little midget running backs all the time. So we want a slow, lead footed, weirdo tasked with that job. COOL. SOUNDS LIKE A GREAT DRAFT PICK. Did you see him get destroyed by Alabama in the championship game? Yeah, that's a little bit different of talent level than playing against Navy and BYU every year. Good lord. I can't believe we're even having this conversation. But here we are, and I'm resigned to the fact that Te'o is going to be in purple. Just accept it, people. It's going to happen. And while it means the TALENT level of our team is going to drop precipitously, on the other hand, the DRAMA level of our team is going to sky rocket! And I, for one, can't wait to write about it. Soooo ... LET'S DRAFT TE'O!!! Idiots. We deserve it. [follow]
Original Story:
http://www.purplejesusdiaries.com/201...
THE BACKYARD
BEST OF MAXIM
RELATED ARTICLES
With the 2013 NFL Draft just around the corner, it's time to unveil team-by-team projections for the first three rounds before the three-day festivities kick into swing on April 25.  Part one of the series begins with the Minnesota Vikings. Photo Credit: Vikings.com First Round (No. 23 Overall): Manti Te'o, LB, Notre Dame Wait, what?  Yes, the're a pretty logical connection...
Last week, the Baltimore Ravens cut Brendon Ayanbadejo. The Ravens certainly have salary cap issues. With departures of Ray Lewis, Ed Reed, Matt Birk and Anquan Boldin the defending champions seem to be in a full rebuilding mode. Maybe Ayanbadejo was just a victim of these factors. Maybe not. Even he will admit that his play has dropped off recently, but he believes his...
After finishing 6-10 in 2010 and 3-13 in 2011, the Minnesota Vikings surprised the world in 2012 by finishing second in the NFC North and qualifying for a Wild Card berth. Although their postseason appearance ended in disappointment, the season was almost universally considered a resounding success. This year, general manager Rick Spielman finds himself [...]The post Best and Worst...
Minnesota Vikings head coach Leslie Frazier has told free agent cornerback Antoine Winfield that he wants him back. "We're all human," Frazier said, per TwinCities.com. "We all like to know we're wanted. I've tried to make that clear to him. I'll let him know, 'If you've got any questions, you know how to reach me.' " Frazier says they'll look at picking iup...
On Oct. 6, 2005, several members of the Minnesota Vikings, including Fred Smoot, Daunte Culpepper, Bryant McKinnie and Kevin Williams made a trip to Lake Minnetonka for some bye week relaxation. What initially was supposed to be a leisurely cruise around one of Minnesota's most famous bodies of water on a party boat devolved into a night of booze-fueled, raunchy sex romp that ultimately...
Minnesota Vikings coach Leslie Frazier is holding out hope that veteran cornerback Antoine Winfield will return to the team. Winfield was arguably the team's best defensive back in 2012, but his $7.25 million salary for 2013 was too much for the Vikings to carry. However, Frazier wants Winfield to return and isn't shy about saying it. "We're all human," Frazier...
Being a Minnesota Vikings fan for all these years has had some major benefits. It's helped make me a better person. No, really. I know that Vikings players always seem to making headlines for all the wrong reasons — repeated arrests, salacious scandals, and lurid letdowns on the field — but that's just the point. [...]The post Minnesota Morals: Poaching Packers players by...
EDEN PRAIRIE, Minn. At 6-foot-6 and 258 pounds, the Minnesota Vikings' Kyle Rudolph has the size and skills to make him a natural at tight end. As it turns out, his athletic skill isn't just a fit for football. Rudolph can swing a bat a little bit, too -- a cricket bat. Rudolph, along with teammates John Sullivan and Harrison Smith, traveled to the United Kingdom last...
EDEN PRAIRIE, Minn. The Minnesota Vikings have finalized their 2013 preseason schedule with dates and times. Minnesota, which revealed its preseason opponents last week, will open the 2013 preseason at home against the Houston Texans at 7 p.m. Friday, Aug. 9. The Vikings will travel the next two weeks, playing at 6 p.m. Friday, Aug. 16 in Buffalo and at 7 p.m. Sunday, Aug. 25 in...
The Miami Dolphins are not the only ones changing their look up for next season. The Minnesota Vikings are  going to be wearing new duds as well. Unlike the Dolphins, they are hoping that they can keep the whole show under wraps till they unveil the whole thing at their Draft Party April 25. However, to satisfy the vultures that want to/have to know now what the new uniforms...
Hank Baskett, the former NFL receiver and husband of model Kendra Wilkinson, is being sued over his involvement in a California gym. According to TMZ, Baskett is a co-owner of "Performance Gaines" gym, which is also owned by Baskett's trainer, Travelle Gaines. The two are being sued by two men who claim they invested six figures into the gym before Baskett's name was attached...
NFL News

Delivered to your inbox

You'll also receive Yardbarker's daily Top 10, featuring the best sports stories from around the web. Customize your newsletter to get articles on your favorite sports and teams. And the best part? It's free!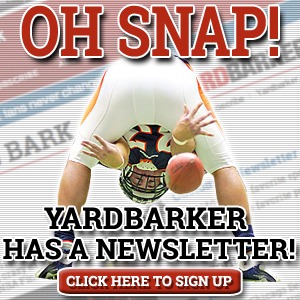 Latest Rumors
Best of Yardbarker

Today's Best Stuff

For Bloggers

Join the Yardbarker Network for more promotion, traffic, and money.

Company Info

Help

What is Yardbarker?

Yardbarker is the largest network of sports blogs and pro athlete blogs on the web. This site is the hub of the Yardbarker Network, where our editors and algorithms curate the best sports content from our network and beyond.