Found January 18, 2012 on It's Always Sunny in Detroit:
There's nothing a diehard fan should have more than a hideous blob of permanent ink on their body representing their fandomness. And better yet, these lovely markings not only show off their level of fandomness but also their inconceivable degree of nitwittedness.

The cost of some of these tattoos alone make them a bit outrageous, but hey, it isn't my body...and I'm thankful for it. We regrettably looked at hundreds of bodies to come up with the twenty-five worst tattoos in the history of sports fans.  Spoiler alert: the last one crosses the line.


This Oakland Raiderette (presumably) will enjoy the heck out of this tattoo when she's 40 with three kids and an angry Raiders fan for a husband.   


You slept with Shaq, huh?  That's something you might want to keep under your hat, dude.  Literally.


This guy obviously failed to put on his thinking cap before going through with this one.  Just another brilliant Yankee fan.  At least it's on the back of his head, so he might fuhhgetaboutit.


I hope this guy is a ginger because when that hair grows back, I got news for you, that orange is showing through.


Is he a Cowboys fan or does he hope they get struck by lightning?  Is he a Chargers fan too?  I'm confused.


Nothing screams intelligence like a dude getting a tramp stamp of his school's mantra - Auburn - southern gentleman.


Nothing screams intelligence like a dude getting a full back representation of his favorite school - Clemson - and spelling it wrong.


It doesn't take a seemhead to know that baseballs are round.


This tat is actually pretty nice - except for the fact that this guy just doled out three months' rent to his tattoo artist.


I don't like the BLston Red Sox, BLston Celtics, BLston Bruins or NLw England Patriots either, but don't think you think is a bit much?


Honestly, what is the purpose of this?


Ok, you're a Wings fan.  Don't you think you could have picked ANYWHERE else on your body to show your affection?


Who knew Mr. Discount Double Check, Aaron Rodgers, had a little beer gut?


Somewhere Tim Tebow is praying for this poor soul.  


There is nothing I want to see more when I get out of the shower than another man's head on my upper thigh.


Somebody jumped the gun - the Houston Texans were beaten by the Ravens this past Sunday.


Apparently in Texas it's cool to jump the gun.  Then again, at least the Rangers made it to the World Series.

Ya see, I'm a big Dirk fan.  Can you just put a big blue rectangle on my arm?


This conversation with his children will go nicely.


Eh.


Mike Tyson = tough.  Getting a tattoo of Mike Tyson with his mouth open = not that tough.


L is for loser.


Ahh yes, another brilliant Yankee fan.


Some sucker Cubs fan lost a bet that they totally deserved to lose.


COME ON MAN!

Original Story:
http://feedproxy.google.com/~r/ItsAlw...
THE BACKYARD
BEST OF MAXIM
NFL News

Delivered to your inbox

You'll also receive Yardbarker's daily Top 10, featuring the best sports stories from around the web. Customize your newsletter to get articles on your favorite sports and teams. And the best part? It's free!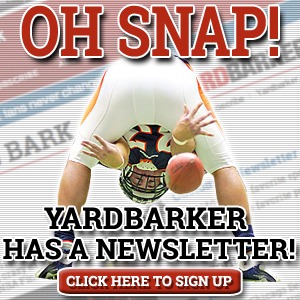 Latest Rumors
The Backyard

Today's Best Stuff

For Bloggers

Join the Yardbarker Network for more promotion, traffic, and money.

Company Info

Help

What is Yardbarker?

Yardbarker is the largest network of sports blogs and pro athlete blogs on the web. This site is the hub of the Yardbarker Network, where our editors and algorithms curate the best sports content from our network and beyond.