Found December 07, 2012 on Thoughts from the Dark Side:
PLAYERS:
Peyton Manning
,
Philip Wheeler
,
Miles Burris
,
Rod Streater
,
Christo Bilukidi
,
Phillip Adams
,
Carson Palmer
,
Brandon Myers
,
Champ Bailey
,
Khalif Barnes
,
Willie Smith
,
Von Miller
,
Jared Veldheer
TEAMS:
Oakland Raiders
,
Denver Broncos
For more thougts from Brad, follow him on Twitter @jazzhessian Summary A spirited effort by the Raider defense against Peyton Manning and the Broncos proved not to be enough as the Raiders fell again, bringing their record to 3-10. After a rough week for Dennis Allen dealing with the unexpected loss of his father Grady, the Raiders seemed to come into the Thursday night matchup with an emotional boost. After giving up a touchdown on the first drive, the Raider defense bounced back nicely. They put more pressure on Manning than any other team this season, and held the Bronco offense to field goals on four out of their six redzone trips. Inconveniently-timed penalties coupled with a slow start by the offense killed whatever momentum they might have gained, however. Poor pass protection and dropped passes hampered the offense, and Palmer's increasingly poor decision-making ended up being the nail in the coffin for the Raiders. With several minutes left in the 3rd quarter, the Broncos were already milking the clock. Final score: 26-13. McKenzie's additions shine in an otherwise dismal effort. Reggi McKenzie didn't have much in the way of salary cap room, and his first draft pick was at #95. All of his additions were either unproven, unheralded, or vets looking to prove their worth. While the lack of top end talent on this Raider roster is showing, Raider fans may take solace in the fact that many of McKenzie's additions have ended up being bright spots. Philip Wheeler has been productive for the Raiders, especially in terms of putting pressure on the QB. Miles Burris bounced back from a couple rough weeks with a much stronger effort, particularly against the run where he quickly diagnosed plays. Rod Streater had a deep catch for the second week in a row, and ended the night with his first career 100-yard game. Christo Bilukidi continues to develop as a situational run-stopper. Phillip Adams had another impressive pick this week, and looks like the best pure corner on the team (admittedly, that isn't saying much). While Brisiel, Tollefson, and Bartell haven't stepped up, one can't help but be impressed with the returns on a very meager offseason haul. It'll be interesting to see what McKenzie can do with more resources at his disposal. Carson Palmer isn't the Raiders' biggest problem, but he's also not helping. Consider it an indication of how bad this season has been for the Raiders that Carson Palmer is simultaneously the least of the Raiders' problems, and a problem that will need addressing sooner rather than later. Has the pass protection been good? No. Have his receivers helped him out by running crisp routes and hanging onto the ball? No. Has the running game taken pressure off of Palmer? No. Is Greg Knapp a world-class playcaller? No. But Carson Palmer's accuracy, decision-making, and awareness have gotten increasingly worse over the last few weeks. He's been constantly throwing short of the sticks on 3rd down, drifting in the pocket and making off-balance, ill-timed throws even when it isn't necessary, and has turned the ball over at an alarming rate. This week, Palmer's fumble inside the Raider five yard line was the result of him holding the ball too long in a situation where that simply can't be done. His interception which killed a promising drive came on a throw that was behind tight end Brandon Myers as Myers was being covered by perennial All-Pro corner Champ Bailey. While Palmer's teammates aren't doing much to help him out, he needs to make sure that he isn't overcompensating and putting his team in an even tougher situation with costly mistakes. Khalif Barnes: Drive Killer. With all the Raiders' obvious needs on defense, their single greatest need might be an upgrade at right offensive tackle. After Willie Smith got abused in his absence, Khalif Barnes stepped back in and immediately returned to form. Usually returning to form is a good thing, but not when you're a serial drive killer like Barnes. For the third season in a row, Barnes is displaying his penchant for the drive-killing holding call or false start. His mental mistakes repeatedly put the offense in no-win situations, and Von Miller spent the second half running through Barnes like a turnstile. With several promising offensive tackle prospects at the top of this year's draft, don't be surprised if Reggie McKenzie comes away with a bookend to pair with Jared Veldheer, and another building block in the trenches to protect his quarterback - of the present and the future, whoever that might be.
Original Story:
http://www.tfdssports.com/2012-articl...
THE BACKYARD
BEST OF MAXIM
RELATED ARTICLES
Six more divisional rematches as we get ready for the final four weeks of the regular season. With four playoff spots secure, the race is on.
Denver Bronco's QB Peyton Manning is having a great 2012 season so far. As of this writing he has led the Broncos to the AFC West title and has completed 330 of 483, 3812 yards, and 30 touchdowns, with only 10 interceptions. While this kind of season was pretty ordinary during his days in Indianapolis, [...]
Raiders fans were killing Carson Palmer on Twitter last night. @ForbesMoney echoed the sentiments of the entire Raiders Nation with this tweet: Is Oakland done wit this ***** carson palmer yet? Can they let my ***** terrelle pryor cook? Lol. How smart do the Bengals look for totally cutting ties with this bum? Accounting for another two turnovers last night, Palmer's horrible...
Denver controlled the game but settled for four field goals on its way to a 26-13 victory in Oakland Thursday night. Peyton Manning did not have his "MVP moment" but nor did he need one: the Broncos may be the most complete team in football.
The Oakland Raiders looked like they had something going in their favor when they went to halftime losing only by six, after scoring a touchdown and stopping Peyton Manning's two-minute drill. But then came the second half and the Broncos, with 13 unanswered points in the 3rd quarter, took control of the ballgame and never gave it back. The loss [...]
Oakland Raiders (3-9) @ Denver Broncos (9-3) – 7:20 PM EST The Oakland Raiders are going to need everything for them to go right to win this ballgame. Thanks to the horrible defense, this team doesn't stand a chance in a season filled with disappointment. Perhaps the saddest thing is how Carson Palmer's play is going unnoticed. If they had a decent defense, they would still...
Danny & Dano, the hosts of  Sonoma County Sports Fans radio show and podcast were kind enough to invite me back again this week to talk Raiders.  We discussed a number of different topics including the possibility of Jon Gruden coming back to coach the Silver & Black, how much blame Carson Palmer bears for the offenses struggles and what the Raiders should do, at a broad...
NFL News

Delivered to your inbox

You'll also receive Yardbarker's daily Top 10, featuring the best sports stories from around the web. Customize your newsletter to get articles on your favorite sports and teams. And the best part? It's free!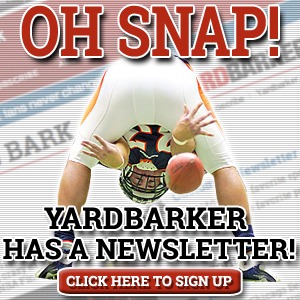 Latest Rumors
Best of Yardbarker

Today's Best Stuff

For Bloggers

Join the Yardbarker Network for more promotion, traffic, and money.

Company Info

Help

What is Yardbarker?

Yardbarker is the largest network of sports blogs and pro athlete blogs on the web. This site is the hub of the Yardbarker Network, where our editors and algorithms curate the best sports content from our network and beyond.