Posted September 10, 2012 on AP on Fox
PLAYERS:
Randy Moss
,
Aaron Rodgers
,
Ahmad Brooks
,
Jim Harbaugh
,
David Akers
,
Alex Smith
,
Frank Gore
,
Cedric Benson
,
Jermichael Finley
,
Randall Cobb
,
Navorro Bowman
,
James Jones
,
Clay Matthews
,
Jordy Nelson
,
Patrick Willis
,
Jason Elam
,
Sebastian Janikowski
,
Aldon Smith
TEAMS:
San Francisco 49ers
,
Green Bay Packers
,
Minnesota Vikings
,
Chicago Bears
,
Miami Heat
,
Denver Broncos
,
Oakland Raiders
Randy Moss found his way back to familiar turf, celebrating a touchdown at Lambeau Field in his new uniform. The San Francisco 49ers defense kept Aaron Rodgers and the Green Bay Packers out of the end zone for most of the day -- then made sure they didn't give the game away. Showing the same brand of dominant defense that powered them to the NFC Championship Game last season, the 49ers smothered Rodgers and the Packers offense, then made one last stand to stop a late rally in a 30-22 victory on Sunday. 49ers linebacker Ahmad Brooks said the 49ers' win could be an "eye opener" for the Packers, and a sign that the 49ers are poised for another big playoff run. "Maybe we'll see them again in the NFC Championship," Brooks said. Facing a Packers team that lost only once in the 2011 regular season was a tough opening road test, but the 49ers were more than ready. "We were just tremendously on it today, and that was a big part of our victory," 49ers coach Jim Harbaugh said. Things went so well for San Francisco that when David Akers tried a 63-yard field goal at the end of the first half, it bounced off the crossbar and then kept going through the uprights to tie an NFL record. "When you hit the goal post at any part it usually makes that horrific noise and then it usually bounces back," Akers said. "This time it got there. It was a sweet bounce. It was definitely a once-in-a-lifetime type of a deal." Alex Smith picked apart the Packers. He was 20 of 26 for 211 yards and two touchdowns, and Frank Gore rushed for 112 yards and a touchdown. Moss scored on a 14-yard reception in the second quarter. He then turned his back to the crowd and pointed to the name on his jersey, opting for a more subdued celebration than the now-notorious fake mooning motion he made toward fans at Lambeau during his Minnesota Vikings days. "He had a lot of juice, he blocked well," Harbaugh said. "He got open and he was a great big target in there." The Packers came into their opener with hopes that a rebuilt defense and improved running game could help get them back to the Super Bowl after coming up short in the playoffs last season. "They've got a great defense," Rodgers said. "You've got to give them credit. They've got some of the top guys in the league at their position." Rodgers finished the game as the Packers' leading rusher, with new addition Cedric Benson gaining just 18 yards on nine carries. The Packers don't have long to prepare for their next game, Thursday night at home against the division rival Chicago Bears. Asked if he at least was pleased that his team put together a comeback, Packers coach Mike McCarthy held his tongue. "Boy, I'd like to answer that truthfully," McCarthy said. "We're 0-1. We have some work to do. We're up in 96 hours." Rodgers cautioned against blowing one loss out of proportion. "It's one game," Rodgers said. "This is a team that was in the NFC Championship last year. It's a good team. Hopefully we see them down the road in the playoffs." Rodgers finished 30 of 44 for 303 yards with two touchdowns and an interception, but the 49ers held him in check until late the in the game. Jermichael Finley had a 1-yard touchdown for the Packers. The replacement officials called a total of 18 penalties, some of them questionable and drawing animated complaints from both sidelines. "Some of the penalties were definitely a little bizarre," Rodgers said. The 49ers took a 16-point lead into the fourth quarter, then twice let Rodgers and the Packers cut the lead to 8. But the defense held firm on a potential game-tying drive in the final minutes Randall Cobb gave the Packers a chance with a 75-yard punt return for a touchdown, and a two-point conversion cut the lead to 8, at 23-15 in the fourth quarter. But Rodgers threw an interception to linebacker NaVorro Bowman, and Frank Gore ran for a 23-yard touchdown. Rodgers then threw a touchdown to James Jones, cutting the lead back to 8. With the clock nearing the four-minute mark, a sack by Clay Matthews helped force a punt and the Packers took over at their own 16-yard line with 3:37 left and no timeouts. Rodgers steadily marched the Packers down the field, but Brooks sacked Rodgers. Facing fourth-and-10 near midfield, Rodgers threw deep toward Jordy Nelson but the pass fell incomplete. Linebacker Patrick Willis said the 49ers made a statement. "You turn on the TV or you hear people say, `No, the Packers are going to beat them by two or three touchdowns,' and you hear everybody saying all this and that," Willis said. "But we know what we have and we have complete confidence in one another here across the board, offense, defense and special teams. As long as we have that and we're still together, I think we're capable of doing anything." Notes The three other kickers to hit 63-yarders were New Orleans' Tom Dempsey in 1970, Denver's Jason Elam in 1998, and Oakland's Sebastian Janikowski in 2011. ... Harbaugh was furious with the replacement referee crew early on, after they called Aldon Smith for unsportsmanlike conduct for taking off his helmet after a sack of Rodgers in the first quarter. Harbaugh seemed to question several other calls but didn't criticize the crew afterward. "I don't know what I'm supposed to say or not say," he said. ... Sunday's attendance was 70,523.
Original Story:
http://msn.foxsports.com/nfl/story/sa...
THE BACKYARD
BEST OF MAXIM
RELATED ARTICLES
GREEN BAY, Wis. -- If Packers quarterback Aaron Rodgers did lose a bet with the members of Boyz II Men, the NFL's Most Valuable Player isn't ready to make it public or pay up quite yet. According to a report by TMZ, Rodgers was able to convince the legendary R&B group to sing the National Anthem before Green Bay's season-opening game against the San Francisco 49ers...
Aaron Rodgers must have really liked the Packers' chances on Sunday. The Green Bay Packers quarterback liked his team's chances so much, in fact, that he was willing to lay his dignity -- and not to mention his team pride -- on the line for a bet with one very popular musical group from the '90s. NFL.com points out that the quarterback supposedly had a bet with everyone...
Packers In Search Of First Win As Bears Visit By SBRForum.com The Green Bay Packers explosive offense was muzzled in their season-opener and that's exactly what the Chicago Bears want to hear. The two division rivals will meet up on Thursday night at Lambeau Field. People making their NFL picks were surprised to see the Packers score just 22 points their Week 1 loss to San Francisco...
"So, uh, you wanna, like, grab a brew and then make out?"Yesterday, my best friend and bass player in my Nelson cover band, Danger Guerrero, brought us the terrific story of the bet between Green Bay Packers quarterback Aaron Rodgers and the classic 90s R&B group Boyz II Men. How DG didn't ask me to photoshop Rodgers photobombing a Boyz II Men album cover, I'll...
San Francisco's defense smothered Aaron Rodgers and the Green Bay offense for most of the game, then made one last stand to stop a late rally as the 49ers beat the Packers 30-22 on Sunday. Randall Cobb got the Packers close with a 75-yard punt return for a touchdown, and a 2-point conversion cut the lead to 8. But Rodgers threw an interception to linebacker NaVorro Bowman and...
Rookie Mark Barron crushes Steve Smith on this catch, but Smitty was unphased.  You can't let a rookie get the best of you when you are a long time veteran like Smith.  S/O to the @sbnation. T-Rich Drops The Boom GIF Randy Moss TD GIF
Josh Katzenstein of the Detroit News tweeted some smack talk from Lions DB Chris Houston. Chris Houston talked a little smack about Randy Moss today. Called him a "possession receiver" and doesn't think he can "take the top off." — Josh Katzenstein (@jkatzenstein_DN) September 10, 2012 When I first read that I had to ask myself who is Chris Houston. Seriously, I had...
  At 3:25 central time the Green Bay Packers will kick off the 2012 NFL season against the San Francisco 49ers.   Some things to watch after the ball is put into play today include; Will the Green Bay Packer offense continue to put points on the board at the same rate they did last year?, Who will Aaron Rodgers throw the first touchdown pass to?, Will the first score be...
There wasn't much of a contest on the field at MetLife Stadium on Sunday, so fans in the upper reaches of the stands had to stage their own battle for New York State, replete with Zubaz, women punching and the finest that humanity has to offer (Jersey and Western New York chapters). Poor Buffalo fans. They didn't stand much of a chance up there, either. Power in numbers, people...
Alex Smith and Aaron Rodgers both went in the first round of the 2005 draft. Alex Smith went first, even though Rodgers is the better quarterback! WEIRD, Peter King says. Anyway, this is the NFC Championship Game we would have gotten last year if only the Giants hadn't beaten Green Bay by many, many points via domination. Nevertheless, it's a pivotal NFC showdown, provided the...
During today's Chicago Bears podcast we wrapped up the weekend victory over the Indianapolis Colts.  Talked about how good the Bears played and even some things the Bears have to improve upon as they make the trip to Lambeau field on Thursday.  Bill Huber of Packer Report.com gave us all the insight on the Green Bay Packers as the Bears look to take a two game lead over the...
Despite matching their regular-season loss total from all of last year with a home defeat in Week 1, the Green Bay Packers aren't about to panic. They'd be significantly more worried if the Chicago Bears come into Lambeau Field and make them 0-2. The Bears have a prime opportunity to make an early statement in the NFC North on Thursday night when they try to end a four...
NFL News

Delivered to your inbox

You'll also receive Yardbarker's daily Top 10, featuring the best sports stories from around the web. Customize your newsletter to get articles on your favorite sports and teams. And the best part? It's free!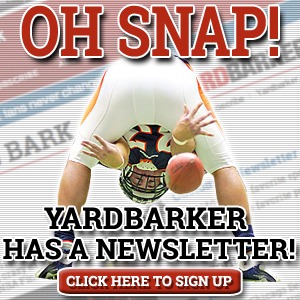 Latest Rumors
The Backyard

Today's Best Stuff

For Bloggers

Join the Yardbarker Network for more promotion, traffic, and money.

Company Info

Help

What is Yardbarker?

Yardbarker is the largest network of sports blogs and pro athlete blogs on the web. This site is the hub of the Yardbarker Network, where our editors and algorithms curate the best sports content from our network and beyond.