Found January 22, 2013 on 49ersNews:
PLAYERS:
Alex Smith
,
Jim Harbaugh
,
John Harbaugh
,
David Akers
,
Aldon Smith
,
A.J. Jenkins
,
Andy Lee
,
Frank Gore
,
Vernon Davis
,
Michael Crabtree
TEAMS:
San Francisco 49ers
,
Baltimore Ravens
We've ran a 49ers drinking game for awhile here on this site. With the 49ers making it to the Superbowl we decided we would break out the 49ers Drinking Game: Superbowl Edition. I'm sure most are aware of how to play these drinking games, if not we'll leave it up to you to figure out. Here are the rules for the 49ers drinking game: (Note: drink = sip) For every Harbowl mention … take 1 drink. For every picture shown of John and Jim growing up together … take 2 drinks. For every mention of what Jack Harbaugh is thinking … take 1 drink. For every mention of Ray Lewis' retirement … take 2 drinks. For every shot of Ray Lewis talking to God … take 1 drink. For every mention of Kaepernick's tattoo's … take 2 drinks. For every mention of Sammy the Tortoise … take 2 drinks. For every shot of Kaepernick in baseball uniform … take 2 drinks. For every mention of Joe Flacco's contract … take 1 drink. For every mention of Alex Smith … take 2 drinks. For every shot of Alex Smith on the
Original Story:
http://feedproxy.google.com/~r/49ersn...
THE BACKYARD
BEST OF MAXIM
RELATED ARTICLES
NFL = NO FUN LEAGUE
A man who paid over $1,000 last year to file trademarks for the phrases "Harbowl" and "Harbaugh Bowl" claims he was pressured by the NFL to not do it.
On a third down play late in the fourth quarter, the Atlanta Falcons seemingly completed a pass to move the chains. The ball seemed to touch the ground, and it was challenged by Jim Harbaugh. The call was upheld, and Harbaugh treated us to one of the best reactions to a call in recent memory. The 49ers eventually forced the Falcons to turn the ball over on downs, and the 49ers...
The Super Bowl is upon us and regardless of the relationships at hand, this is a business and people want to win.  Siblings are no siblings professionals are competitive, and John and Jim Harbaugh are putting that competitive nature on display. According to ESPN the two brothers may not speak much at all until after the Super Bowl.  If they do speak, it will only be via text message...
Jim and John Harbaugh have exchanged a handful of text messages, and they plan to leave it at that. No phone conversations necessary while the season's still going. No time for pleasantries, even for the friendly siblings. There is work to be done to prepare for the Super Bowl, prepare for each other, prepare for a history-making day already being widely hyped as ''Harbowl.''
ATLANTA -- Mike Smith knew it could happen again. A week ago, his Atlanta Falcons blew a 20-point lead but won through a miracle comeback in the final minute. Again on Sunday in the NFC Championship Game, the Falcons built a big lead -- 17 points at one point. Smith said his message at that juncture was to "never let up, never give up." "That's how you have...
The Patriots didn't force any turnovers, Joe Flacco hit a good number of 20+ yard throws, the Patriots could not convert in the redzone, Tom Brady threw two interceptions, Aqib Talib was injured early in the first quarter and Bernard Pollard injured Stevan Ridey - forcing a fumble. Essentially, it was the perfect storm for the Ravens to win. Everything that needed to happen...
Nothing more frustrating than having a grand idea almost come to fruition, but have the powers that be come in and deny you. That is exactly what Roy Fox is experiencing after he thought that he had purchased the trademark rights to the phrase Harbowl. Last February after the NFC Championship Game, Fox spent more than $1000 to file for the trademarks "Harbowl" and "Harbaugh...
There is more on the line for the San Francisco 49ers in Super Bowl XLVII then just winning the Lombardi Trophy. A win over Baltimore would give the 49ers the chance to launch a new dynasty and enjoy successes similar to the 49ers teams of the 1980's and 1990's.I do think that San Francisco has the tools and ability to win Super Bowl XLVII and become a dominant force in the NFL...
Baltimore Ravens linebacker Terrell Suggs is finally headed to the Super Bowl after seven playoff appearances.  He celebrated the Ravens' 28-13 victory over the New England Patriots with some trash talk. Suggs: "Tell them to have fun at the Pro Bowl. Arrogant F---ers." — Dan Wetzel (@DanWetzel) January 21, 2013 Terrell Suggs: "These are the most arrogant pricks...
49ers Jim Harbaugh announced that David Akers will remain the team's kicker despite missing a field goal against the Falcons. (NFLTR) Bengals Bengals may look to the draft to find a backup quarterback for next season. (NFLTR) Browns Browns CEO Joe Banner mentioned that he viewed hiring Chip Kelly as their HC as too big of a "gamble." (Sports Illustrated) Cardinals...
If it ain't broke, don't fix it. The Ravens are doing just that. Coach John Harbaugh said the Ravens will be keeping Jim Caldwell as offensive coordinator for next season. Since Caldwell has taken over, the Ravens are 4-2 and are in the Super Bowl. Joe Flacco also looks like an entirely different quarterback. Additionally, the Ravens hired Eagles former defensive coordinator...
NFL News

Delivered to your inbox

You'll also receive Yardbarker's daily Top 10, featuring the best sports stories from around the web. Customize your newsletter to get articles on your favorite sports and teams. And the best part? It's free!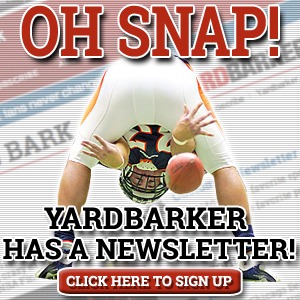 Latest Rumors
Best of Yardbarker

Today's Best Stuff

For Bloggers

Join the Yardbarker Network for more promotion, traffic, and money.

Company Info

Help

What is Yardbarker?

Yardbarker is the largest network of sports blogs and pro athlete blogs on the web. This site is the hub of the Yardbarker Network, where our editors and algorithms curate the best sports content from our network and beyond.