Posted November 26, 2012 on AP on Fox
PLAYERS:
Jim Harbaugh
,
Alex Smith
,
Colin Kaepernick
,
Steve Spagnuolo
,
Ahmad Brooks
,
Donte Whitner
,
Drew Brees
,
Kyle Williams
,
Kendall Hunter
TEAMS:
San Francisco 49ers
,
St. Louis Rams
,
New Orleans Saints
Jim Harbaugh has watched each of his two quarterbacks lead the San Francisco 49ers to big wins in hostile, road environments - Alex Smith in the season opener at Green Bay's Lambeau Field back in September among others, and Colin Kaepernick on Sunday at the New Orleans Superdome. Which one gets the ball on Sunday when the 49ers travel to St. Louis? Harbaugh is still mum on that, though he did say Monday he will formally announce his starting quarterback by mid-week so the players don't have to face constant questions about what they know about the situation. Kaepernick said he was told late Saturday in a team meeting ahead of Sunday's start against the Saints. Then, on Monday, Harbaugh offered this for thought: Yes, he's keeping everybody guessing again. Sort of. ''Alex Smith is our starting quarterback. He has not done anything to lose that job,'' Harbaugh said. ''In fact, he's playing at a very high level. Also, Colin Kaepernick, you can't categorize him as a backup quarterback, because he's started games and played very well in those games.'' Clearly, Harbaugh is growing tired of all the talk about his quarterback situation, even if much of the drama is of his own creation, and he refuses to categorize it as a ''controversy'' with two capable guys in the mix each week. He said again Monday that anything is possible this week, even using both quarterbacks in the game. ''The guys will be hammered,'' Harbaugh said. ''You go to Colin, you go to Alex, `Should you be the starter?' He's got no good answer for you. He says, `Yes, I should be the starter' -- we're talking either one -- and you look like you're just building up yourself. If you say no, then they hammer you because you don't think you should be the starter. Then the people, so-called subject matter experts, who talk about, ''You should be making a fuss about it or a stink about it, you shouldn't be that accommodating,'' it sends a completely wrong message, to me, for young athletes out there, or high school quarterbacks, where their coach is trying to tell them it's about the team and all of us working together. So that one gets me upset. That's not what our two guys are about.'' The NFC West-leading Niners (8-2-1) now own the second-best record in the NFC behind Atlanta as they head to face the Rams in a game that will mean plenty for both teams after their 24-24 tie Nov. 11. In recent weeks, Harbaugh has vowed to go with the ''hot hand'' as his quarterback. Now, he has two guys who fit that mold, yet Kaepernick has won back-to-back games in his first two NFL starts -- the first last Monday night against the Bears before Smith was medically cleared from his concussion. For now, Harbaugh seems to be playing both sides. He wouldn't say when asked whether he has already made a decision for Sunday. ''It starts with this week, this game, what gives our team the best chance to win this game, like it would at any position,'' Harbaugh said. ''So in a unique situation, you have two quarterbacks that are playing at a very high level. One's your captain, your starting quarterback. The other has played great football the last three football games.'' Smith, the 2005 No. 1 overall draft pick, hardly looked happy on the sideline Sunday. Last week, he said the 49ers have a good problem with him and Kaepernick able to lead the team to victory, and he plans to remain positive regarding what's best for the 49ers. ''He's a class act all the way -- team player, that's why he has been voted captain by our players,'' Harbaugh said. ''They're great team guys, they're great example guys. We need them both. Both have played extremely well.'' In his two NFL starts last week and his other brief moments in relief, Kaepernick has completed 48 of 74 passes for 680 yards and three touchdowns with one interception and was sacked six times. He has a 102.3 passer rating. ''He's a good athlete and I know that we respected him. You don't really know until you get on him for real,'' Saints defensive coordinator Steve Spagnuolo said Monday. ''I tip my hat to him. We had some people on him who could have finished him and didn't and that's because he's a pretty good athlete and that makes it tough. He's going to make a lot of people miss.'' Smith, meanwhile, has completed 26 of his last 28 passes and sports a 104.1 passer rating with 13 touchdowns. While so much attention is on the team's quarterback situation, the 49ers' opportunistic defense produced a pair of pick-sixes, by Ahmad Brooks and Donte Whitner, and sacked record-setting Saints quarterback Drew Brees five times Sunday. Harbaugh will be looking for the same kind of performances Sunday against the Rams. Both teams missed field goals in overtime and left Candlestick Park feeling as if they let the game slip away. It was the NFL's first tie in four years. Not that Harbaugh is looking back at that frustrating finish. ''Really have a whole new light on unfinished business. I think all this is new business,'' he said. ''The new business is this game, this most important game because it's our next game. It's just that hard focus on that. It's not about unfinished business, it's about new business. New business is getting prepared to travel well, prepare to practice well and prepare to go there and do what it takes to be victorious.'' Notes: WR and return man Kyle Williams said Monday he will miss the rest of the season with a torn ligament in his left knee sustained Sunday. Williams posted on his Twitter account that he has a torn anterior cruciate ligament in the knee. Surgery would be the likely next step. The team didn't release anything on his injury, or that of RB Kendall Hunter. They were hurt on the same play in the third quarter. Harbaugh did say Williams was hurt before contact when his foot stuck in the turf.
Original Story:
http://msn.foxsports.com/nfl/story/Co...
THE BACKYARD
BEST OF MAXIM
RELATED ARTICLES
Jim Harbaugh announced today that Colin Kaepernick will start this week against the St Louis Rams. Harbaugh said that Colin, I believe has the hot hand and we'll go with Colin. Of course he finished that sentence with, 'and we'll go with Alex. Both our guys.' This really shouldn't come as a surprise, the offense under Kaepernick just seems much more explosive. Regardless...
San Francisco 49ers head coach Jim Harbaugh has not yet named a starting quarterback for Sunday's game against the St. Louis Rams, but he said on Monday that he "probably" would name his starter on Wednesday. Harbaugh also has some injuries to consider - specifically to wide receiver Kyle Williams (knee) and running back Kendall Hunter (ankle) - but the focus remains...
Jim Harbaugh already gambled in going with Colin Kaepernick over Alex Smith on Sunday. He now has to decide whether to let his winnings ride, although it might not be long before the 49ers head coach realizes the best course of action would have been to avoid the table completely. Kaepernick has shown in his two starts that he has the potential to be an electric player in the NFL...
SANTA CLARA, Calif. (AP) Colin Kaepernick will start at quarterback for the San Francisco 49ers on Sunday at St. Louis. Coach Jim Harbaugh made the announcement Wednesday that Kaepernick would go over Alex Smith after the second-year pro led the NFC West-leading Niners (8-2-1) to victories in the past two games, his first two NFL starts. He says, "Colin we believe has the...
San Francisco 49ers quarterback Alex Smith, sidelined since Nov. 11 with a concussion, was cleared to play today against the New Orleans Saints in the Superdome, but Colin Kaepernick is the starter. It will be the second start for Kaepernick, the second-year player out of Nevada, who helped demolish the Chicago Bears Monday night, 32-7. Smith is the only other active quarterback...
According to ESPN's Adam Schefter (via Evan Silva), there are people around the NFL that believe the San Francisco 49ers will stick with Colin Kaepernick as their starting quarterback and not go back to Alex Smith. Kaepernick was on a conference call yesterday with the St. Louis media.  That could be a sign that he'll be starting this week. I really believe Kaepernick is more...
San Francisco QB Colin Kaepernick beat Drew Brees and the Saints in his first NFL start Sunday. Kaepernick finished 16-of-25 for 231 yards with two touchdowns.Fantasy Spin:Kaepernick ran in a score in the first quarter and threw a touchdown to Frank Gore in the third. He was also picked off once but cemented his status as the team's starting quarterback. The 49ers will rematch...
It's official. The 49ers will go with Colin Kaepernick at quarterback Sunday against the Saints. SOURCE: Albert Breer, NFL NetworkFantasy Spin:Kaepernick has an excellent matchup this week against the Saints less than a week after shredding the vaunted Bears on Monday night.
With Colin Kaepernick again effectively leading the offense and a defense that got downright offensive on its own, the 49ers were simply too much for a hot New Orleans team on Sunday afternoon, taking control after halftime on the way to a convincing 31-21 victory over the Saints at the Superdome.
In the NFL it's often said that success is contagious.  Once a franchise taps into a winning formula, it's used until the well runs dry.  This is the case for the San Francisco 49ers and head coach Jim Harbaugh in 2012. As everyone knows quarterback Alex Smith has seemingly been replaced as the Niners starting signal caller by the more elusive Colin Kaepernick.  In doing so...
San Francisco 49ers coach Jim Harbaugh has yet to commit to either Colin Kaepernick or Alex Smith as the team's starting quarterback.  Tight end Vernon Davis thinks Alex Smith should be the one under center. "It's difficult, but I think Alex is still the man," Davis said after Kaepernick led the 49ers to a 31-21 victory over the New Orleans Saints. "In my...
Jim Harbaugh has found himself in the best, but possibly also the worst, situation for his team. I mean, what coach doesn't want the choice between two talented and more than capable quarterbacks?  Nothing is worse than lacking a capable quarterback. So, having two who are must be a fantastic scenario. Only, some serious complications could rise from the fallen's ashes. Alex...
NFL News

Delivered to your inbox

You'll also receive Yardbarker's daily Top 10, featuring the best sports stories from around the web. Customize your newsletter to get articles on your favorite sports and teams. And the best part? It's free!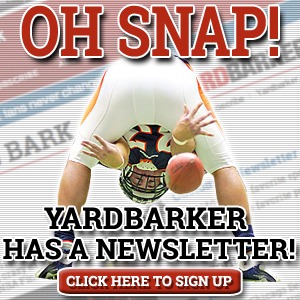 Latest Rumors
The Backyard

Today's Best Stuff

For Bloggers

Join the Yardbarker Network for more promotion, traffic, and money.

Company Info

Help

What is Yardbarker?

Yardbarker is the largest network of sports blogs and pro athlete blogs on the web. This site is the hub of the Yardbarker Network, where our editors and algorithms curate the best sports content from our network and beyond.