Found January 20, 2013 on Ballertainment:
PLAYERS:
Vince Lombardi
,
Julio Jones
,
Frank Gore
,
Colin Kaepernick
,
Vernon Davis
,
Randy Moss
,
Tony Gonzalez
,
Ray Lewis
,
Tom Brady
,
Wes Welker
,
Joe Flacco
,
Ray Rice
,
Dennis Pitta
,
Anquan Boldin
,
John Harbaugh
,
Jim Harbaugh
TEAMS:
Baltimore Ravens
,
Atlanta Falcons
,
San Francisco 49ers
,
New England Patriots
Ballertainment San Francisco 49ers and Baltimore Ravens will play in Super Bowl Super Bowl XLVII will see the Baltimore Ravens and San Francisco 49ers battle it out for the Vince Lombardi Trophy this year. The 49ers beat the Atlanta Falcons in the Georgia Dome, 28-24 to become NFC Champions. The Falcons started the game fast and furious, with receiver Julio Jones catching 11 passes for a postseason record 186 yards and two touchdowns. But, the Falcons were weak on the ground and the 49ers weren't, with Frank Gore rushing for 90 yards and two touchdowns. 49ers quarterback, Colin Kaepernick, was 16-for-21, connecting five times with tight end Vernon Davis for 106 yards and a score. It was nice to see Davis contribute so greatly after having a relatively quiet season. Randy Moss got in on the action too, with three catches for 46 yards. Falcons QB, Mat Ryan, was 30-for-42 and a whopping 396 yards and three touchdowns. He fumbled once, and threw an interception. Tight end Tony Gonzalez, who has previously eluded to this being his last season playing in the NFL, finished the game 8-for-76 with one touchdown. In a post game interview, he indicated again that is likely his last hurrah, and mentioned he didn't even want to take his uniform off. While Gonzalez was somber with a face full of sorrow, Baltimore Ravens linebacker Ray Lewis, who has confirmed his retirement was celebrating his team's win as they advance to the big game. Yes, the Ravens emerged victorious over the Patriots with a final score of 28-13. I never got the feeling that the Patriots were completely tuned in to this game. Tom Brady threw 29-for-54, 320 yards, one touchdown and two INT's. Of course, Wes Welker got his licks in on eight catches for 117 yards, but the team's overall performance was subpar — for them. On the other hand, the Ravens carved out a more deliberate performance. Joe Flacco turned in three touchdowns after throwing 21-for-36 and 240 yards. Running back Ray Rice had a rushing touchdown, tight end Dennis Pitta hauled one in, and WR Anquan Boldin caught two TD's. The Ravens defense, who truly played like a unit, was responsible for a forced fumble and two interceptions, and controlled the Patriots offensive efforts. This loss marks the first time the New England Patriots ever dropped a game at home in an AFC Championship game. Also for the first time, this matchup will feature two brothers, John Harbaugh and Jim Harbaugh, meet in the Super Bowl as head coaches. The 49ers and Ravens will compete in Super Bowl XLVII February 3, 2013 at the Mercedes-Benz Superdome in New Orleans, Louisiana. Kickoff is at 6:30 PM ET, on CBS. Ballertain a friend... Ballertainment - Sports Entertainment, Gossip, Lifestyle, and News
Original Story:
http://feedproxy.google.com/~r/Baller...
THE BACKYARD
BEST OF MAXIM
RELATED ARTICLES
Members of the Harbaugh family will be getting plenty of media attention over the next couple of weeks, with brothers John and Jim coaching on opposite sides of the field as the Baltimore Ravens take on the San Francisco 49ers in Super Bowl XLVII. One of those family members is John and Jim's younger sister, Joanie, who happens to be married to Indiana Hoosiers men's basketball...
FLIPPING HIS LID
On a third down play late in the fourth quarter, the Atlanta Falcons seemingly completed a pass to move the chains. The ball seemed to touch the ground, and it was challenged by Jim Harbaugh. The call was upheld, and Harbaugh treated us to one of the best reactions to a call in recent memory. The 49ers eventually forced the Falcons to turn the ball over on downs, and the 49ers...
"Football is a game of inches," is one of the oldest sayings in Football. This embodies what the NFL is about. Little to no separation. A team, player or coach may be at the top of their game but the difference between themselves and others is small. So minute that over the years, timing and luck at times have more to do with success than preparation and execution. Because at...
Greatest NFL coincidence of all time? Ray Lewis will be playing his last game pitted against the man who he got his first career sack off–49ers coach Jim Harbaugh. 17 years ago, back when Reverend Ray was still just  in proverbial Sunday school, he got his first career sack off 33-year-old Colts Quarterback Jim Harbaugh. NFL.com dug up the almost too awesome to believe stat...
Look for lots of Harbaughs in New Orleans next week. Two of them will be working the sidelines in the Super Bowl. Oh, brother! John Harbaugh and his Baltimore Ravens set up a family reunion in the Big Easy, shutting down the New England Patriots 28-13 Sunday in the AFC championship game. Waiting for them will be his younger brother Jim and the San Francisco 49ers, who beat Atlanta...
With the Super Bowl quickly approaching, be on the lookout for plenty of prognostications from folks. This even includes some picks from animals. Namely, Princess, a 26-year old camel from Popcorn Park Zoo in New Jersey.The prophetic mammal has chosen the correct winner in six of the last seven Super Bowls, according to the zoo's general manager. She correctly tabbed the New...
Congrats to the Baltimore Ravens and San Francisco 49ers, who both defeated higher-seeded opponents on the road to punch tickets to the Super Bowl. Here's our initial preview of the biggest matchup on the planet, which kicks off 332 hours from now. Two storylines you're going to be sick of by Wednesday: 1. Jim Harbaugh and John Harbaugh are the first brothers to hold...
FOXBOROUGH, Mass. -- It is going to be a Harbaugh vs. Harbaugh Super Bowl. Hours after Jim Harbaugh directed the San Francisco 49ers into the NFL's title game, his brother John's Baltimore Ravens upset the New England Patriots with a second-half rally that produced a 28-13 win Sunday in the AFC Championship Game. The coaching brothers and their teams will square off in...
Baltimore Ravens head coach John Harbaugh didn't hesitate when asked about the comment his wide receiver Anquan Boldin made. When questioned earlier in the week about his team's rematch with the New England Patriots, Boldin simply stated "We'll win." A quick and light comment, yet it carried so much weight. Boldin basically guaranteed a win for the team....
                                 "I've always had the prettier boner." And here we are.  The ************* HarBOWL.  ******* gag me already.  Any human rooting for the Ravens in this situation can get their dick ripped out at the root.  The vision of Ray Lewis hoisting another Super Bowl trophy over his head is enough to make...
49ers Jim Harbaugh announced that David Akers will remain the team's kicker despite missing a field goal against the Falcons. (NFLTR) Bengals Bengals may look to the draft to find a backup quarterback for next season. (NFLTR) Browns Browns CEO Joe Banner mentioned that he viewed hiring Chip Kelly as their HC as too big of a "gamble." (Sports Illustrated) Cardinals...
NFL News

Delivered to your inbox

You'll also receive Yardbarker's daily Top 10, featuring the best sports stories from around the web. Customize your newsletter to get articles on your favorite sports and teams. And the best part? It's free!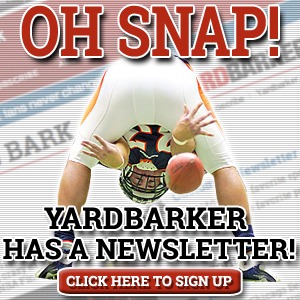 Latest Rumors
Best of Yardbarker

Today's Best Stuff

For Bloggers

Join the Yardbarker Network for more promotion, traffic, and money.

Company Info

Help

What is Yardbarker?

Yardbarker is the largest network of sports blogs and pro athlete blogs on the web. This site is the hub of the Yardbarker Network, where our editors and algorithms curate the best sports content from our network and beyond.